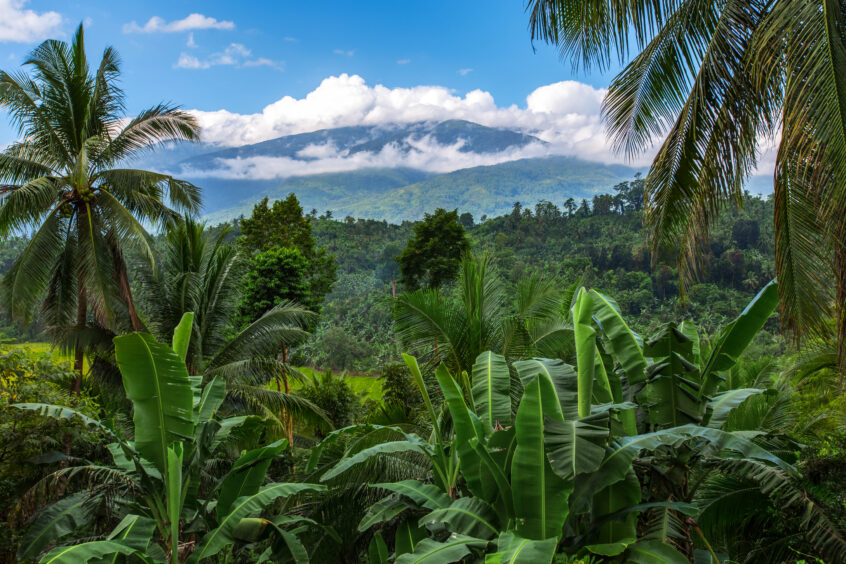 The Lowering Emissions by Accelerating Forest finance (LEAF) Coalition has announced that its financial commitments to the preservation of tropical rainforests have now reached a total of more than $1.5 billion. 
Volkswagen and H&M have made corporate commitments to the Coalition, while the Governments of Ecuador and the Republic of Korea have also pledged their support.

 

Tropical rainforests store more carbon than any other type of forest, but they are also the type that is most under threat from deforestation.

 

The LEAF Coalition's latest announcements are a promising signal of increasing investment towards the preservation of tropical rainforests.

 
The LEAF Coalition, a public-private initiative formed with the intention of ending tropical deforestation, has taken COP27 as an opportunity to announce a swathe of agreements that raise its total financial commitments to over $1.5 billion. Each pledge marks the intention of the associated company or government to purchase emissions reduction credits generated by tropical rainforest protection projects. 
What announcements have been made?
Fashion retailer H&M (STO:HM B) and auto manufacturer Volkswagen (OTCM:VWAGY) have joined the Coalition, while the Government of Ecuador has signed an initial document declaring its intention to make a binding commitment by the end of April 2023. The Republic of Korea has become the first Asian government to financially support the Coalition, joining the governments of the UK, US and Norway. 
Overall, the new commitments represent a 100% increase from those made by the private sector since the LEAF Coalition's founding at COP26. 
Espen Barth Eide, Norway's minister of climate and environment, said: "I am excited that LEAF has succeeded in doubling private sector commitments since we met last year in Glasgow. With the ambition now being presented by key tropical forest countries I am confident this is still just the beginning of a groundbreaking marketplace for the benefit of both biodiversity and the climate."   
"The LEAF Coalition's approach represents a critical tool in the global community's collective toolkit to stop tropical deforestation at the speed and scale the world needs. We're encouraged to see LEAF's continued growth and advances towards conserving tropical forests at scale. Whether as companies, Indigenous Peoples and local communities, governments or civil society – we all have critical roles to play in tackling the deforestation crisis", added Mark Moroge, vice president of natural climate solutions at the Environmental Defense Fund. 
What is the LEAF Coalition?
The LEAF Coalition, coordinated by US non-profit organisation Emergent, was established during COP26 with the purpose of channelling investment towards the protection of tropical rainforests.  
To date, more than 25 global corporations from a range of different sectors have made financial commitments to the LEAF Coalition. These include Amazon (NASDAQ:AMZN), Bayer (XWBO:BAYN), Unilever (NYSE:UL), Blackrock (NYSE:BLK), McKinsey and GSK (LON:GSK). 
In order to ensure the environmental and social integrity of its credits, thereby securing buyers' trust, the LEAF Coalition follows a 'jurisdictional' approach. This method builds on the UN's Reducing Emissions from Deforestation and forest Degradation (REDD+) framework, which was designed to provide guidance on forest sector activities by national governments to reduce the emissions associated with forests. 
The jurisdictional approach provides results-based payments to governments and communities that avoid deforestation across entire landscapes. By accommodating projects at a national or sub-national approach, it offers a scaled-up version of REDD+. The method also prioritises social inclusion, as it provides funding for programmes managed by local communities, indigenous peoples and state governments as well as their national counterparts. 
Under the LEAF Coalition, companies and governments commit to upfront purchases of emissions reduction credits, releasing financial support for jurisdictional REDD+ projects. The total emissions reductions of each project are then monitored and assessed by ART, an independent standards body, and issued as verified credits. Once the credits are issued, project managers receive their payments. 
Crucially, ART's standard requires that each project provides net emissions reduction across the jurisdiction, rather than merely displacing it to other forests within the same boundaries. Participating companies must also have committed to science-based reductions in their own emissions, ensuring that their involvement with the LEAF Coalition serves as additional climate action instead of a substitute for other measures they could be taking. 
Why focus on tropical rainforests?
In terms of climate action, forests provide an immense opportunity while simultaneously posing a severe risk. When left to stand or regrow, they absorb carbon from the atmosphere, becoming what is referred to as 'carbon sinks'. When cleared or degraded, however, the carbon they have sequestered is released. 
Tropical rainforests remove more carbon than other forms of forest, while also cooling the atmosphere by releasing water vapour through the pores in their leaves. Tropical rainforests, however, are also the type of forest that is most under threat from deforestation. According to the UN Food and Agricultural Organization, more than 90% of global deforestation between 1990 and 2020 occurred in the tropical domain. 
Such forests are cleared for a number of reasons, including selective logging, fuelwood harvesting or land clearance for agricultural expansion. The land is typically cleared by burning parts of the forest, which, in the humidity of tropical regions, can cause accidental fires to spread rapidly from purposely selected ones. 
In a report published in 2022, the World Economic Forum (WEF) declared that there can be no solution to the climate crisis without putting an end to tropical deforestation. Despite the clear necessity of preserving tropical rainforests, private sector investment towards halting deforestation stands at just $18 billion per year. According to the WEF, around $400 billion must be spent on nature-based solutions by 2030 in order to meet global climate and biodiversity targets. 
Stimulating investment in tropical rainforests
Eliminating the emissions of deforestation, while simultaneously increasing carbon sequestration by promoting forest growth, could reduce net global emissions by up to 30%. Given the low cost of simply supporting forests as they are, the UN Environment Programme estimates that forests could provide as much as 50% of the cost-effective climate change mitigation opportunities available. 
Forest preservation offers several additional benefits. For one thing, they support the livelihoods of around 1.6 billion people worldwide, thereby playing a crucial role in the global economy. They are also home to over half of the world's land-based animals, plants and insects, so their protection is critical in preventing mass biodiversity loss. 
Loss of nature has been increasingly recognised as an important financial risk. With more than half of global GDP being moderately or highly dependent on nature, both governments and companies should have an interest in preventing its destruction.  
If deforestation is allowed to continue as usual, the ecosystems from which many globally traded goods and raw materials are sourced will be destroyed. As an example of the damage this could cause, costs to the paper, cattle and timber industries are estimated to be up to $80 billion. 
The need to end tropical deforestation, combined with the incentive for businesses to reduce their exposure to nature-related risk, signals a clear opportunity for an expansion of both public and private investment in nature-based solutions.  
It will not be easy to reverse global deforestation, but the LEAF Coalition's jurisdictional approach appears to offer the scalability, integrity, inclusion and financial mobilisation through which it can be achieved. As such, the Coalition's latest announcements provide some hope that the demand for meaningful solutions may be on the rise.