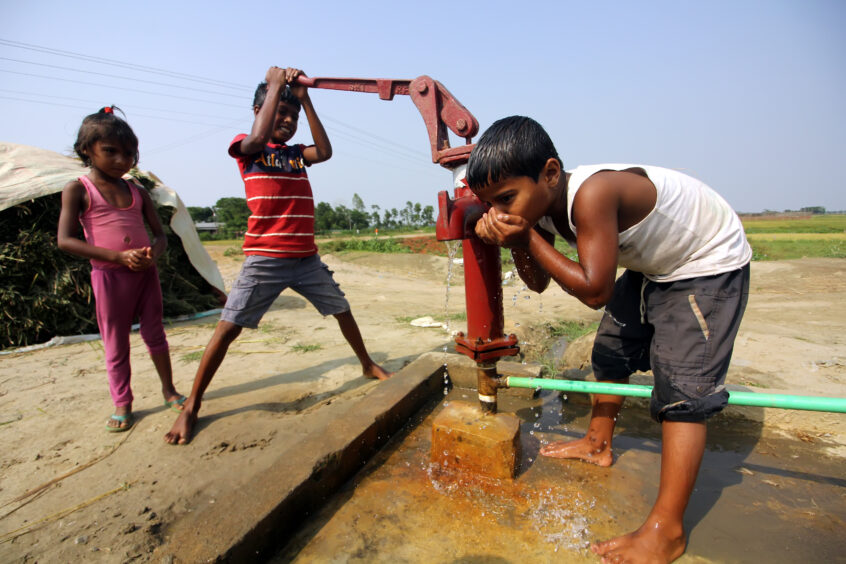 The Government of the Netherlands has provided funding for a €6.4 million project to improve water and sanitation systems in Bangladesh. 
SNV Netherlands Development Organisation has secured funding from the Dutch Government for a project intended to improve sanitation, solid waste and drainage water management in Bangladesh cities.

 

Global efforts to achieve universal access to safe sanitation are "alarmingly off-track", with climate change continuing to exacerbate the issue.

 

Public-private partnerships could be key in unlocking the necessary investment to develop sanitation infrastructure in vulnerable countries.

 
International non-profit SNV Netherlands Development Organisation will work alongside the Government of Bangladesh to protect the health and well-being of its urban residents, by making improvements to water, sanitation and hygiene systems. Various service providers and local authorities will be involved in co-designing system improvements and creating water resource management indicators for use within urban settings. 
The organisation has been running water security projects in Bangladesh since 2014, but new investment from the Government of the Netherlands will allow it to expand its urban sanitation initiatives to an additional 12 cities. The project will take place over the course of five years and has a total budget of €6.4 million. 
Global failure to progress towards sanitation goals
The UN General Assembly recognises sanitation as a distinct human right, while the World Health Organization (WHO) refers to it as "one of the foundations of a healthy, comfortable and dignified life." Under target 6.2 of the UN Sustainable Development Goals, Member States have committed to delivering universal access to safe sanitation and hygiene by 2030. 
With only eight years to go before this deadline, global progress is "alarmingly off-track". A WHO report notes that, in 2021, over 50% of the world's population was still using sanitation services that do not include treatment of human waste. Of those 4.2 billion people, around 673 million had no toilets at all and were forced to resort to open defecation. 
Under its Joint Monitoring Programme in collaboration with UNICEF, the WHO has also revealed that 43% of schools across the globe did not have access to basic handwashing facilities in 2019. One in three schools had either limited drinking water available or none at all. Healthcare facilities were similarly afflicted, leaving around 896 million people to rely on services that had no water available and around 1.5 billion people using healthcare facilities without sanitation systems. 
The shortcomings of global sanitation pose a severe threat to both human and environmental health. Illnesses, diseases and antimicrobial-resistant infections can spread rapidly through vulnerable populations, with a disproportionate effect on children. Human waste contaminates the surrounding waterways and soils, polluting the environment while also creating a cyclical effect whereby the food and water consumed locally become less and less safe. 
Without safely managed water, sanitation and hygiene, women and girls are particularly vulnerable. The female population is responsible for water collection in 80% of households that source their water externally, but the journey to obtain clean water can be dangerous, time-consuming and physically demanding. Those taking these journeys are often unable to attend school or earn an income, and risk being exposed to violent attacks and sexual assault. 
Climate change is further exacerbating the issue as it causes extreme weather events to occur more frequently, resulting in heavy rainfall and flooding that can damage sanitation facilities and carry contaminated run-off into waterways that were previously safe. On the other end of the spectrum, atmospheric warming has escalated the risk of heatwaves – increasing the volume of water that evaporates from the land and contributing to periods of intense drought. 
Urban areas are most at risk
Rapid urbanisation has increased the demand for water, sanitation and hygiene services, but the development and improvement of facilities have not been keeping up. Indeed, a report published by UNICEF in 2020 reveals that the number of people living without basic water and sanitation services had increased between 2000 and 2017. 
Cities are currently home to around 55% of the global population, a percentage that continues to rise, but are also increasingly exposed to heavy rainfall, rising sea levels, coastal flooding and extreme heat. In addition to their vulnerability to the impacts of climate change, urban areas are already associated with low water quality. According to the US Environmental Protection Agency, urbanisation often results in an increase in water contamination from faecal bacteria and toxic pollutants such as metals, chemicals, hydrocarbons and pharmaceuticals. 
Meanwhile, estimates that around 60% of the country's population will be living in cities by 2050. Rising sea levels are expected to increase the salinity of drinking water in these locations, increasing the prevalence of several diseases and reducing the usability of groundwater.  
These vulnerabilities around urbanisation and rising sea levels are particularly concerning in Bangladesh. Having already endured severe floods, the country has been ranked seventh on a list of countries most vulnerable to climate risk. 
As these risks continue to intensify, the need for resilient water and sanitation systems becomes all the more urgent. Their development, however, will not be cheap. 
Public-private partnership models for urban sanitation
Achieving universal access to safe sanitation will require significant investment, with UNICEF estimating that around $105 billion would be needed each year between 2017 and 2030. Failure to act, however, could prove even more expensive.  
Given the economic impacts of healthcare costs, lost income and missed educational opportunities, estimates suggest that the benefits of safe sanitation could be worth up to five times as much as the capital needed to provide it. The problem with this is that the countries with the least sanitation infrastructure do not have the resources to invest in expansion. 
In Bangladesh, for example, public resources are constrained by low government revenues – which remained below 10% of its gross domestic product in the financial year of 2021. The costs of developing safe sanitation will only continue to rise as the country struggles to build its resilience towards climate change. 
Public-private partnerships (PPPs) could play a key role in addressing these costs. Government spending can be used strategically to attract investments from the private sector through mechanisms such as favourable taxation, tariffs or repayable finance. In addition to its funding, the private sector can also offer industry expertise that ensures the effectiveness of new developments. 
SNV plans to deploy such a model, with its project engaging service providers and local authorities in the collaborative design of sanitation, drainage and solid waste management systems. As explained by the organisation's global sector head for water, Antoinette Kome: "SNV has been working with different stakeholders to set up PPPs with clearer rules of engagement and oversight. Strengthening accountability for performance has been the core of our strategy." 
"SNV's PPP approach is making the Bangladeshi urban water and waste cycle management increasingly more resilient and adaptive to climate change.", added Folkert G.J. de Jager on behalf of the Netherlands' embassy in Bangladesh.