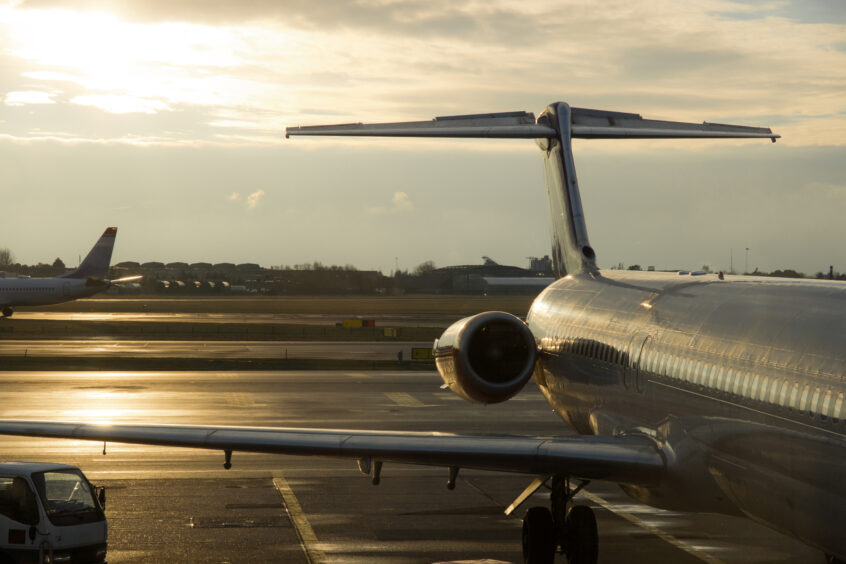 Airbus' investment in Canada's Carbon Engineering Ltd sees the manufacturer backing the use of DACCS and SAF as the best way to help reduce air transport emissions in alignment with the industry's 2050 net zero goal.
Airbus will invest in Canadian climate tech solutions company Carbon Engineering Ltd. (CE) focused on the commercialisation of direct air carbon capture and storage (DACCS).
The aviation industry sees DACCS providing a counterbalance to its residual emissions, as well as the CO2 feedstock needed to produce sustainable aviation fuel (SAF).
Airbus expects DACCS and SAF to contribute over 50% of its targeted emissions reduction but analysis from the IEA warns these technologies may not be available at scale in time for the industry to reach its goal.
Carbon Engineering (CE), has received millions in investments from Aviation industry leaders Airbus and Air Canada. The investment will contribute to funding part of Carbon Engineering's advanced direct air capture R&D technologies at the company's Innovation Centre in Squamish, Canada.
Funding part of CE's technology development efforts is a collaborative approach by Airbus and Air Canada to help accelerate scalable, affordable decarbonisation solutions.
Carbon Engineering's ambitious DACCS and Air to Fuels plans
Carbon Engineering Ltd. (CE) has ambitious plans to build out its DACCS and Air to Fuels technologies by 2030. It was founded in 2009 in Calgary, Canada, with a mission to develop and commercialise technology capable of directly capturing CO2 out of the atmosphere at megaton-scale.
It took until 2015 for CE to successfully demonstrate CO2 capture, and it produced its first batch of synthetic fuel in 2017. The company has established an ambitious timeline to achieve its goal of capturing a megaton of CO2.
Based on a business model to licence its technology to development partners, it has partnered with 1PointFive in 2022 to develop a large-scale commercial plant in the US Permian Basin, with a target of capturing one million tons of CO2 on completion. Airbus has already purchased 400,000 tonnes of CDR credits from 1PointFive.
CE plans to licence its Air to Fuels technology to plants across North America, the UK and Europe, and expects these to be completed by 2030.
Airbus' global climate strategy focuses on DACCS, SAF
Airbus has committed to being carbon-neutral from 2020 onwards, as part of its global climate strategy to reach net-zero CO2 emissions by 2050. It is aligned with ICAO's directives on implementing market-based measures for the aviation industry, which relies heavily on offsetting programs.
Karine Guenan, VP ZEROe Ecosystem, Airbus said: "We are proud to be investing in Carbon Engineering, reaffirming our commitment to the use of direct air carbon capture as a two-fold solution for the decarbonisation of the aviation industry."
Airbus expects that improving air traffic and aircraft operations, and equipment and technology efficiencies will provide around 40% of the reductions needed to reach its goal. Another 6% is expected  to come from market-based measures, in the form of carbon credits and offsets. It expected SAF and DACCS to contribute to over half (53%) of its decarbonisation goals.
According to an Airbus spokesperson: "The aviation industry cannot capture CO2 emissions released into the atmosphere at source (i.e. engine exhaust), therefore a direct air carbon capture (and storage) solution would allow the aviation sector to capture the equivalent amount of emissions from its operations directly from the air.
"We see direct air carbon capture (and storage) as a complementary solution – not a replacement for – other carbon-reduction solutions like sustainable aviation fuel (SAF) and future hydrogen-powered aircraft. Carbon removals are only intended to address the residual emissions (i.e. those that are not possible to eliminate) remaining from aircraft already operating with the latest decarbonisation innovations."
Challenges to SAF being the elixir to aviation's emissions problems
Airbus expects to use SAF for both in-service fleets and for future flying fleets. There is no doubt it represents the majority of CO2 reduction in the aviation sector. As a drop-in fuel it is expected to have little or no impact on aircraft products and operations. The aircraft maker has already certified 50% of its aircraft to fly with SAF, and plans to increase this to 100% by 2030.
The company also sees power to liquid, or PtL, as an interesting alternative aviation fuel. It partnered with SAF+ Consortium in 2021, to provide Canada, and ultimately, all of North America, with a sustainable supply of PtL. The demonstration plant is located near Montréal, and Airbus expects  large-scale industrial production by 2025.
Airbus believes these actions, including its support of DACCS, will help ramp-up PtL in a cost-efficient manner. In fact the company's spokesperson said: "we see direct air capture as a core component of the industry's SAF strategy, with PtL potentially contributing up to 50% of total SAF supply by 2050."
IEA projections on DACCS and SAF may provide reality check
According to the IEA's analysis of the direct air capture industry, there are eleven DAC facilities now in planning stages globally. Successful deployment of all planned capacity additions, however, would only yield 10% of the capacity required under its net zero scenario.
Similarly it sees sustainable aviation fuel accounting for around 5% of total consumption in 2025, which rises to 19% by 2040.  This estimate of the ramping up in SAF consumption will likely challenge Airbus' projections of PtL becoming cost efficient by 2040.
One of the largest SAF supply deals was announced between Lufthansa (DE:LHA) and Shell (LON: SHEL) in August 2022. The deal is being hailed by both as a potential breakthrough even though SAF is in the early stages of development, and the agreement only covers seven years of fuel supply.
SAF, which is based on organic materials and waste, is also estimated to cost twice as much as ordinary jet fuel, largely due to lack of scale and availability of feedstock, which includes cooking oil and agricultural waste. Airbus has stressed that its investment in SAF must come with sustainability criteria, and not compete with food.
PtL, the other SAF alternative, could cost seven times as much as regular jet fuel, and may require intensive use of renewable electricity to produce.
While SAF has the potential to reduce air transport emissions in the long-term, and DACCS could conceivably provide a means of offsetting emissions, both may not be available to industry scale in time for the industry to achieve its net zero goal.