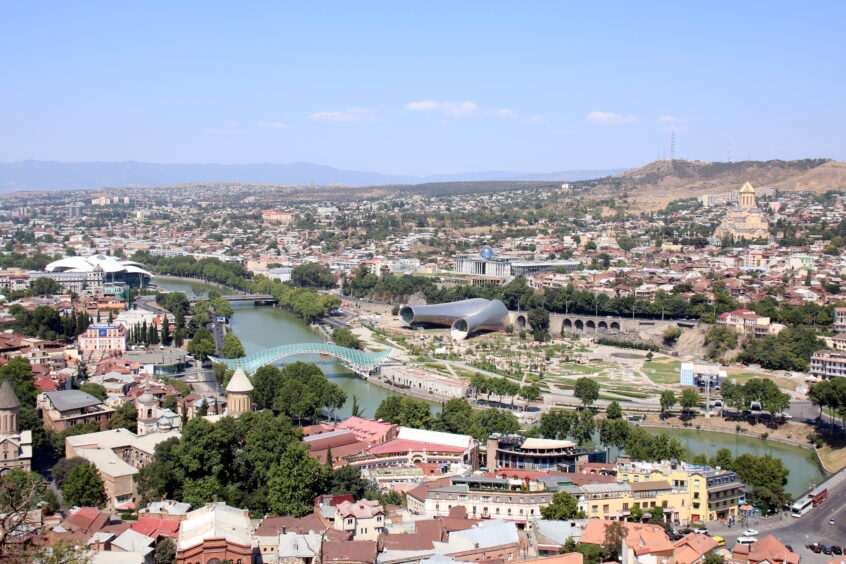 Asian Development Bank (ADB) and the Bank of Georgia (BOG) have signed a risk-sharing agreement, which is intended to extend trade and supply chain financing to small and medium-sized companies (SMEs) in Georgia. 
The agreement will facilitate trade and supply chain finance in Georgia.
By equally sharing corporate risk for supply chains, the deal addresses the unmet demand for trade finance capital finance to SMEs.
Extending trade and supply chain financing to SMEs can also help satisfy many of the UN's Sustainable Development Goals (SDGs).
Benefits to trade and supply chain finance in Georgia
The latest agreement between ADB and BOG will extend trade and supply chain financial assistance in Georgia. By agreeing to equally share risk with the BOG, ADB's Trade and Supply Chain Finance Program (TSCFP) will provide much-needed working capital finance to SMEs, supporting them in joining global supply chains.
The programme provides guarantees and loans to banks. For example, in the case of an SME in a developing country importing equipment from a developed country, ADB would issue a credit guarantee (CG) to the exporter's bank to help facilitate the trade. Over 75% of the TSCFP's portfolio is financed using CGs.
The supply chain finance portion of TSCFP is intended to reduce the financing gaps faced by SMEs in their operations. These gaps can be filled by providing guarantees or direct funding to give SMEs access to working capital for their supply chains. For example, pre-shipment financing extends capital to a business to pay suppliers, without having to deplete its own cash reserves.
TSCFP leverages ADB's AAA credit rating to work with more than 250 partner banks, which partly addresses a $2 trillion shortfall in funding to SMEs for trade finance globally. By enabling loans and guarantees for trade and supply chains, the programme seeks to support economic growth and create jobs across member countries. 
The importance of SMEs to Georgia's economy
According to the OECD, almost all active enterprises in Georgia can be classified as SMEs.  They account for 58% of output, and almost 60% of employment, in the business sector. Lending to SMEs has grown significantly in the decade to 2020, with business loans almost tripling. Loans to the sector accounted for 43% of total business loans.
In 2021, ADB mobilised $7.5 billion in co-financing through its TSCFP and Microfinance Program in Georgia. Due to the importance of SMEs to the Georgian economy, extending financial assistance to the segment would seem vital to supporting the BOG, as well as the Georgian economy.
ADB continues its economic contributions to Georgia
ADB has a 15-year history of providing financial assistance to the government and private sector in Georgia, amounting to over $4 billion. Most of this assistance has come in the form of infrastructure finance, but it has also been active in microfinance lending. 
In addition to helping support SMEs, ADB is also supporting cross-border initiatives in Central Asia to help improve food security and develop clean energy sources. 
Funding SMEs via TSCFP helps deliver UN SDGs
The TSCFP from ADB is designed to provide trade and supply chain finance support, largely targeted towards SMEs. Established in 2009, it has helped support over 45,000 transactions, worth $57 billion in trade, of which 60% was related to SMEs. 
A key component of TSCFP is to increase the awareness of partner banks in member countries on ESG best practices. It seeks to respond to gaps in knowledge, services and solutions by providing training and technical assistance to banks across Asia. 
TSCFP is intended to make global trade and supply chains green, resilient, inclusive, transparent, and socially responsible. For member banks, this includes increasing awareness about green initiatives and ending support for fossil fuel lending (Goals 12, 13). Facilitating the use of digital technologies enhances resilience among SMEs (Goal 9).
Encouraging growth in women-owned enterprises, which quite often tend to be SMEs in developing countries, helps achieve Goals 5 (gender equality) and 1 (no poverty). 
As summarised by Steven Beck, head of the TSCFP: "This agreement builds on our trade finance partnership with BOG that started in 2011 and will be catalytic in developing supply chain finance in the region."
"By promoting supply chain finance with our partner banks, we help small and medium-sized businesses in developing Asia to participate in global supply chains, spur economic growth, and contribute to job creation."