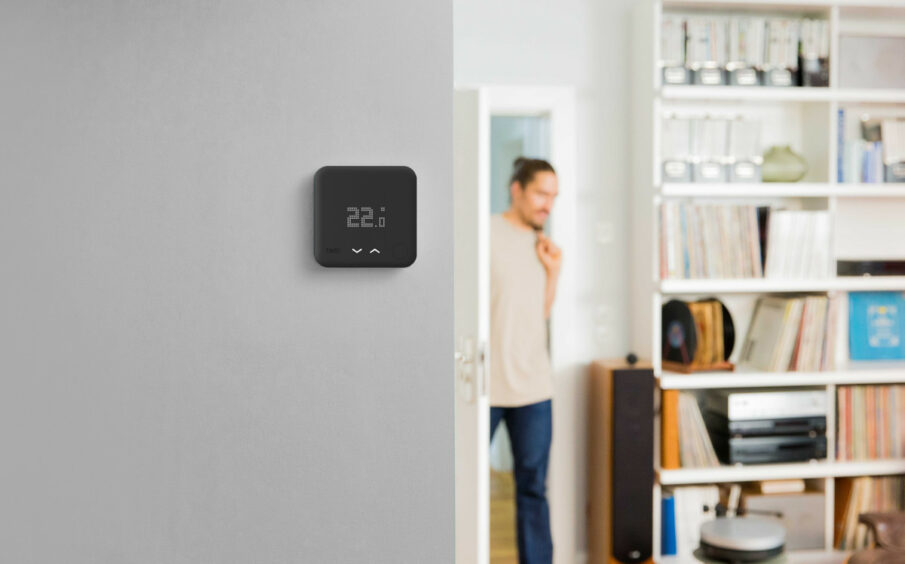 Tado, a maker of smart home climate management systems, has raised €43 million in a funding round which will use to scale its business and expand its product line, with the goal of becoming profitable in 2023. The company's products help to address climate targets by improving the energy efficiency of homes.
Munich-based startup Tado has raised €43 million in a funding round.
The company plans to use the funds to scale its operations further and become profitable in 2023.
Improving in-home energy efficiency is key to combatting the high price of energy and reducing the carbon footprint of the built environment.
Smart energy management controls and digital thermostats can save up to 15% of household energy consumption, according to the International Energy Agency. This system manages energy on the demand side, something that has historically relied on financial incentives and campaigns to modify consumer behaviour.
These tools allow consumers to have better control of heating and cooling their homes, ensure they have the flexibility to use the cleanest electricity, and also to benefit from flexible tariffs and lower prices by regulating their electricity consumption.
Tado targets profitability 
Tado, which makes energy-efficient thermostats and services, has completed a €43 million funding round, which included new investors Trill Impact Ventures, Bayern Kapital, Kiko Ventures, and Swisscanto, as well as Noventic, Target Partners and other existing shareholders. It plans to use the funds to become profitable in 2023, by scaling its operations and serving the home energy market across Europe and the UK.
The proceeds will also be used to expand its in-home energy management product offering. Specifically, it will bundle its Smart Thermostats with time-of-use energy tariffs, enabling home energy use to target times of lower-priced energy, to unlock savings. 
Christian Deilmann, co-founder and chief product officer at Tado, said: "As the leader in intelligent home climate management, now is the right time to scale a unique energy management offering that will double down on reducing home's heating costs and CO2 emissions. We are looking forward to strong partnerships with the newly joined shareholders."
Responding to a key economic and climate change imperative
The company claims its product platform enables the integration of features and services from other makers of energy efficiency products, which help lower heating costs by 22% on average, and provide customers with full return on investment within six months. For example, its smart thermostats work with geofencing, a global positioning system-based application, to track whether a room or the home is occupied, while its Open Window feature regulates temperature to adjust for the inclusion of outside air.
There is increasing attention to the importance of energy efficiency, which has manifold benefits including saving costs, reducing emissions and boosting security of supply. Read our explainer on energy efficiency to find out more.
Path to profitability includes scaling and expanding product offering
Founded in 2011, Tado's aim was to build smart home thermostats that were consumer friendly and targeted energy efficiency. It claims that its products are compatible with over 95% of European homes, so users can install them by themselves. 
In January 2022, Tado acquired aWATTar GmbH, which provides power load-shifting technology by using time-of-use energy tariffs. The company believes allowing this flexibility will be supportive of the expansion of renewable energy generation, which is vital to Europe's energy transition.
Annual sales doubled in 2022 after it reached 3 million homes in Europe. To expand its sales further, Tado plans to launch a new product line to work with real estate companies to target the rental home market. 
By scaling this combined offering, Tado says it is enabling consumers to manage their home heating costs at the lowest possible cost, while also limiting their CO2 emissions.
According to a company spokesperson, the increase in sales from growing its home and rental businesses will provide a path for the company to reach profitability. It has no plans to make more acquisitions at present, but has identified hot water storage or buffer tanks and heat pumps as potential areas of future expansion.
The spokesperson said: "These technologies can work together to maximise the use of energy in a home more efficiently. Using smart thermostats on a heat pump can ensure that the home is heated to a desirable temperature throughout the day using electricity when it's cheapest. This all happens automatically in the background thanks to our technologies, leaving peace of mind for the customer and a perfect indoor climate as the customer desires."