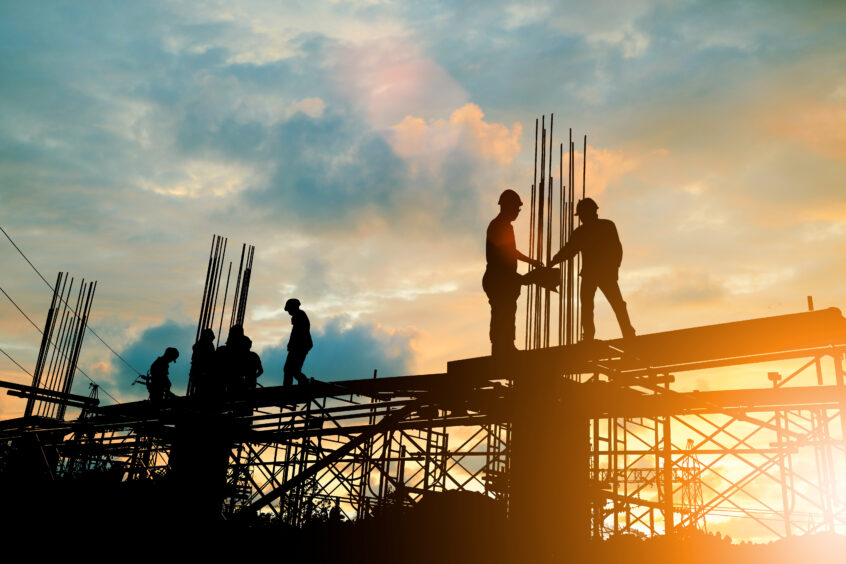 Job losses in the north-east energy sector are predicted to be "minimal" as demand for "green" skills grows, according to new findings from PwC.
The energy transition will lead to a minimal amount of job losses as people in the oil and gas sector can easily transfer their skills.
Offshore wind is expected to drive demand for 41,000 jobs across the UK by 2026, while nuclear will account for 40,000 jobs by 2030.
The report by PwC found the "biggest barrier" facing green jobs growth is skill shortages with small and medium-sized businesses needing particular support and reskilling being "key".
PwC's green jobs barometer also found Scotland is creating a higher proportion of new green jobs than any other part of the UK, with such roles more than doubling in the last year.
The barometer, collated from five "pillars" of data, provides an analysis of the movements in green job creation, job losses and carbon intensity of employment.
The demand for green jobs in Scotland is being driven by the energy sector, primarily in the north-east – described as a "thriving energy hub".
The report said: "The region boasts the largest pool of energy-related skills in the UK, skills which are highly transferable to roles in the emerging renewables subsector."
It said there is already significant investment in offshore renewables, which is already proven and implemented, along with developments in carbon capture, usage and storage (CCUS) and hydrogen.
Minimal job losses in energy sector
The barometer also looked at jobs likely to be lost as the sector move towards "net zero".
The skills transferability of the energy sector, matched with the demand for jobs in offshore wind (41,000 across the UK by 2026) and nuclear (40,000 by 2030) means that net job losses in the energy sector are set to be minimal and may not be realised until after 2030, PwC said.
In Scotland 3.3% of all job adverts were for those that have a positive impact on the environment, up from 1.7% last year.
PwC Scotland regional market leader Jason Morris said: "Not only did Scotland have the highest proportion of green jobs, our research shows there was a 170% increase in the number of green jobs advertised.
"Our dynamic and adaptable nation has laid strong foundations, but for this momentum to continue, there must be adequate funding for reskilling in the right areas to ensure that as we move towards net zero targets, jobs are created and sustained where they are most needed.
"From the energy sector workers in the north-east to the technology being created by innovative start-ups and the strength of our financial and professional services sectors, Scotland has huge potential as a net zero economy, and we must work together to ensure this is supported."
Green jobs are growing at around four times the rate of the overall UK employment market, with 2.2% of all new jobs classed as green.
The number of green jobs advertised in the UK has almost trebled in the last year, equating to 336,000 positions and providing encouragement that the economy is becoming greener.
Reskilling is 'key'
The report found the "biggest barrier" facing green jobs growth is skill shortages with small and medium-sized businesses (SMEs) needing particular support and reskilling being "key".
Research from Robert Gordon University suggests that if sufficient investment is made in the region to deliver 18GW of offshore wind, it would lead to a 20% increase in north-east Scotland's offshore energy workforce to 54,000 people by 2030.
It is predicted that as much as 90% of the oil and gas workforce would have transferable skills. There is a growing demand for green skills within the energy labour force.
The water supply and electricity and gas sectors remain to be those with the
highest proportion of green jobs at 34.5% and 31.6% respectively.
A significant increase of 6.2% was seen in the agriculture, forestry
and fishing sector.
While the construction and manufacturing sectors saw a 2.0% and 1.5% growth in
green jobs.
Investment must continue
PwC Scotland ESG leader Jason Higgs said: "One of the main benefits for Scotland's current workforce is the large proportion of energy sector workers with transferable skills that with the right support can move to other sectors.
"As we transition to more renewable sources of energy, Scotland has a pivotal role to play, as evidenced by the increasing investment in offshore energy, early stage investment in alternative renewable energy sources and nuclear power in Scotland.
"However, within this lies a challenge for the sector on finding enough workers for greener energy sectors and upskilling to meet the rising demand of green skills in current roles, as opposed to a challenge of job losses.
"The strength of Scotland's skills base and the fact that many workers have transferable skills, lay a strong foundation, but investment must continue apace."
London was the second strongest performer by growth in the proportion of green jobs, with the South East close behind.