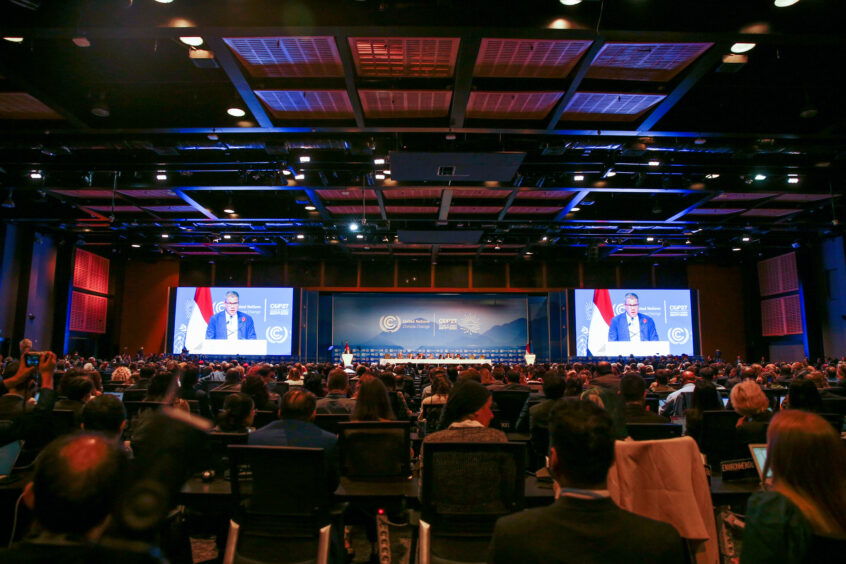 COP27 is now taking place in Sharm El Sheikh. It matters because world leaders will agree on how much, and how fast, we take action on climate change – and that changes the operating environment for all businesses. There are, however, some challenges to overcome in the negotiations.
The World Leaders Summit on 7-8 November will set the scene for how much action governments are prepared to take on climate change.
COP27's focus is on implementation, on moving from commitments to action but there is concern this will mean a loss of momentum in increasing ambition for climate action.
Urgent action is required but there are stumbling blocks in the negotiations around finance, mitigation and adaptation, energy and more. The next fortnight will show how far collaboration can go.
Egypt, as president of the process, has said that this year the focus must be on implementation, in terms of finance, collaboration, mitigation and adaptation. On the surface, this makes sense. Current long-term strategies (representing 62 Parties to the Paris Agreement) account for 83% of the world's GDP, 47% of the global population in 2019, and around 69% of total energy consumption in 2019.
What matters now is that such commitments are translated into action. Many net-zero targets remain uncertain and postpone into the future critical action that needs to take place now. Ambitious climate action before 2030 is urgently needed to achieve the long-term goals of the Paris Agreement.
While the shift towards a focus on implementation rather than new agreements can be seen as a positive move towards concrete, evidence-based action, the downside is that it could also represent a loss of momentum in a process where action already lagging behind the science.
The state of the climate
Certainly, science makes for concern. Scientists estimate that the world has already seen 1.1°C of warming and this is playing out in more frequent and severe droughts, severe heatwaves and floods.
UN Secretary-General António Guterres said: "Floods, droughts, heatwaves, extreme storms and wildfires are going from bad to worse, breaking records with alarming frequency. Heatwaves in Europe. Colossal floods in Pakistan. Prolonged and severe droughts in China, the Horn of Africa and the United States. There is nothing natural about the new scale of these disasters. They are the price of humanity's fossil fuel addiction."
The September 2022 report coordinated by the World Meteorological Organization (WMO), United in Science, said that GHG levels continue to rise to record highs. Fossil fuel emission rates are now above pre-pandemic levels after a temporary drop due to lockdowns. The ambition of emissions reduction pledges for 2030 needs to be seven times higher to be in line with the 1.5 °C goal of the Paris Agreement.
While extreme weather events are often focused on major floods or droughts, the impact on agriculture and yield, the changes in climate are going to affect everyone in every part of the world. It is also important that it is recognised that all of these extreme weather impacts exacerbate existing socioeconomic challenges and inequalities.
The impact on cities is a prime example of this. Cities are currently home to 55% of the global population, or 4.2 billion people and urbanisation is increasing. They are often referred to as being responsible for up to 70% of human-caused emissions, but they are also vulnerable to the impacts of climate change.
These include the impact of increased heavy precipitation, accelerated sea-level rise, acute and chronic coastal flooding and extreme heat, among other key risks. It has been estimated that globally, by the 2050s, over 1.6 billion people living in over 970 cities will be regularly exposed to 3-month average temperatures reaching at least 35 °C (95 °F). The urgent need for action has never been more clear.
What do we want to see at COP27?
Simon Steill, executive secretary of the UNFCCC, said that national governments should come to COP 27 to show how they will put the Paris Agreement to work in their home countries through legislation, policies and programs, as well as how they will cooperate and provide support for implementation.
He said that the important thing is that everyone should be held to account. But there are many challenges to overcome.
Climate finance
Climate finance is one of the most contentious issues during the COP negotiations, and one of the major causes of a loss of trust in the process. In 2009, it was agreed that $100 billion in climate finance would be provided annually by 2020 to help developing economies invest in addressing climate change. This goal has still not been reached. The latest progress report suggests the $100 billion figure will be reached in 2023.
Discussions on finance are taking place against a backdrop of geopolitical turmoil and economic uncertainty, and the likelihood of many countries being able (or willing) to find the necessary funds continues to lower. One of the key issues is how much of that money should be public finance in the form of grants and concessionary loans, and how much should come from the private sector. While many developing countries do not want to see commercial frameworks in place, it may be that the private sector is the only place the money can come from – with governments using policy to set enabling conditions for such investment.
Climate risk is also high on the agenda, with a growing focus on the potential economic instability that climate change could cause.  Central banks are increasingly concerned about the potential volatility caused by climate change, while growing awareness of the potential for stranded assets and portfolio impact or value destruction (especially for the fossil fuel industry) is driving a lot of pushback from economies reliant on fossil fuel exports.
Then there is the issue of loss and damage. Most climate finance to date has focused on mitigation, on slowing growth in emissions through financing renewable energy projects and the like. Around a third of funds has gone to adaptation, to investments enabling infrastructure and communities to adapt to the impacts of climate change. Loss and damage funds are about compensation for events and impacts that cannot be 'adapted' to.
Developed countries have fought for many years to keep this off the agenda, with concerns that an agreement on loss and damage might create a link to legal liability, and open the floodgates on climate litigation. In fact, at COP26, the EU and US joined up to keep it off the agenda.
The fact that loss and damage is on the agenda in Egypt is considered a win by activists and vulnerable countries, but it could make negotiations that much more fraught. It is a complex issue at the same time, as there is no agreement yet on what it should cover – infrastructure or ecosystems for example, or how such a financing mechanism could work.
Mitigation and adaptation
Within the climate framework mitigation has historically had a higher profile than adaptation but, decades after the first COP, it is clear that mitigation is no longer sufficient. The recognition of the critical need for adaptation and resilience is likely to play a major role in discussions.
Adaptation is crucial to lowering the risks around climate impacts. Early warning systems can save lives, reduce losses and damages, contribute to disaster risk reduction, and support climate change adaptation. At the same time, the need for adaptation is going to affect key sectors of the economy, from cities, transportation, construction and infrastructure.
Major investors, like Bill Gates's Breakthrough Energy, have said that they are looking to spend more on adaptation. This is both a recognition of the fact that climate change is already happening, and the fact that for the private sector there is an incredible investment opportunity.
Methodologies and frameworks
As ever, discussions around reporting and transparency, as well as methodologies and standards are going to play a key role in the discussions. Climate risk reporting through the TCFD is becoming mainstream and increasing jurisdictions (including the UK) have made it mandatory.
The debate about whether climate risk reporting should simply focus on enterprise risk (to the business from climate change) or on impact as well (risk to the climate from business operations) rages on but a strong COP focus on adaptation and integrated solutions may see a shift in attention.
In fact, Business for Nature's current Make it Mandatory campaign has over 330 business and finance institutions from 56 countries, with combined revenues of $1.5 trillion, are calling for mandatory requirements for all large businesses and financial institutions to assess and disclose their impacts and dependencies on biodiversity by 2030.
What might prove most contentious however is the question of carbon offsets. There are huge concerns about the use of nature-based solutions for carbon removals, not least of which is the amount of land required and the rights of the indigenous peoples living on that land. It appears as if the Supervisory Body has already agreed on terms for removals, while shutting observers out of the negotiations space and cancelling meetings with stakeholders. These include the Center for International Environmental Law (CIEL) which has warned that Article 6.4 of the Paris Agreement (on carbon mechanisms) should be focused on the reduction of emissions, not on removals reliant on fairly untested technologies.
The issue of offsets, whether preventing emissions in another place to allow another party to continue to emit, remains contentious. There is no question that funds are required for the protection of ecosystems and carbon sinks, but should protect what is already there enable a corporate to emit GHGs – that is not going to get us to net zero.
Nature and biodiversity
The introduction of nature to the negotiations at COP26 was the recognition of the interlinked nature of the climate, food, water and energy crises. Not only do we need to find ways to protect the nature and biodiversity that we have but we have to begin to reverse the degradation of land, forests, and biodiversity that our economic operations have driven.
The World Economic Forum's Global Risks Report 2022 highlighted that two out of three of the most critical risks facing the world today arise from the loss of nature both in the short and long term. Climate action failure is said to be the greatest risk we face, At the same time, it has also been estimated that shifting to a nature-positive economy could create almost 400 million jobs and an annual business value of $10 trillion by 2030.
That is going to require fundamental changes in the commodity supply chain, as well as the transformation of food and materials production and consumption. Climate action needs to be taken in tandem with biodiversity and nature targets, and it is to be hoped that COP27 will include some outcomes that support the 30×30 goal that the Convention on Biodiversity conference in Montreal in December (COP15) is determined to achieve.
This targets the protection of at least 30% lands, rivers, lakes, and wetlands by 2030, as well as least 30%oceans by 2030. Steve Waygood, Chief Responsible Investment Officer, Aviva Investors, part of the Make it Mandatory campaign said: "The current rate of global economic activity is more than the planet can cope with. If nature was a current account, then we would be heavily overdrawn. This is bad for the environment, and bad for long term growth."
Understanding the impact of nature and biodiversity loss, and its relationship with climate change, should see integration between the approaches of COP27 and COP15 but it remains to be seen what the next few weeks will bring.
Energy and the cost of transition
The energy question will remain at the heart of the COP27 discussions. There is a clear need to move away from reliance on fossil fuels but the COP negotiations do not happen in a vacuum. They exist within the particular geopolitical and economic environment today and that means that fossil fuel-dependent countries will want to protect their exports or reassure their citizens that they are taking action on the current energy crisis.
COP26 saw a last-minute change from a phase-out of coal to a phase-down and the last year has seen a huge resurgence in investment. If we can't stop using coal, what hope is there for phasing out oil and gas?
The question of energy cost is particularly interesting as the growth in renewables continues to accelerate, while the price of deployment continues to fall. This is happening at the same time as the social cost of carbon is estimated to be more than 300% higher than previously estimated – that's the cost of damages caused by the emission of one tonne of CO2e. That's the cost of climate risk, and means unanticipated costs for infrastructure, the destabilisation or even destruction of supply chains, and unexpected CAPEX requirements for adaptation.
In the end, this is a short term versus long term argument. The argument is always that it's too expensive to transition today, forgetting that the longer we wait to take action, the more extreme the adaptation that will have to take place and therefore the more drastic, and potentially more expensive, the transition will have to be.
In January 2022, the WEF warned that the world is already in the process of a disorderly transition to net zero, and the lack of clarity about the net zero pathway is already impacting the ability for organisations to conduct business – which itself causes economic volatility and potentially destabilises the financial system.
Let's not forget that we have been consistently told that we can't afford to invest in transition as it'll be cheaper in the future. The reality is that the cost of energy keeps getting higher as we remain dependent on fossil fuels. Governments can argue, as the UK does, that investment in new coal, or new gas and oil fields, is about energy security but it will take years for such projects to come online. Spending that money on renewable energy and rebuilding the grid while developing multiple forms of storage seems more logical but that is not a message that seems to be getting through at a policy level.
The real question for COP27 is whether or not high fossil fuel prices will slow decarbonisation or drive smarter, cheaper decision making and at the moment it doesn't look as if governments are taking the smarter, faster, cheaper route.
Emissions plans and National Development Contributions (NDCs)
Finally, the question is whether or not countries are going to step up and increase their emissions ambition. The goal for COP26 was to 'keep 1.5 alive' and while it made a great tagline it's not clear that the goal was achieved.
According to the UN, current NDCs have the world on track to increase emissions by 14% by 2030, rather than the 45% reduction recommended by the IPCC. That means that current policies and planned policies have the world on track for a temperature increase of 2.5°C but since COP26 in Glasgow, only 29 out of 194 countries have come forward with tightened national plans. While there is hope that the next fortnight will see further announcements, there are those who feel that success at COP27 will involve not losing any further ground, let alone seeing stronger engagement.
Looking forward
The Egyptian presidency's avowed focus on implementation has left many concerned that the momentum for action could be lost. The early days of the COP are often where the tone is set, as leaders set out their terms of engagement at the World Leaders Summit (WLS) – this is where each country outlines what it wants to see and what they're prepared to do.  While the detail will remain unclear until the final day the WLS often gives a good idea about the enthusiasm and commitment of those involved.
There are also many issues that haven't been touched on here, from the importance of climate justice, the role of a just transition, youth, gender, water, the importance of credibility and accountability and even the role of the private sector. Human rights remain fundamental, even in circumstances where many local activists say they haven't been able to register for COP and demonstrations are officially limited to certain areas of the conference. These will all play a role in the negotiations, as differing interests, power relationships and demands pull the agreement in multiple directions.
The reality is that each individual COP is part of a wider overall process and one that doesn't happen in a clean, scientific, factual way but is embedded with socio-political and economic power relationships – sometimes it seems like a miracle that any agreement was reached in the first place.
No matter what, the urgency of action on climate change is only accelerating and the next fortnight will give us a picture of how the world's governments plan to address the challenge. What's critical is to ensure that there is no back-sliding on climate ambition, agreement on scaling up climate finance and, closely linked to that, rebuilding of trust between developed and developing nations on how to move forward in an equitable manner. There is little question that the private sector is going to have to play a central role, but how remains to be seen.
It looks like it's going to be an interesting couple of weeks.