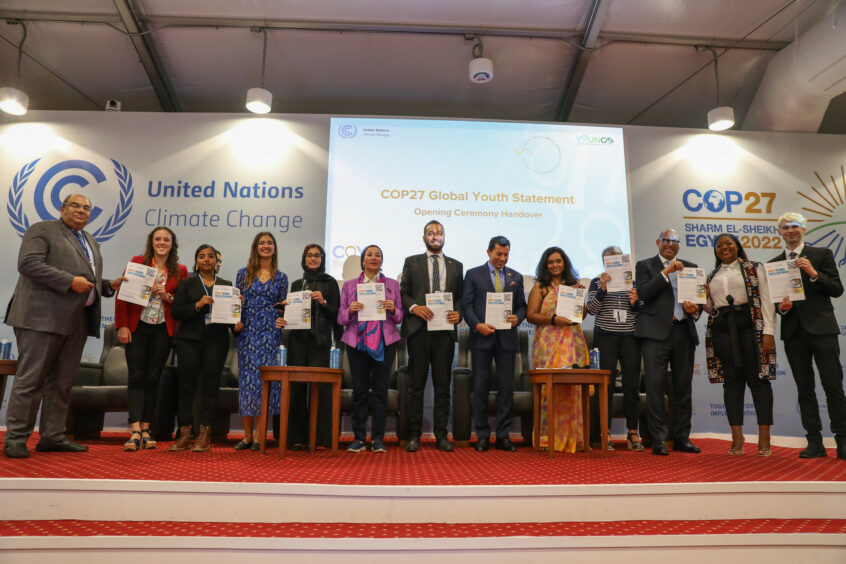 Thursday was science and youth day, which happened alongside ongoing negotiations and a continuing conference focus on adaptation, resilience and justice.
Science and Youth Day brought warnings on limits to adaptation and demands for loss and damage.
Including all voices, and finding equitable solutions is a necessary part of an effective transition.
Such voices shouldn't be left to one day but integrated into decision-making.
Across the COP companies, NGOs and governments are discussing what it takes to create a just transition, as in a climate action plan that is socially equitable. There is widespread acknowledgement that any net zero transition is going to have to be a fair and inclusive one, and that it will only work if we bring everyone along. At the same time, there is a strong recognition that the time for fighting each other is past, that it is time to collaborate to move things forward.
In order to do so, knowledge gaps must be filled in and our policies and economic trajectory must follow the science. In the same way, every stakeholder in the process must be involved in the process – and that involves the young people who will be affected by the decisions made during these negotiations.
The focus of Science Day
This was focused on landmark science reports that have come out in 2022 from IPCC, UNEP, and other institutions, as well as the necessity of consistently having science guiding the response to the climate crisis.
The Ten Insights report warned that while 1.6 billion people live in climate change "vulnerability hotspots" today, that number could double by 2050 if fossil fuels continue being used at the rate they are today.
While Science Day was about highlighting the challenges that are being faced, it was also about sharing information on the solutions and approaches that can help minimise the damage.  There are a rapidly increasing number of technologies and approaches, from circular closed-loop business models, to biomimicry, lab-grown meat, new forms of sustainable agriculture, advanced robotics, digital solutions and more.  There are grounds for optimism if, as is repeatedly said, the finance can be scaled up – or realigned – to the necessary scale.
Climate science warns of myths around the climate
The 2022 Ten Insights on Climate Science report was published, with key insights from the latest climate change-related research this year and responds to clear calls for policy guidance. It emphasises and unpacks the complex interactions between climate change and other drivers of risk, such as conflicts, pandemics, food crises and underlying development challenges in the report.
Perhaps the most alarming insight was recognition that there are limits to adaptation. Rising sea levels capable of submerging coastal communities and extreme heat intolerable to the human body, are examples of 'hard' limits to our ability to adapt. It also highlights that over 3 billion people will inhabit 'vulnerability hotspots' — areas with the highest susceptibility to being adversely affected by climate-driven hazards — by 2050, double what it is today. That's going to affect around a third of the people on earth.
Data gaps are a significant challenge for adaptation
Data gaps must be filled. One of the challenges of adaptation is that we don't know enough, and we certainly don't have enough information about climate is going to affect the weather in any detail. The finance and meteorological communities came together at COP27 to discuss how to close weather and climate data gaps and how to use climate data for more effective economic policies. Bo Li, Deputy Managing Director, International Monetary Fund said: "Science based solutions and data are more important than ever. The quality of climate analysis depends on the data."
"Climate data is economic data," said Mari Pangestu, Managing Director of Development Policy and Partnerships, World Bank Group. Thursday also saw an announcement that IRENA and the World Meteorological Organization (WMO will work together to support the transition to renewable energy through tailored weather, water and climate services.
Children may be the future but that doesn't mean their voices are heard
Ensuring that the voices of children, adolescents and youth are meaningfully heard loud and clear is one of the key objectives of the COP27 Presidency. It therefore decided to hold a stand-alone day to engage Youth and ensure that their perspectives are taken on board and reflected across all areas of the climate agenda.
For the first time, a Youth-Led Climate Forum was held as the main event during the first half of Youth and Future Generations Day. The Global Youth Statement synthesises the collective demands of children and youth across the world, represented by YOUNGO, and sets out key policy demands across 15 themes, ranging from climate finance and energy to loss and damage and climate justice. Roundtables were held during the Forum to explore all the different policy areas.
The Statement was presented to climate leaders and a statement read: "We call for an inclusive approach to climate governance that acknowledges the disproportionate impact of the climate crisis on our communities and the need for systemic and radical action."
The call from the youth was clear: they want the establishment of a loss and damage finance facility that can provide additional and readily accessible funding to help developing nations adjust to and limit the "irreversible life changing impacts on young people." The real question however is whether the concerns of the younger generation will have any impact on the negotiations taking place behind closed doors.
One of the more dramatic moments of the day saw US Speaker Nancy Pelosi almost mobbed after she took part in a session at the Resilience Hub. She talked up the US Inflation Reduction Act which, she said,  has $370 billion in it to address the climate crisis, For The Children in a fair and just way. Again, money for the children doesn't mean that different children's voices will be heard.
Pelosi also touched on the fact that many US Republicans see climate change as a hoax and said: "We have to save all the children, it's a moral issue. We can't have political disagreements over this or let the fossil fuel industry cramp our style. The need is great enough and the urgency is clear enough…We want to proceed with respect and not be menacing to those who we need to win over but to show them the path. In doing that, we need to listen to them. None of us are protected from this unless all of us are protected from this."
Decarbonisation Day
Friday is Decarbonisation Day, which will focus attention on the urgent need for deep and rapid cuts in emissions and the need for climate finance to support the Global South through the energy transition.
That's likely to mean a lot of focus on high-integrity voluntary carbon markets. They have the potential to channel additional finance at scale to fund projects that will cut billions of tonnes of emissions each year to meet net-zero targets and provide critical funding to support Indigenous Peoples and local communities.
So we can expect to see a lot of discussion on the carbon markets themselves, blue carbon science and markets, biodiversity, land-based mitigation, soil health and, of course, carbon accounting.
There is also going to be more exploration of the different scales at which interventions can be made, from exploring the role of cities to looking at behavioural change and how that sits between the often polarising approach of demanding system change or individual responsibilities.
Back in the negotiation rooms, with world leaders on their way to the next meeting of heads of state, it's time for the hard negotiating graft to begin.