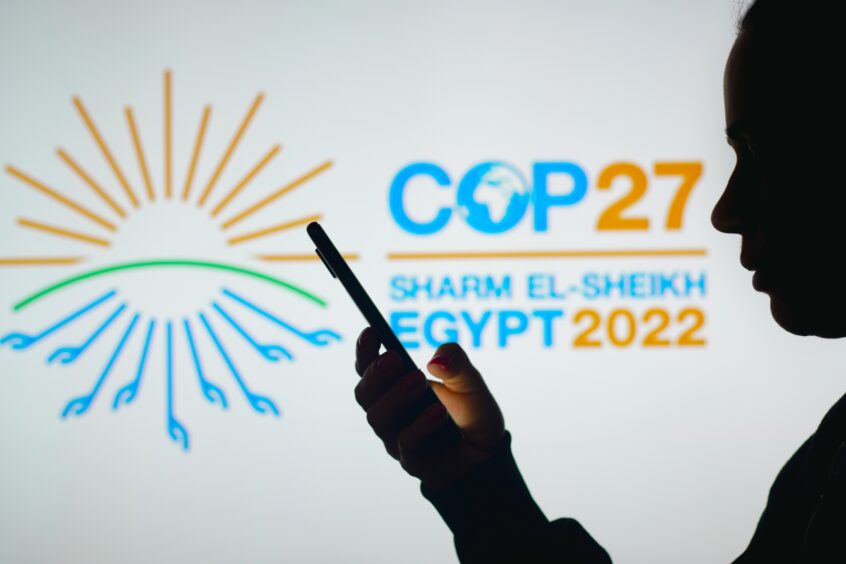 Decarbonisation was the main theme on Friday, while Saturday was dedicated to agriculture and adaptation. This year's COP recognises land use and nature as the flip side of lowering emissions – we won't hit the 2050 target without addressing both.
Decarbonisation Dat focused on how to address CO2 from the highest emitting sectors, with new roadmaps launched to signal a pathway.
Land use and agriculture have been recognised as needing intervention. A third of global greenhouse gas emissions come from the food system, with over 70% of emissions being related to agriculture and land use change.
Negotiations are challenging amid concerns about watering down the 1.5°C target, and agreement on article 6.4 of the Paris Agreement, which covers carbon markets, has been punted to next year in Berlin.
There was a flurry of activity around Joe Biden's appearance, but despite his message that the US is committed to action on climate change, there was a lot of push-back on the day. This is because while the Inflation Reduction Act and the Infrastructure Act mean that the US may well be able to meet its 2030 emissions targets, its failure to address the investment needed in the developing world is a stumbling block for many. John Kerry said the US was supportive of action on loss and damage, but it is not just clear exactly what that meant.
Despite the news that The International Organization of Securities Commissions (IOSCO) published its recommendations for carbon markets, the negotiators themselves couldn't reach an agreement on Article 6.4. This is the part of the Paris Agreement meant to operationalise the replacement mechanism of the Clean Development Mechanism (CDM).
Day 5: Decarbonisation
While decarbonisation was addressed on Friday, it is worth noting that the talk was very much on just transition and how to achieve decarbonisation while respecting people's rights.
Big news on the day was the launch of the Breakthrough Agenda, a new international technology plan to keep the 1.5°C target alive. Governments representing over half of the global GDP set out a 12-month action plan to help make clean technologies cheaper and more accessible everywhere.  It contained 25 new collaborative actions to be delivered by COP28 to speed up the decarbonisation under five key breakthroughs of power, road transport, steel, hydrogen and agriculture.
These measures are designed to cut energy costs, rapidly reduce emissions and boost food security for billions of people worldwide whilst also ensuring a just transition for green jobs. Not only that, but it is increasingly clear that building adaptation and resilience into the industry transition is going to be critical to the protection of goods, services and local economies.
What was particularly interesting was the launch of the Carbon Dioxide Removal 2030 Breakthrough. It aims to scale carbon dioxide removals to 3 billion tonnes of CO2 by 2030, with the potential to store another 500 million tonnes a year for at least 100 years. Given the scale of the problem, this makes it very clear that there is no debate between offsets, removal and storage – every option at our disposal has got to be used.
The United Nations Environmental Program (UNEP) unveiled the satellite-based Methane Alert and Response System (MARS) to cut down on the potent greenhouse gas, methane. By identifying hotspots, the UN can then demand action from the Parties. The announcement was important because, while we talk a lot about CO2 emissions, there is a whole basket of gases which cause global warming, with different impacts over different time frames. Given the short period of time within which action must be taken, this has got to be addressed.
Race To Resilience launches its new Resilience Data Explorer, looking to build on impact and transparency – transparency again coming through as one of the most important parameters of action at COP27. R2R partners have pledged to increase resilience for 2.9 billion individuals, 264 regions and 559 cities worldwide with resilience-building actions up to 2030. It currently has 36 partners, operating in 175 Countries with 2029 members.
Insurance, which has often been accused of coming in after the fact, and often refusing to pay out, has launched its own approach. The Insurance Adaptation Acceleration Campaign is looking to get half the global insurance market to scale efforts in climate risk reduction. This, combined with the Marsh Mclennan-led Cool Capital Stack, show how much the focus is shifting towards adaptation to a changing climate and minimising its impacts on people and economies.
Finance got in on the action too, with the launch of the Climate Investment Funds' (CIFs) new Industry Transition Programme, the world's first large-scale dedicated finance programme for developing country industry transitions. There was also news that ISSB is to use CDP's reporting platform – something which adds to potential standardisation but concerns those who think that the ISSB's failure to include impact (or double materiality) in its framework completely undercuts its role in sustainability.
Day 6: Adaptation and Agriculture
Adaptation and agriculture are getting their first individual focus days at COP27. Given that all economies operate within nature, it is positive to see a recognition that whether you like it or not, all investments are exposed to the risk of changes in nature and the nature/biodiversity crisis must be addressed. In fact, over half of the world's total GDP ($44 trillion) is considered moderately or highly dependent on nature.
What was difficult to process was the apparent disconnect between two different visions of action on agriculture. One was built around resilience, soil health, support for smallholder farmers and the use of sustainable and regenerative agriculture techniques. The other was one of focus on the further industrialisation of agriculture and increased use of fertilisers to boost yield – approaches which have got us to the position we are in today.
Climate leaders called for an end to our reliance on industrial food systems, while the Office of the Special Presidential Envoy for Climate and the Agency for the International Development are launching a "Call to Action" at COP27. This is intended to provide an opportunity for the business community, so it can demonstrate its leadership in addressing urgent climate adaptation challenges worldwide.
As it stands, around a third of global greenhouse emissions come from the operation of the food system, with over 70% from agriculture and land use change. What is really concerning is that existing subsidies to food globally, which amount to around $540 billion a year, have been assessed as being harmful to the planet. Shades of the fossil fuel industry anyone?
GRP together with Shockwave Foundation launched the Resilient Agriculture Innovations for Nature (RAIN) Challenge at the Resilience Hub. The RAIN Challenge will provide funding for agricultural innovations in East Africa, aiming to identify new, innovative agricultural initiatives that are nature-positive.
Oceans had their moment in the sun, with research and reports released on blue carbon and ocean-based pathways for climate mitigation. This included the Ambition Loop for the Ocean Economy Report, which is intended to show how government policies and private sector leadership can become mutually reinforcing while raising climate ambition. Meanwhile, FOLU launched its study on land-based mitigation measures, which are intended to support governments and investors to navigate carbon markets and identify bankable mitigation opportunities in forests and agriculture.
Unsurprisingly, given the focus on adaptation, the Cities Climate Finance Leadership Alliance (CCFLA), in partnership with the United Nations Environment Programme (UNEP) and UrbanShift, held a session with city leaders, national government policymakers and urban climate finance experts. Cities are the focal points for 40% of global emissions and they hold a unique position between national policy and investment and induvial people's lives. With increasing urbanisation, there is an urgent need for scaling finance for urban climate adaptation.
The African Alliance for Sustainable Cities and Built Environment was also launched, a platform enabling micro, small and medium-sized enterprises to engage with the need to address climate in a rapidly growing market. Given that the population of Africa is set to increase by 1.3 billion by 2050, many of the cities in which they will live haven't been built yet, and it is imperative to change the trajectory of development.
Across the board, however, there was a consistent call for funds to scale up adaptation in many different forms. Scaling up adaptation finance at the local level will require transformational shifts in terms of the platforms used, reforms to finance architecture and sources of finance.
Day 8: Water and Gender
Water and gender is the dual theme for Monday, which may appear to be slightly strange bedfellows. However, considering the impact that access to clean water has on women's health and education in the developing world, it is no surprise that they were a dual focus.
Education is getting attention as well. Not only did the US mid-terms fall Republican or Democrat on largely educational lines, but there is a huge need for education across the board. Companies need to understand the dynamics and implications of the changing policy and economic environment, even as they need to understand how a changing climate will impact their business. At the same time, education on climate change will be critical in helping emerging markets deal with adaptation and mitigation needs.
There is a lot of ground to cover this week, with high hopes for further announcements on methane, plastics, climate adaptation and resilience. All the decisions and commitments on these topics are going to have repercussions on how business gets done. Looking forward to tomorrow, the focus is on energy and civil society.