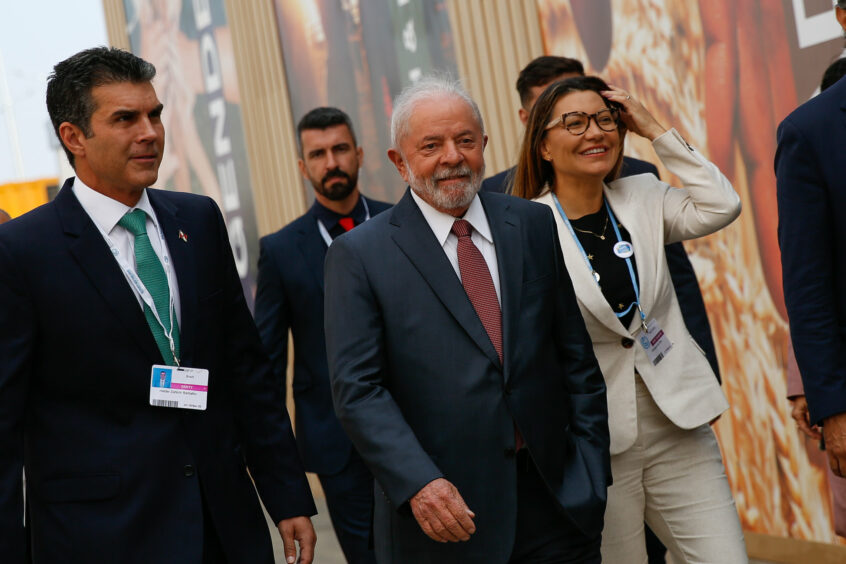 Draft negotiation texts have been released, with hundreds of phrases in brackets – underscoring the lack of agreement not only on phrasing, but also on many fundamentals. There are still gaps in mitigation, finance, adaptation and, of course, loss and damage. Agreement on Article 6.4 has already been pushed to 2023, so the immediate future for the carbon markets looks unclear.
Biodiversity Day saw Brazil's president-elect turn up to a hero's welcome, as hope returns to the future of the Amazon.
Friday is Solutions Day, where the conference will explore the solutions we already have to the climate crisis, as well as those in development.
Concerns are rising that this implementation of COP may prove difficult, as political will is the core component for action.
Negotiations themselves are massively delayed but this is no surprise, as negotiations often run up to (and then past) the wire in the hopes of reaching an agreement. A cover text was released earlier today, highlighting the growing polarity between oil exporting nations and the climate vulnerable.
There have been calls for a complete overhaul of the Bretton Woods system – the financial institutional framework set up after World War II to maintain global financial stability – especially the role of the International Monetary Fund.
Debate on loss and damage continues to cause problems within the negotiations, as concerns rise about the sums involved. While developed economies have failed to provide $100 billion in annual funding promised in 2015, Colombia alone is reported to have calculated $800 billion in damages, highlighting the huge differences in approach.
There is no doubt that the energy crisis is undermining attempts to move forward with effective action, as was cited in the draft text. India's suggestion of including a phase-down of all fossil fuels in the final text, despite support from the EU and the US, seems to have slipped away with the focus once again on coal. The good news is that the text contains the 1.5°C target – a point boosted by its reaffirmation at the G20 meeting in Bali.
Day 10 Biodiversity Day
The focus on Biodiversity Day was on setting the scene for later this year, with a call for a 'Paris moment' for biodiversity. In December 2022, governments from around the world will come together in Montreal for the 15th Conference of the Parties to the Convention on Biological Diversity. The aim is to agree on a new set of goals to guide global actions through 2030 to protect and restore nature, represented in the 30×30 goal.
On the very first day of COP27, the presidents and ministers from Palau, Nigeria, Costa Rica, the UK, France, and the US affirmed their support for the 30×30 target which commits countries to a global effort to achieve the protection of at least 30% of the planet's land and ocean by 2030 to help curb biodiversity loss and climate change.
Thursday saw champions of the 2015 Paris Agreement urging world leaders to secure a strong agreement for nature in Montreal. These include Laurent Fabius, President of COP21, Manuel Pulgar-Vidal, President of COP20 and CBD COP15 Action Agenda for Nature and People Champion, Christiana Figueres, Executive Secretary of the United Nations Framework on the Convention of Climate Change (2010-2016) and Laurence Tubiana, France's Climate Change Ambassador and Special Representative for COP21.
In a letter to the COP backed by more than 340 actors across civil society, they said: "There is no pathway to limiting global warming to 1.5C without action on protecting and restoring nature. Only by taking urgent action to halt and reverse the loss of nature this decade, while continuing to step up efforts to rapidly decarbonize our economies, can we hope to achieve the promise of the Paris Agreement. To be clear: achieving net-zero emissions by 2050 is only possible if we also act now to deliver a nature-positive society."
According to the latest publication of the Living Planet Report, wildlife populations have fallen by over 69% in the last five decades and that represents a critical danger point.  They said: "COP27 must go further in recognising nature's fundamental role as part of the climate solution and catalyze concrete measures to protect and restore nature."
The World Economic Forum has estimated that over 50% of global economic output, roughly $44 trillion, is moderately or highly dependent on nature. Industries such as agriculture, food and beverages or apparel are dependent on nature in that they rely on either the direct extraction of resources from forests and oceans or the provision of ecosystem services such as healthy soils, clean water, pollination and a stable climate.
The economic value of nature has been estimated to already be $7 trillion in goods and services, with half that value coming from agricultural products alone. Unfortunately, existing markets are not set up to value nature and that needs to change if we are to address the twin crisis of climate and nature and biodiversity. This is not simply a question of pricing – in the long term society, economies and the financial system must evolve to value natural systems and services in order to prevent their treatment as externalities.
Marco Lambertini, Director General of WWF International, added: "The science has been very clear: human activities are driving accelerating biodiversity loss which in turn is undermining our ability to limit global warming to 1.5C.
"Entire ecosystems are heading toward collapse, with devastating consequences for people and the planet. COP15 is a momentous opportunity to transition the global economy to one that works with nature, rather than against it.
"There's no more time to waste. Experts know it, business leaders know it, the public know it. We need world leaders to prioritize the negotiations and ministers from all sectors to be in Montreal – with a clear mandate to secure an ambitious agreement. We need all hands on deck to get a nature-positive deal for nature through."
Evidence shows the potential to adapt to climate change is not limitless and cannot substitute for ambitious mitigation. To have a 50% chance of achieving 1.5°C and thus limiting tipping point risks, global greenhouse gas emissions must be cut by half by 2030 and reach net zero by 2050.
Johan Rockström, Director of the Potsdam Institute for Climate Impact Research said: "Critically, these pathways rely on the continuing capacity of nature to operate as a carbon sink and to buffer against the worst impacts of climate change. 1.5°C is not a goal. It is a biophysical limit. Nature is one of the best climate solutions for remaining within that limit. An ambitious global framework for biodiversity at COP15 that addresses root causes of decline of the global commons is urgent and necessary."
As ever though, a lack of political support, policies, and incentives are considered to be the most significant barriers to progress on nature.
The other big deal on Wednesday was the presence of Brazil's president-elect known as Lula. Greeted by rapturous cheers in the blue zone, in a speech he promised the world's first-ever indigenous people's ministry, reactivation of the Pan Amazon collaboration, and an end to deforestation in Brazil amongst many other things.
Day 11 Solutions Day
Today the focus is on solutions. The solutions to tackle the climate crisis are already at our disposal. We must see governments and the private sector channel funding into key climate and nature solutions, with youth and Indigenous People and local communities at the heart of the action.
The UN Climate Change High-Level Champions are set to take stock of the contributions of non-state actions at COP27, with the publication of the Summary of Global Climate Action at COP27. We can expect to see a series of announcements across cities and transport systems and today COP27 will have the first ever Urbanisation and Climate Ministerial, while three more cities have joined the Race to Resilience. The US is launching its Zero Emission Vehicles Emerging Market Campaign (ZEV-EM-C), and we will see the launch of The Collective for Clean Transport Finance. There is expected to be a lot of discussion about shipping, SMEs and human action.
What's fascinating is the huge focus on carbon markets, whether for removals, storage (whether NBS or technical) and that in solutions, while it may be included in sectoral approaches, there has been little discussion of the role of energy efficiency. The International Energy Agency has said that energy efficiency could take us up to 40% of the way to net zero – that's as much as nature.
Danish engineering firm Danfoss has published a white paper calling for energy efficiency to be included in the COP discussions. It's worth reading about how such efficiencies could be achieved, with technologies available today and with a payback period of less than three years.
What is likely to dominate the day is a continued focus on the importance of transparency and capacity building, as well as trying to get a better understanding of where we actually stand. Given that new technologies are constantly upending our understanding of carbon stores and sinks and their operations, and the emissions profile of different industries, there remains a lot to learn.