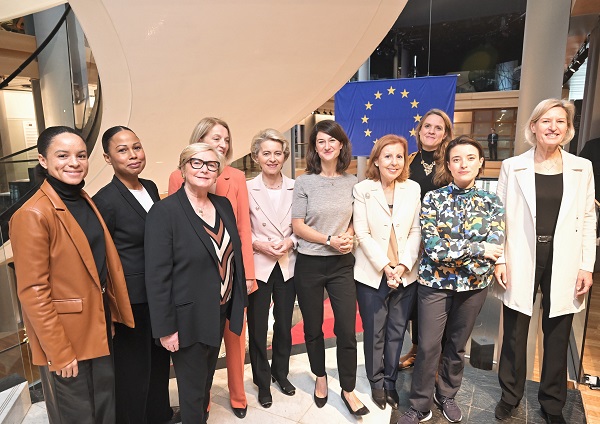 The European Parliament has formally adopted a new EU law imposing a specific proportion of female directors on company boards.
The Women on Boards directive, which was first proposed in 2012, has been approved by the European Parliament.
We are far from reaching gender equality in corporate settings and quotas are considered a valid solution to ignite change.
While this is great news for women, other under-represented genders are still excluded from formal legislation.
A decade in the making
Under the new law, companies with over 250 employees will be required to have 40% female non-executive directors or 33% female directors by 30 June 2026. Companies will also have to appoint a woman in case two candidates for a job are equally qualified. 
Companies failing to reach the quota will be required to report the reasons why and the steps they are taking to address their shortcoming. Penalties could include fines or annulment of the contested director's appointment. 
This landmark directive will enter into force 20 days after publication in the Official Journal and the Member States will have two years to translate the measures into national law. It is meant to be temporary and will expire on 31 December 2038.
The law was first proposed exactly ten years before its approval, in November 2012. The European Parliament adopted its position in 2013 but some Member States disagreed on establishing binding measures. 
In a joint statement, president of the Commission Ursula von der Leyen, vice-president Věra Jourová and commissioner Helena Dalli said: "This is a long-awaited moment, a moment to be celebrated as a breakthrough in gender equality."
They added: "After ten years since its proposal by the European Commission, we will now have an EU law to break the glass ceiling of listed companies boards. There are plenty of women qualified for top jobs and with our new European law, we will make sure that they have a real chance to get them."
The power of quotas
Gender quotas have raised concerns that they risk leading to lower-quality appointments, as they restrict the pool of candidates. Empirical evidence, however, has demonstrated otherwise.
Research in Norway, which was the first country to introduce gender quotas on the boards of listed companies by 2008, found that the measures did not affect the company's market valuation and operating performance. There were also no attempts to circumvent the regulations by, for example, delisting the company.
A separate study published in the American Journal of Political Science in June 2022 found that Italian companies with a gender quota had increased their attention to gender equality issues, especially relating to leadership and family care. The researchers stressed that the higher awareness was not exclusively driven by the share of women on boards, suggesting that quotas influence the importance that both women and men within companies give to gender equality.
Moreover, quotas have been found effective in resulting in tangible change. Currently, eight Member States have national gender quotas for the boards of listed companies, which has led to an average of 38.3% female board members in the largest listed companies of those countries. This compares to 31.4% in Member States with soft measures, and 17.5% in those that have taken no action at all, according to research by the European Institute for Gender Equality.
Need for wider inclusivity measures
Gender quotas must be complemented by other company-wide inclusivity measures to avoid tokenism. No one wants to question whether their appointment was based on merit or if it was a mere box-ticking exercise.
According to management consultant Shape Talent, companies need to address six elements beyond gender quotas to foster equality. They need to include change efforts in the business strategy, come up with a targeted plan, engage men and build inclusive leadership capability.
Alongside hiring more women, they should also de-bias the system, which includes scrutinising recruitment, promotion and reward practices, as well as launching initiatives to support women's professional development within the organisation.
Equality includes all under-represented genders
The Women on Boards directive is part of the EU Gender Equality Strategy 2020-2025, which sets out to "make significant progress by 2025 towards a gender-equal Europe". Its key objectives are ending gender-based violence; challenging gender stereotypes; closing gender gaps in the labour market; achieving equal participation across different sectors of the economy; addressing the gender pay and pension gaps; closing the gender care gap and achieving gender balance in decision-making and in politics. 
Its horizontal principle for implementation is intersectionality, which considers that all women are different and may face discrimination based on several personal characteristics, such as race and disability.
The directive refers to biological sex, but the discourse around gender has evolved since the establishment of Sustainable Development Goal 5, which focuses on achieving gender equality and empowering all women and girls, and lies at the foundation of the EU policies on gender.
There is increasing awareness of the discrimination suffered by non-binary and transgender people, as well as the Two-Spirit people part of some Indigenous communities in North America. The acknowledgement of their struggles in society, however, is nowhere near enough to push for regulations and measures to support all under-represented genders.
For example, the Equality Act 2010 enforced in the UK covers gender reassignment discrimination in the workplace, but it has been criticised for containing outdated language and no mentions of non-binary or other gender identities. Remaining in the UK, a survey by the Chartered Institute of Personnel and Development found that LGBT+ employees were more likely to experience workplace conflict and harassment than their heterosexual, cisgender counterparts.
A spokesperson for the Commission said that the new directive addresses "a statistically evidenced problem of underrepresentation of women in the management boards of large listed companies". They added: "Of course, Member States are free to undertake positive action in regard to non-binary persons in case they see a similar problem of underrepresentation."
While regulations against discrimination are becoming more stringent, they do not guarantee a push for equality in the workplace. The new EU directive represents significant progress for women, but achieving real equality requires the involvement of other under-represented genders.