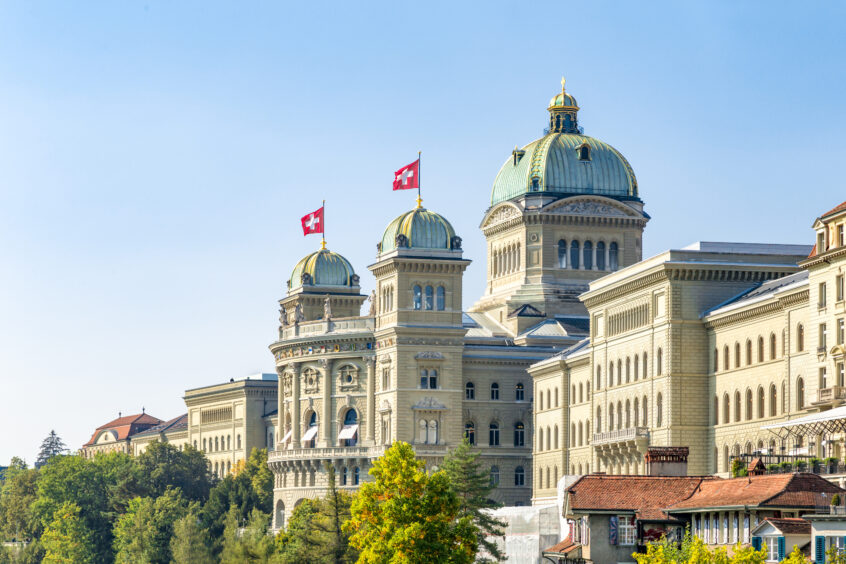 The Federal Council has issued a new ordinance whereby large companies will have to implement the recommendations of the Task Force on Climate-related Financial Disclosures.
Switzerland is imposing climate reporting requirements for large companies, banks and insurance firms.
Acknowledging the financial implications of climate change is crucial to the health of the financial system and to establishing effective long-term strategies.
Regulatory scrutiny is becoming more stringent as countries around the world recognise the importance of incorporating climate in financial assessments.
Switzerland approves new measure
The new ordinance on climate disclosures will apply to public companies, banks and insurance firms with 500 or more employees and at least CHF 20 million in total assets or more than CHF 40 million in turnover. 
They will have to disclose not only the financial risk arising from climate-related activities, but also the impact of their business activities on the environment. They will also have to describe their targets to reduce direct and indirect greenhouse gas emissions, as well as the strategies to implement them.
The Federal Council said that the draft ordinance was widely supported by stakeholders during the consultation that ran from March to July 2022. It will be implemented from 1 January 2024, to give companies time to adjust to the new requirements. 
Climate is already having significant financial implications
The Swiss ordinance will impose the binding implementation of the recommendations of the Task Force on Climate-related Financial Disclosures (TCFD), which is a globally recognised framework developed by the Financial Stability Board. Despite many companies are increasing their levels of disclosure, there are concerns that not enough of them are releasing "decision-useful" climate-related financial information.
Climate risk, however, is already affecting markets, according to the TCFD. It is starting to be priced in, it is creating uncertainty and the transition risks are becoming greater based on news cycles, elections and the availability of new information.
As such, a higher level of disclosure can provide a clearer picture for the company, its investors and other stakeholders, who can take more informed decisions and establish effective strategies for the long term. Acknowledging the financial implications of climate change is crucial to the health of the financial system as the world faces the consequences of global warming.
The Federal Council said: "Large companies' transparency on the climate impact of their activities is a key aspect for the markets to function well and for climate sustainability in the financial sector."
More stringent scrutiny around the world
Even though it is in the best interest of companies to disclose climate-related information sooner rather than later, policy plays a fundamental part in transforming the system. Some countries are imposing such disclosures with binding requirements, while others are "encouraging" them with voluntary measures. 
There are eight jurisdictions with TCFD-aligned official reporting requirements – UK, EU, Brazil, New Zealand, Hong Kong, Japan, Singapore, Switzerland – but this number is expected to rise. In June 2021, G7 countries agreed to impose climate-related financial reporting in line with the TCFD recommendations. 
Most measures are currently intended for large entities, but they are bound to be extended to companies of all sizes. In fact, the UK plans to make TCFD-aligned disclosures fully mandatory for all businesses by 2025, as opposed to the current 'comply or explain' approach, whereby companies are only required to state in their annual report whether they have made disclosures or explain why they have not done so.
The latest decision by the Swiss Federal Council has been welcomed by sustainability experts, and is due to be part of a flurry of similar announcements. As such, companies that have yet to even gather climate-related financial information should start their journey as soon as possible. Not only they will be prepared once new laws in their jurisdictions are being enforced, but they will also appear more competitive, attract investors and have a higher chance of accessing green financial resources.