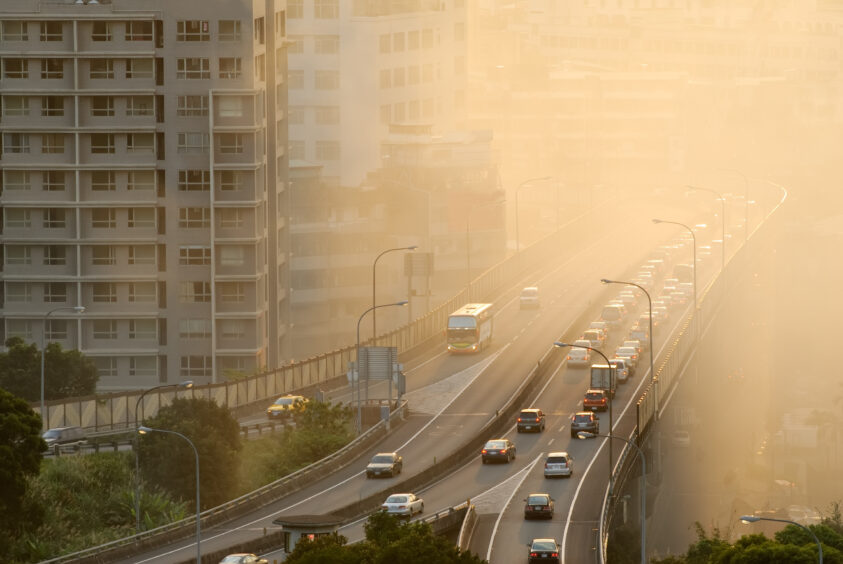 The US Environmental Protection Agency (EPA) wants to tighten regulations for fine particle pollution, which pose severe threats to human health and to ecological systems. The new policy is intended to benefit underserved and low-income communities in particular.
The EPA is proposing to strengthen National Ambient Air Quality Standards (NAAQS) for fine particle pollution.
It has been primarily set to protect public health and secondarily to protect ecosystems from exposure to air pollutants.
By reducing the exposure of low-income and underserved communities to air pollution, the proposal will advance the agency's environmental justice policy.
How does particulate matter contribute to pollution?
Pollution from particulate matter (PM), or particle pollution, can cause human health problems and also poses a biodiversity hazard. Solid particles and liquid droplets of dust, dirt, soot, or smoke, can be large enough to be seen with the naked eye, but most chemicals or hazardous materials can only be detected by an electron microscope.
These larger particles can come from construction sites, smokestacks, paved roads, and fires, and can come in many shapes and sizes. Particles from utilities, industries and transportation can also form in the atmosphere from reactions of chemicals such as sulphur dioxide and oxides of nitrogen.
Microscopic solids or liquid particulate matter can be less than 10 micrometres (PM10) in diameter and can be inhaled and get into the bloodstream. Particles less than 2.5 micrometres in diameter, also known as fine particles or PM2.5, pose the greatest risk to health. 
To get an idea of the relative size of these particles: an average human is 70 micrometres in diameter, which makes it 30 times larger than a PM2.5 particle.
The EPA regulates inhalable particles to reduce emissions of pollutants and help state and local governments meet national air quality standards. Particles that are larger than 10 micrometres, such as sand and large dust, are not regulated by the agency. Its regulations governing air pollution and particulate emissions are part of its Clean Air Act (CAA), which authorises the establishment of the NAAQS.
What is the EPA proposing to do and what is the NAAQS?
Under the auspices of the CAA, the EPA is required to set NAAQS for six pollutants that can be harmful to public health and the environment. There are also two types of NAAQS – primary standards, relating to public health, and secondary standards, concerning damage to animals, crops, vegetation and buildings, and to decreased visibility.
Regulations relating to particulate emissions also apply to different timelines, as these emissions are short-lived. Their impact, however, poses a severe threat to human life and its surroundings, which is why there are detailed regulations that vary by particle size and the length of time they can linger in the atmosphere.
The six major pollutants covered by the NAAQS include carbon monoxide, lead, nitrogen dioxide, ozone, particle pollution, and sulphur dioxide. The current round of regulation tightening pertains to particle pollution, in particular PM2.5 and PM10.
The primary health-based annual PM2.5 standard is being reduced to a level of 9-10 microgrammes per cubic metre, as scientific evidence has shown that the current 12 microgrammes per cubic metre standard is not adequate to protect public health.
While the agency has left the 24-hour standard for PM2.5 at 35 microgrammes per cubic metre, it is soliciting feedback from the scientific community on whether this should be lowered to 25 microgrammes per cubic metre.
The primary 24-hour period for the PM10 standard and the secondary standards for PM2.5 and PM10 are also being held at the old levels. There is a separate ongoing review of secondary NAAQS, however, to study the ecological effects of the oxides of nitrogen and sulphur and PM , with the agency soliciting feedback on lowering those.
According to the EPA, PM2.5 pollutants are a major concern for vulnerable populations including children, older adults, those with heart or lung conditions, as well as communities of colour and low-income communities throughout the US.
PM2.5 and PM10 have been linked to major health issues
The Health Effects Institute (HEI), a non-profit that studies the health effects of air pollution, has launched two new studies to study the effects of non-tailpipe automotive particulate matter emissions, for example from the use and wear of brakes and tires.
The studies will focus on the health effects of the emissions from these sources, which can contribute a higher fraction of the particulate emissions from motor vehicles. It will measure concentrations of exhaust pollutants in an attempt to disentangle non-tailpipe and tailpipe pollution, to better understand how each affects human health. 
Previous studies by the HEI have shown that asthma conditions worsen in urban areas with a higher content of coarse particulates, such as PM2.5 and PM10, which have been shown to be concentrated with non-tailpipe constituents.
What does environmental justice mean to the EPA?
According to research from Harvard T.H. Chan School of Public Health, certain groups are exposed to higher levels of PM2.5 pollution than others. These include Black, Asian, Hispanic and Latino minorities and low-income populations.
Based on the EPA's at-risk analysis, tighter PM standards can reduce the disparity of PM2.5 exposure and mortality risk among various demographic groups, including those in vulnerable and underserved communities. 
In addition to strengthening the primary annual PM 2.5 standard, the EPA will also include what it considers to be an environmental justice factor, with plans to modify the PM2.5 monitoring network design criteria, to gather data on the proximity of populations at increased risk from sources of air pollution. The PM2.5 monitoring network consists of sites owned and operation by state, local and tribal monitoring agencies to assess compliance with the NAAQS. 
Environmental justice was established as an agency-wide priority at the EPA in 2010, with the agency providing annual progress reports. Its activities and policies, however, are dictated by the federal government and, depending on the administration in office, its standard setting can sometimes lag the level required or dictated by science.
Dr Doris Browne, former President of the National Medical Association, said: "No one should be sickened by the environment they live in, and EPA's proposal marks the start of changes that will have lasting impacts in communities all over, especially Black and brown communities that often experience increased PM pollution. Harmful air pollution can have lasting and devastating impacts on people's health, but by strengthening air quality standards, we can ensure healthier, more sustainable communities across this country."