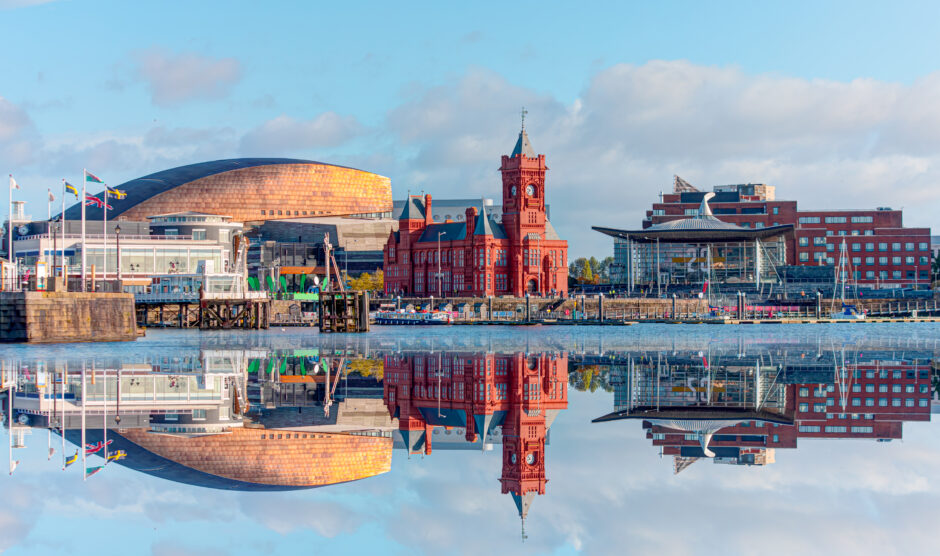 Welsh ministers have unveiled plans for the country to meet 100% of its electricity needs from renewable sources by 2035, as well as a new £1m offshore wind fund.
Wales is considering proposals to reach 100% renewable electricity by 2035, from 55% in 2023.
The new target aligns loosely with Westminster plans for a "fully decarbonised" power sector by 2035, and will support both Wales and the UK's wider move to reach net zero emissions by 2050.
It includes building new capacity and receiving support from the UK Government on new technologies such as heat pumps.
Climate Change Minister Julie James published a consultation on Tuesday that would see the nation adopt "ambitious but credible" targets to reach the equivalent of 100% of its electricity consumption from clean energy by the middle of the next decade – up from roughly 55% at present.
The consultation would also set a target for at least 1.5GW of renewable energy capacity to be locally owned by 2035 – with the exclusion of heat pumps, which would reach 5.5GW of installed capacity by the same date.
However, it notes the latter would be subject to "scaled up support" from the UK Government and reductions in the cost of technology.
Ms James said: "Our previous targets signalled our high ambitions for renewable energy and this Government's desire to move away from a use of, and reliance on, fossil fuels.
"However, the climate crisis shows that we cannot afford to rest on our laurels. Providing new targets compels us to stride towards Net Zero as quickly as we realistically can.
"The evidence is clear that towards the end of this decade we will need to rapidly ramp up our generation of electricity to meet our energy needs.
"The renewable energy target proposals that we are consulting on today are ambitious, but credible.
"I am very pleased that they propose a pathway for us to meet the equivalent of 100% of our annual electricity consumption from renewable electricity by 2035, and to continue to keep pace with consumption thereafter."
Scottish ministers set a similar target during the last decade to meet the equivalent of all electricity needs from renewables by 2020, though have so far narrowly missed the mark, reaching 98.4% in 2021.
The new target aligns loosely with Westminster plans for a "fully decarbonised" power sector by 2035, and will support both Wales and the UK's wider move to reach net zero emissions by 2050.
It marks a continued ramp-up of ambition for Welsh energy planning, after Ms James also announced the devolved government's intention to create a publicly owned clean energy developer in a bid to shore up energy security and address rising consumer energy bills.
The agency would aim to establish more than 1 gigawatt (GW) of locally owned generation by 2030, amid a wider "scale up" of renewable energy across the nation.
The Minister noted today that Wales' supply chain would be key to hitting these revised targets, announcing new details of a £1m fund aimed at further explore the country's offshore wind potential.
The grant will be match funded by Associated British Ports for preparatory work to enable future floating offshore wind projects to deploy from Wales.
"This investment signals, to both the industry and the UK Government, Welsh Government's commitment to the floating wind sector. It also provides important funding for the infrastructure that we will need to deliver floating wind to meet our ambitions," Ms James added.
Andrew Harston, regional director for Wales & Short Sea Ports said: "Associated British Ports warmly welcomes this early-stage support from Welsh Government to help kick start the development of a major green energy hub at Port Talbot. This support is key to the construction of transformational infrastructure, which will enable the manufacturing, integration and assembly of floating offshore wind components at Port Talbot.
"The roll-out of floating offshore wind in the Celtic Sea offers a once-in-a-generation opportunity for South Wales to lead a global market and will play a major role in contributing to Wales and the UK's net zero targets. By doing so it will support and create thousands of long-term, high-quality jobs.