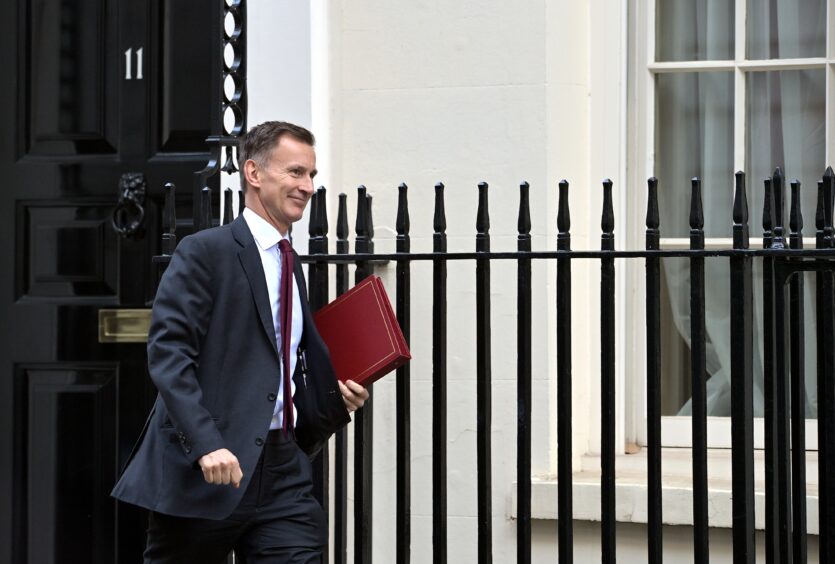 Chancellor of the Exchequer Jeremy Hunt has delivered his Spring Budget, which may disappoint those who wanted to see more support for the UK's net zero economy.
Looking at it through a just transition lens, the new Budget includes support for clean energy, research and development, transport and workers.
The Government is hoping to increase the UK's attractiveness to businesses by lowering taxes and raising productivity levels, among other initiatives.
As the UK lags behind other countries in advancing the energy transition, the Budget lacks signs of leadership.
Chancellor of the Exchequer Jeremy Hunt has delivered his Spring Budget with a speech in Parliament, with very little mention of the issues presented by climate change. Looking at the announcement through a just energy transition lens, a few measures stood out.
Clean energy 
Hunt said that the Conservative Party wants to make the UK a "science and technology superpower" with a focus on innovative industries, which includes renewable energy and carbon capture utilisation and storage (CCUS). Advancing clean energy technologies is deemed a way to increase resilience to future energy price shocks, alongside meeting the Government's climate commitments.
In this regard, up to £20 billion were allocated across decades for early deployment of CCUS, expected to unlock private investment and the creation of 50,000 jobs across the UK, as well as support the further development of these fledgling technologies. 
"One fantastic example of a government of any country of any level, local or national, being able to cover up the lack of an integrated roadmap with numbers and investments and actions that seem big," said Josh Matthews, chief sustainability officer and practice leader at HFS Research.
"Storage is in no way going to solve a climate emergency… Actually, it's just pushing decisions away that involve very drastic emissions cuts right now. And even £20 billion over 20 years, where most of the numbers you see quoted globally are in the trillions of dollars per year, even in the UK it's hundreds of billions or more… We are not scratching the surface on that front."
Moreover, the Climate Change Agreement scheme was extended for another two years to help businesses improve their energy efficiency levels.
"My fear is that in building out this green supply in energy, Jeremy Hunt's budget has somewhat neglected the need for reducing energy demand. The UK continues to fall behind when it comes to energy efficiency, with some of the least energy efficient homes and offices in the world," commented Daniel Scott, vice president at Danfoss Climate Solutions, Northern Europe Region.
"Focusing on building out energy supply while neglecting demand is like trying to fill a leaking bucket with more water, without first trying to fix the hole. It is encouraging to see that there will be an extension of the Climate Change Agreement scheme for two years to allow eligible businesses £60 million of tax relief on energy efficient measures. I hope it doesn't stop there though. We must adopt a comparable level of focus on energy efficiency as seen across Europe to incentivise and enable the British economy to get the most value out of every unit of energy we have."
Nuclear 
Hunt proposed that nuclear energy is cast as environmentally sustainable, so it can receive the same incentives as renewable energy. He said that it will be "vital" to help the UK meet its net zero goals while addressing volatility in solar and wind supply. 
The Government plans to launch Great British Nuclear to address constraints in the nuclear market and support new nuclear builds. Its first project will be a competition to identify the most efficient models of small modular reactors.
"Any investment in nuclear power right now is not going to make the security and emissions reductions [required] until what, 2040, maybe at the earliest," added Matthews. "It just seems like there is no way on earth that we are going to be able to get enough nuclear power online, in the UK or globally, to achieve the amount of the emissions reductions that will need to happen by 2050. Maybe there's promise in something like small modular reactor technology, if that suddenly flips a switch and can be scaled up rapidly."
Industry 
To spur business investment, the Chancellor introduced full expensing for three years, allowing companies to write off the full cost of qualifying plant and machinery spend. There was further support for R&D-intensive small and medium enterprises via an enhanced rate of tax relief for loss-making companies, as the headline rate of Corporation Tax continues to be the lowest among G7 economies. The Government will also establish 12 investment zones across the country to revive the local economy of areas that have been struggling.
Fergus Moffatt, head of UK policy at ShareAction, said: "It was disappointing to see the lack of detail from the Chancellor about the finance sector's role in driving our transition to a net zero economy – this sector is crucial to ensuring the UK can meet its climate goals."
"The government should ensure that its upcoming Green Finance Strategy mandates the financial regulator to prioritise action to protect nature and reduce emissions over the current short-sighted focus on competitiveness, and requires all large UK businesses to publish net zero transition plans."
Transport 
Hunt committed £8.8 billion for eight English city regions to transform their local transport networks, with transport as a whole to receive £62 billion in 2023 and 2024. Another £5 billion will be spent to maintain fuel duty at current levels for the next 12 months, including keeping the 5p cut in place to help motorists cope with oil price inflation.
"Freezing fuel duty for the 13th year in a row isn't going to help the households struggling to make ends meet. Wealthier households, who tend to drive bigger cars, and drive them further, are the biggest winners of this policy, meaning it is an incredibly inefficient way to spend £6bn. People should be supported to use less fuel and reduce their emissions and pollution, not to consume even more," commented Alex Chapman, senior researcher at the New Economics Foundation (NEF).
"Achieving this will require affordable public transport across the country, more walking and cycling routes, as well as support for lower-income households to access electric vehicles and car-sharing schemes. If, after this, households still have a cash crisis, then the government should give them cash."
Workers
The 'back to work' Budget contained several measures intended to help workers from all walks of life, as a solution to the country's low productivity levels. The focus was on four groups: the long-term sick and disabled, welfare recipients and the unemployed, older workers, and parents.
According to the Office for Budget Responsibility, this will result in 110,000 more individuals in the labour market by 2024, as the UK is home to 6.7 million of the working-age population economically inactive, excluding students. This number includes 2.5 million people reporting that they are inactive due to long-term sickness and 5.9 million Universal Credit claimants, who will receive more support in securing work.
To encourage people aged over 50 to extend their working lives, the Government is increasing tax relief on pensions, while several reforms will be provided for parents who would like to work but cannot afford childcare. There will also be tailored employment support in mental health and musculoskeletal health services to prevent people from leaving their jobs.
The childcare reforms earned praise, with Mandu Reid, leader of the Women's Equality Party, saying that it was "the first [Budget] I can remember where women's demands were front and centre, and where childcare got more airtime than pubs and potholes."
She added that the potential to the economy arising by these measures "can only be realised, however, if childcare providers are given enough funding to actually deliver it – including proper pay for early years workers, who are some of the lowest paid in the country and the vast majority of whom are women".
Dan Paskins, director of UK impact at Save the Children, said: "This is good for families, good for our economy and most of all, good news for children.  It is a simple and effective change which will help put money in families' pockets and make life easier for parents juggling work and childcare."
The Green Party criticised the fact that Hunt did not give public sector workers a pay rise that matches inflation, while Sir Keir Starmer, the Labour leader, said that the proposals around pensions were "a huge giveaway" for the wealthiest members of society.
A missed opportunity
"The most overarching summary I would give for this Budget, but for any other Budget anywhere in the world, pretty much any topic when it comes to sustainability, it is almost the only question you need to ask first: is it aligned to the global sustainability context?" Matthews continued.
"Is it aligned to where the UN goals are, which I still think is the best summary of what sustainability means from every factor? And the answer is no."
As the UK risks losing its competitive edge against the US and the EU when it comes to the net zero economy, the Spring Budget could have been a chance to show climate leadership. Hunt's plans to position the country as a centre for innovation, however, were mostly focused on life sciences, AI and quantum computing, nuclear and the creative industries.
While this is, of course, welcome news, the transition will be driven by innovations in climate tech and the upgrade of the existing energy system. Indeed, it seems that the level of investment being pledged is not enough, for example in the case of CCUS, while it is striking that Hunt did not mention other key elements of sustainability, such as cleaning up rivers and protecting biodiversity – which, if ignored, will lead to significant financial losses.
Chaitanya Kumar, head of environment and green transition at NEF, concluded: "'Back to work' budget, growth budget… whatever you call it, this is ultimately a blah blah blah budget when it comes to climate. The chancellor is betting big on capturing carbon from polluting industries while at the same maintaining our reliance on volatile fossil fuels. We heard nothing about onshore wind which still faces a ban in England, or on energy efficiency where insulation measures are slowing down instead of ramping up. Britain is seriously failing on its climate targets and this budget is a mere hope and a prayer that we will fall back on track."