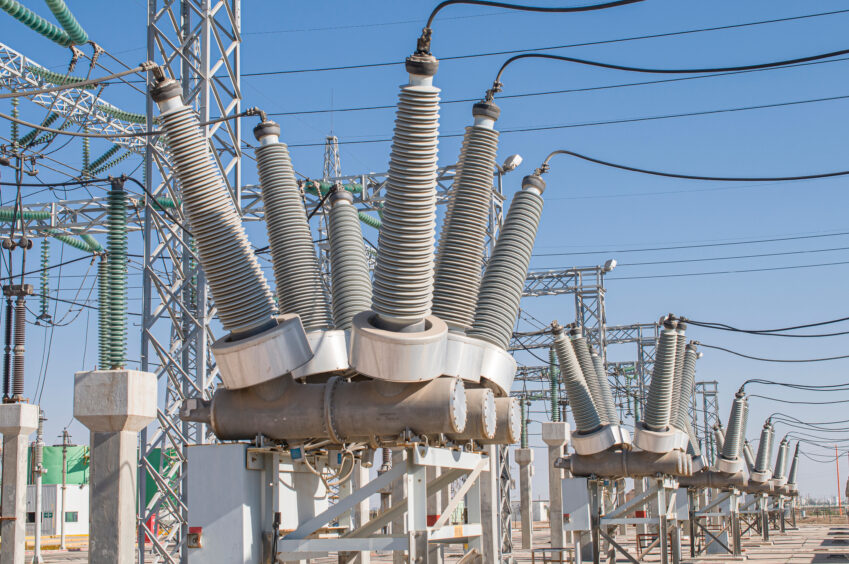 Annual emissions of the super-destructive greenhouse gas sulphur hexafluoride (SF6) equate to the annual carbon dioxide CO2 emissions of a staggering 100 million cars.
Sulphur hexaflouride is a short lived pollutant gas targeted in the Kyoto Protocol basket of gases.
SF6 is widely used in power generation systems, including wind power, and can be released into the atmosphere.
While much criticism is focused on CO2 (constituting 81%t of overall GHG emissions) here are other gases which must be addressed in the short term to tackle the climate crisis.
So claims German gas-insulated power switchgear developer  Nuventura. greeemissionIt is one of a number of prominent power systems companies like GE, Mitsubishi and Siemens now seeking viable replacements for this incredibly environmentally destructive synthetic gas used worldwide in power generation systems both on- and offshore.
In 1997, the Kyoto protocol identified SF6 as one of the six main greenhouse gases (GHG). Not without a good reason: SF6 is the most potent GHG known to humanity, with a warming potential 23,900 times that of carbon dioxide (CO2) and atmospheric residence of up to 3,200 years.
The issue recently reared its head when EV revealed the Seagreen offshore windfarm off Scotland had seen a release of the gas during construction.
SF6 was invented a century ago in France and the power industry began adopting it wholesale from the 1950s. It is even used on thousands of wind turbines planted out in the North Sea, especially the UK sector.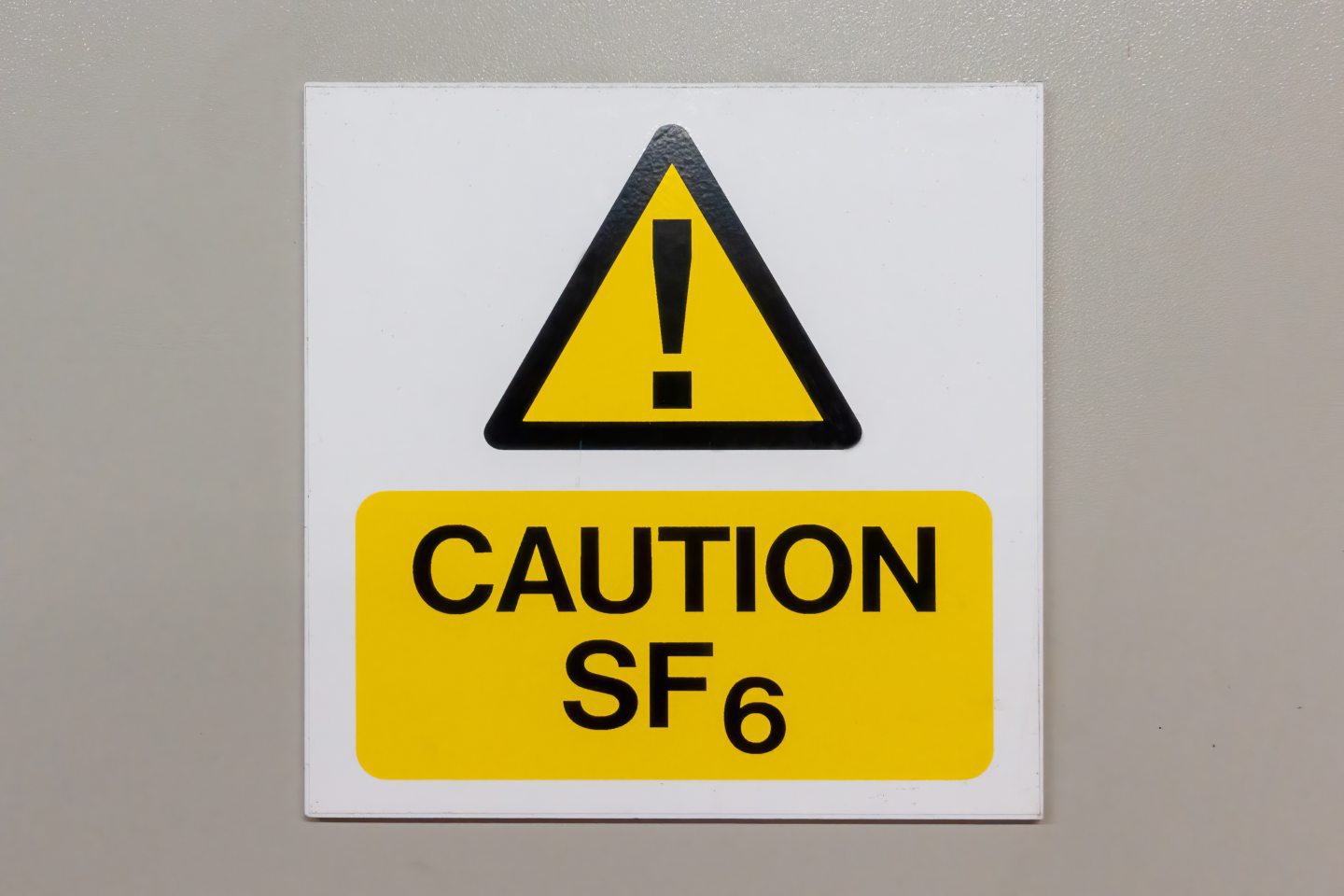 Europe was SF6's birthplace and now, led through the EU, it has become the epicentre for the fight to eliminate SF6 from power generation, driven fundamentally by the climate crisis.
The EU is setting the pace. Brussels is demanding an overall reduction in emission of fluorinated gases, or F-gases – including SF6 – by two-thirds by 2030 versus 2014 levels.
Considerable progress has apparently already been made in eliminating SF6 use but power generation is exempted. However, the gloves are now off.
The world-renowned Baker Institute said in a March 2021 commentary that the atmospheric concentration of the gas has increased rapidly in recent years and that tracking of SF6 concentrations started in 2015 and, on the surface, the numbers look innocuous but the Baker is concerned that current estimates are way out.
"Even though United Nations Framework Convention on Climate Change (UNFCC) partners are expected to report their GHG emissions, countries such as China, India and South Korea have not reported emissions of SF6," says the Baker, which calculates that China alone may be responsible for 36% of global SF6 emissions.
However, as Nuventura research records, while there are no SF6 regulations in East Asia that focus directly on transmission and distribution operators, other programs exist including in China.
While their Second Biennial Update Report on Climate Change (pub. 1918) says little about SF6 emissions, Nuventura says the Chinese are considering new regulations/standards to reduce SF6 usage and emissions. A workgroup was set up late last year with this remit – control, elimination and replacement.
Back to Baker which warns: "Even developed countries like the US and UK may be grossly underestimating their output."
Indeed, trying to nail down meaningful figures for the use of SF6 in home market power generation has proved to be a wild goose chase and the writer gave up on trying to make sense of the UK Greenhouse Gas Inventory, 1990 to 2020 Annual Report published earlier this year, compiled on behalf of BEIS for the Science and Innovation for Climate and Energy (SICE) Directorate, by Ricardo Energy & Environment.
Little wonder it is so difficult to get a grip on SF6 reality; not even in fashionable offshore wind is there clarity, as exposed in a May 2021 analysis by Esben Holst & Dr Kristjan Jespersen, Copenhagen Business School.
"It only takes a little digging into offshore wind energy players to uncover diverging conversion methods of SF6 into CO2 equivalents (CO2e)," they warn.
"The GHG (greenhouse gas) emissions reporting methodologies of industry leaders use different emissions factors to convert SF6 into CO2e."
In the Danish sector, an example of under-reporting is illustrated by Vattenfall in its 2019 sustainability report, stating SF6 to be 15,000 times more potent than CO2. But the emissions factor given by the Greenhouse Gas Protocol is 23,500. Ørsted correctly uses the GGP's emissions factor for the gas in its 2019 ESG report.
This begs the question as to what the variations are North Sea-wide.
"It is vital that we understand SF6 is so detrimental to fighting climate change beyond 2100 that it has no place in sustainable business models today," say Holst and Jespersen.
"Even if CO2 emissions are reduced in alignment with 2100 Paris Agreement goals, reporting in a 100-year timeframe will not save a planet billions of years old.
"GHG reporting must be better regulated and scrutinised in order to deliver a truly green energy transition. Releasing a gas causing irreversible damage cannot be an acceptable trade-off for a short-term "green" transition.
"While most company reports claim no alternatives exist, this is not true. Therefore SF6-free equipment must be mandatorily installed.
"A green transition goes beyond 2100, yet poor regulation enables energy companies to present SF6-CO2e favourably by using lower emission factors.
"Offshore wind energy players have not provided comparable, accountable, and transparent reporting – indicating stricter regulations on GHG reporting are necessary."
ALTERNATIVES TO SF6
The UK Greenhouse Gas Inventory, 1990 to 2020 Annual claims: "Currently, there are no mature alternative technologies to using SF6 although some new insulating fluids are being tested and may become commercially viable during the next few years."
However, it admits that since the introduction of the EU F-Gas Regulation in 2006, the UK electricity industry has made significant efforts to monitor and reduce consumption of SF6.
The claim that there are no mature alternative technologies would appear to be inaccurate.
According to Stephen Gibbs, product marketing director for distribution solutions, ABB UK: "Fortunately, advances in science and engineering now offer competitive SF6-free alternatives.  The acceptance of eco-efficient switchgear has been promising as global utilities strive to cut emissions related to SF6 leakages.
"A good example is Northern Powergrid. The utility adopted two switchgear variants at substations in County Durham, both of which use alternatives to SF6 gas to reduce environmental impact," he stated in August.
"According to a senior executive of Northern Powergrid, the utility has already reduced SF6 leaks by 23%, and the pilot project will play an important role as the utility aims to reduce this by a further 15% by 2028.
"Similarly, UK Power Networks is committed to cutting its carbon footprint by 2% each year and limiting SF6 leakages to less than 0.2%. To meet these goals, it planned to replace its Dartford facility's switchgear with designs using SF6-free alternatives."
The company introduced AirPlus, its pioneering SF6-free gas mixture technology in medium voltage switchgear, in 2015, and with an open patent made this technology available for everyone to use, further supporting the accelerated phase out of this greenhouse gas.
With that, ABB was apparently first to offer an alternative eco-friendly gas to customers and the ecoGIS portfolio is the most complete in the industry covering the whole range up to 40.5kV.
In April 2021, GE and Hitachi ABB signed up to a cross-licence agreement to replace SF6 with a benign fluoronitrile-based mixed gas for used as an insulator for high voltage (HV) electrical equipment and for switches.
The deal to shift to GE's so-called g3 fluoronitrile-based gas, is said to "significantly" reduce the environmental impact of HV systems compared to SF6.
And in the UK for example, National Grid and the University of Manchester announced on November 1, a £1.9million, four-year project to determine how National Grid can develop a retrofill solution enable the replacement of SF6 with an environmentally friendlier alternative without having to replace or otherwise modify its massive fleet of switchgear systems across England and Wales.
Turning to offshore wind, back in 2018-19 German group Siemens agreed to supply joint venture Siemens Gamesa with 102 SF6-free, gas-insulated 8VM1 high-voltage switchgear (GIS) sets for the UK sector 714MW Anglia One offshore windfarm (ScottishPower Renewables).
The switchgear was designed to protect each wind turbine individually against overloads and short-circuits and make it possible to supply electricity reliably and without interruption.
Developed for wind farms, the 8VM1 from Siemens' the blue GIS portfolio operates with vacuum circuit-breaker technology and with clean air instead of SF6 as the insulating medium.
East Anglia One started generating in July 2020.
Siemens Gamesa is committed to phasing out SF6s as soon as possible and no later than 2030.
"We are working closely with our supply chain and have already made significant strides," Siemens Gamesa chief operating officer Tim Dawidowsky said last month in a Siemens commentary.
"We installed our first turbines with SF6 free switchgear more than five years ago and have installed hundreds of these units using a clean air solution with no global warming risk.
"We no longer use SF6 switchgear in any of our new offshore units and we want this option with low global warming potential for our entire portfolio."
The high-voltage offshore turbines are a significant first step; but Siemens admits the medium-voltage segment, mainly used onshore, has turned out to be more challenging as there is currently no SF6-free alternative for the voltage range and size required here.
"Siemens Gamesa is proactively engaged with our suppliers to solve this challenge and aims to have first version of a SF6 free switchgear for the medium-voltage applications used in Siemens Gamesa onshore wind turbines by the mid-2020s," says Dawidowsky.
The German group is a member of the newly formed Switching Gears for Net Zero Alliance that also includes Mitsubishi Electroc, Nuventura, Schneider, subsidiary Siemens Energy and Toshiba.
The collectively see Europe as leading the way in the SF6 replacement quest.
"We have been relentless in our quest for new technologies based on Natural-Origin Gases," they state.
"Many applications are now available and successfully proven in operation. We will close the remaining portfolio gaps in accordance with the proposed transition times outlined in the F-Gas Regulation. Power grids can and should be F-gas free."