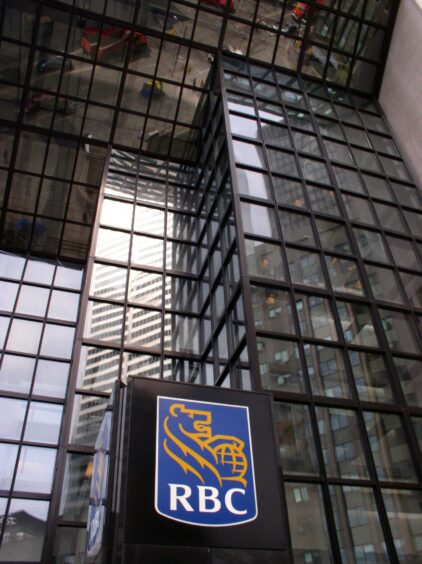 The Royal Bank of Canada (TOR:RY) has published interim emissions reduction targets for 2030 that may be challenged by its lending to the oil and gas industry.
The Royal Bank of Canada (RBC) said it will cut 11-27% in Scope 3 emissions from its exposure to the oil and gas industry.
Growth in RBC's fossil fuel lending, which is ranked as the fifth largest lender to the industry, will challenge its net-zero ambitions.
Increased funding of greenfield oil and gas projects will increase the bank's facilitated and financed Scope 3 emissions, and also increase the risk of stranded assets as the world transitions to green energy.
New 2030 targets look modest
RBC has set sector specific interim emissions reductions targets for 2030 in its updated climate strategy. It said they were based on varying assumptions including granularity, relevance to its lending portfolio, and the credibility of the institutions on which the scenarios are based.
For its oil and gas portfolio, it intends to cut 35% in Scope 1 and 2 emissions, and 11-27% reduction in Scope 3 emissions. This latter goal seems modest, given its continued financing of greenfield fossil fuel projects, and in the context of its net zero by 2050 ambition. According to the International Energy Agency (IEA), no new oil and gas fields should be approved for development after 2021 if the world is to reach net zero by 2050.
The wide range used in its Scope 3 targets stems from assumptions on energy transition and policy. The upper-bound of 27% is based on the IEA's Net Zero by 2050 scenario, while the lower-bound is based on the bank's own assessment of the policy landscape in key jurisdictions and an analysis of its portfolio. 
RBS said that achieving the 27% emissions reduction target depends on the accuracy of the assumptions of the IEA's report, such as those relating to shifts in economic activity, supportive policy action and the scaling of key technologies, including carbon capture and storage.
Reliance on fossil fuel lending may be a hard habit to break
RBC is the fifth largest provider of bank financing to the fossil fuel industry. According to a report by the Rainforest Action Network, its lending to the industry has grown at 8.5 times the average rate of growth for the top 10 lenders since 2016. The only bank in the top 10 that grew lending faster was Scotiabank (SGO:SCOTIABKCL) of Chile. 
RBC is also the second largest bank in Canada by assets. In a transition to clean energy, the bank's balance sheet would be at heightened risk of carrying stranded oil and gas assets, according to the country's central bank. Analysis on climate transition risk from the Bank of Canada shows a 200% rise in the probability of default for loans to oil and gas assets in a net zero scenario. 
The risk of default of assets is even higher for tar sand assets, which have higher production costs than conventional oil. RBC is the second largest lender to the tar sands industry, having increased its lending by 55% to that segment of fossil fuels since 2016. In fact, since the signing of the Paris agreement, RBC's overall fossil fuel lending has totalled over $200 billion.
Banks financing fossils face lose-lose scenario 
Many major global banks have made net zero pledges, yet they  continue to finance new oil and gas projects. This despite the fact that both the IEA and the Intergovernmental Panel on Climate Change (IPCC) have warned that the development of new oil fields is not aligned with a net-zero by 2050 scenario.
This presents a lose-lose scenario for these lenders, says UK based NGO Share Action. Reduced use of fossil fuel in the IEA's Net Zero scenario will result in oil and gas assets becoming stranded assets, as they will become uneconomic under new regulations. The economic hit from the continued use of fossil fuels, however, will destroy value for banks and investors.
RBC itself acknowledged this in a recent thought leadership article. It stated that "to have a 50% chance of meeting a 1.5°C warming target (the stretch goal for the Paris Agreement), the world will need to leave 60% of the world's remaining oil and gas, and 90% of its coal in the ground". 
The bank has not stated whether it will require the use of offsets to meet its net zero goal. Yet, it speaks of reliance on technologies such as carbon capture, which are still not available at industrial scale, and other externalities to reach its goal. Perhaps the best solution is to heed its own advice and stop financing new fossil fuel projects.