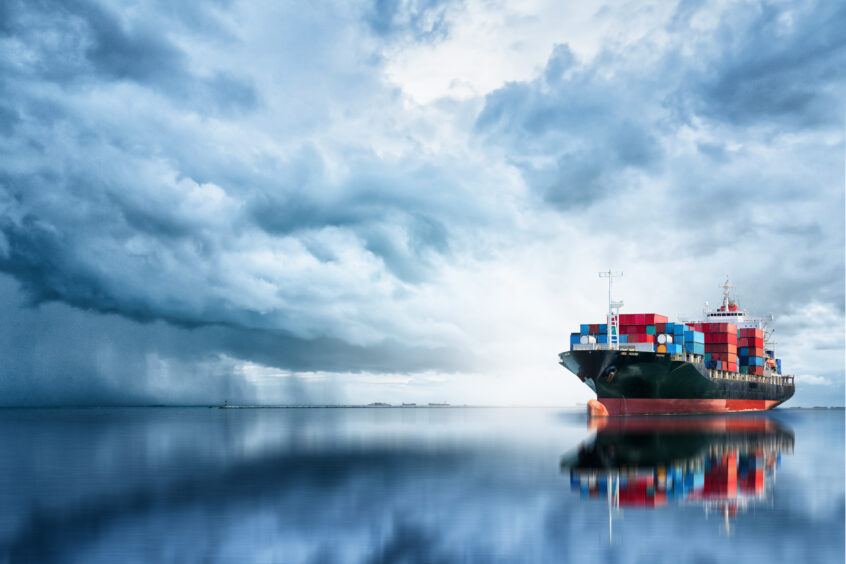 Global logistics company A.P. Moller-Maersk (CSE:MAERSKB) has signed an agreement with the Government of Spain to explore domestic opportunities for the large-scale production of green shipping fuels. 
Maersk and the Spanish Government will assess various production opportunities with the goal of supplying up to two million tonnes of green shipping fuels per year.

 

The shipping industry accounts for around 2.5% of global emissions, but there are several challenges to overcome if alternative fuels are to be effectively scaled up.

 

New regulations will drive the adoption of green marine fuels, with public-private partnerships likely to emerge as both companies and governments are held more accountable.

 
Under the General Protocol for Collaboration, Maersk and the Spanish Government will conduct feasibility assessments on green shipping fuels, covering their full value chain from renewable energy sources to the bunkering of vessels. Initially, their studies will prioritise production opportunities in the regions of Andalusia and Galicia. 
Overall, they plan to develop projects that will deliver up to two million tonnes of green fuel each year while creating around 85,000 green job opportunities. 
Maersk chief executive Soren Skou said: "We are living in a climate emergency, and we need to rapidly accelerate the availability of green future fuels. We are very pleased to explore green fuel opportunities with the Spanish Government, as the country holds key characteristics to help solve this challenge with its great hydrogen ambitions and aspiring sustainability goals." 
Shipping accounts for 2.5% of global emissions
Over 90% of globally consumed goods are transported by ships, resulting in around 940 million tonnes of greenhouse gas emissions every year. This equates to approximately 2.5% of the global total, making shipping one of the most emissions-intensive industries in the world. 
Most ship engines are powered by burning heavy marine fuel oil, which has a particularly high sulphur content. This means that, in addition to its CO2 emissions, shipping also generates harmful pollutants such as sulphur dioxide, nitrogen oxide and particulate matter. These pollutants contribute to secondary chemical reactions that pose a significant threat to the environment. 
Research suggests that, unless action is taken, the shipping industry's carbon footprint could increase by up to 250% from 2014 levels by 2050. If the world is to have any hope of a net zero future, the entire shipping sector must develop and deliver more sustainable ways of operating. 
This transition will not be easy. The shipping industry is already under pressure as economic activity continues to rebound from the COVID-19 pandemic while enduring various supply chain disruptions. Furthermore, maritime assets are typically built to last for around 25 years, so alternative fuels and technologies must be easily integrated with existing constructions.  
Maersk is exploring three alternative fuels
Efforts to reduce the impact of shipping include electrification, alternative fuels and improved efficiencies, among others. Maersk, which has set a target of achieving net zero across its entire business by 2040, is taking a combined approach that will see it exploring new technologies and vessels in addition to green fuels. Having observed the emergence of several alternative fuel options, the company has spread its investments between the three different fuel alternatives that it believes are most promising.  
Biodiesel has been selected for its capacity to be used as a drop-in fuel that is compatible with existing vessels and because it can be made from waste feedstocks. Green ammonia, meanwhile, is considered a worthwhile candidate due to its low cost, scalability, superior volumetric energy density and the simplicity of its storage and handling. 
Maersk's favoured option is green methanol, which includes both bio-methanol made from sustainable biomass and e-methanol, which is produced using renewable electricity. Green methanol is easy to handle and is already being used in the shipping industry. 
Although it has initially been used for smaller vessels, Maersk plans to have a container ship operating on green methanol by 2023. Through an initial investment in 2021 towards 13 green methanol-enabled ships, the firm aims to signal its future demand and provide the capital needed to bring green methanol to an industrial scale. The firm has also formed seven strategic partnerships to secure the 750,000 tonnes of green methanol needed to power 19 vessels by 2025. 
Alternative fuels will be difficult to scale up
The sheer volume of green methanol required by just one company highlights the challenge that lies ahead for the scaling up of alternative shipping fuels. Some of the main limitations of green fuels methanol include its high costs and the availability of renewable energy. Green ammonia shares these challenges, while also incurring technical limitations due to its high toxicity and corrosivity.  
The adoption of biofuels, meanwhile, may be constrained by the availability of suitable feedstocks and the pressure of competing demand from the road transport and aviation industries. They also vary significantly in their decarbonisation potential, with certain biological feedstocks contributing to concerns over the emissions generated by the land-use change required for their growth.  
Despite these challenges, the International Maritime Organization (IMO) considers green fuels to be the most viable option for the industry's transition. According to the United Nations Environment Programme (UNEP), zero-emissions shipping fuels will have to account for up to 93% of maritime demand by 2050. 
International regulations will drive the adoption of alternative shipping fuels
UNEP suggests that national governments must play their role in supporting the shipping industry's adoption of green fuels. It recommends measures such as tax adjustments, pricing schemes, investment in new infrastructure and international cooperation. 
Regulatory measures have already contributed to marked improvements within the shipping industry. Indeed, a 2022 study by the Climate Processes Group found that ship tracks were reduced by around 25% almost immediately after the IMO introduced strict fuel regulations in 2020 to reduce air pollution caused by maritime vessels. 
Further regulations are beginning to emerge. In June 2021, the IMO issued new guidelines on the operational carbon intensity ratings of ships, which will require individual vessels to measure and disclose their carbon intensity index. They will then be graded against the IMO's emissions reduction targets, and will have to be removed from service if they are not made compliant within a specified grace period. 
The emissions reduction targets of the EU's Fit for 55 package, meanwhile, have been made a legal obligation that will be enshrined into law by its Member States. Shipping will also be included in the EU Emissions Trading System from 2023, meaning that shipping lines will have to purchase allowances for 50% of the emissions generated by voyages between EU and non-EU ports. 
These regulations not only serve as an incentive for shipping companies to invest in sustainable alternatives, they will also have implications for international trade as they could factor into decisions on where imported goods are sourced. As such, it is in the interest of national Governments to ensure that their exports are among the greenest options available. 
The Spanish Government's partnership with Maersk suggests that it is well aware of these implications. As Pedro Sánchez, president of the Government of Spain, observes: "This project is perfectly aligned with Spain's strategy of reindustrialisation, just transition and the green hydrogen roadmap, advancing in the fulfillment of the common commitment of decarbonisation of the European Union. It will also strengthen economic, political and commercial ties with Denmark, partner and a friend in EU."   
It seems likely, therefore, that the development of international regulations will drive the adoption of green shipping fuels. We should expect to see the continued emergence of public-private partnerships in the space, as businesses seek to remain competitive while Governments acknowledge the potential economic consequences of failing to support the sector's transition.