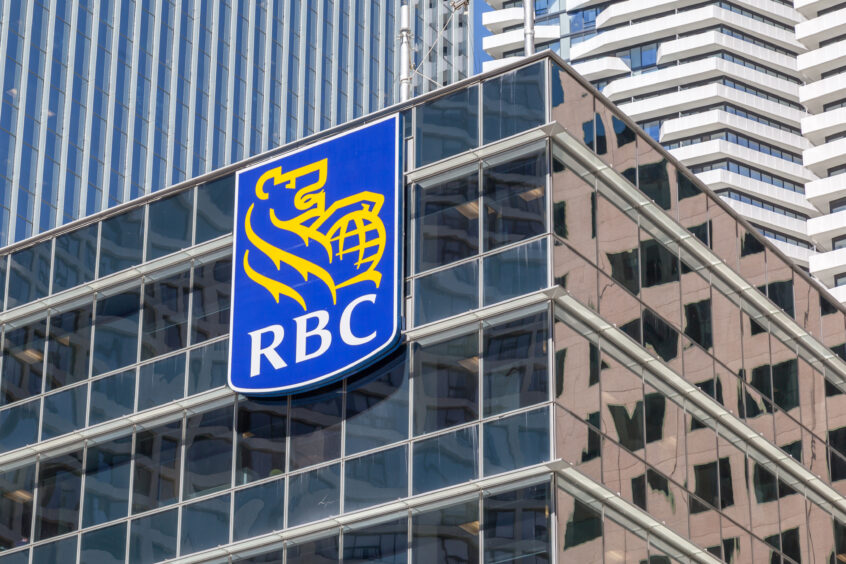 Royal Bank of Canada (RBC) is committing C$1 billion to pilot a three-year risk-sharing, sustainable finance solution with Export Development Canada (EDC) to help Canadian businesses with their transition plans. The bank's role in financing fossil fuels, however, suggests achieving its own transition plans will be challenging.
RBC will pilot a risk-sharing solution with EDC to help Canadian businesses transition towards greener business operations. 
This move is part of RBC's commitment to providing C$500 billion in sustainable finance by 2025.
The bank's position as the fifth largest lender globally to the oil and gas industry, however, appears to be at odds with its own net zero strategy. 
Expanding suite of sustainable finance products
RBC has announced a risk-sharing programme with EDC, whereby it will provide up to C$1 billion in financing by 2025 to support Canadian businesses in their green energy transition. Under the programme, EDC will guarantee 50% of an RBC term loan, up to a maximum of C$60 million per borrower, and for a term of up to 7 years. This programme will help expand RBC's sustainable loan capacity, as it progresses towards its goal of providing C$500 billion in sustainable financing by 2025.
EDC is Canada's export credit agency, owned by the government. Canada's major export commodities include crude oil, gold and wood, therefore some companies in these industries may benefit from the loan, while facilitating trade in these commodities.
Justine Hendricks, chief corporate sustainability officer at Export Development Canada, said: "Working with financial institutions like RBC gives Canadian businesses access to the support they need to transition to more environmentally-responsible practices while also promoting sustainable trade in Canada. As part of EDC's commitment to achieve net-zero by 2050, we are helping Canadian companies by providing them with the tools they need to be part of that journey."
RBC defines sustainable finance framework and ambition
RBC details its approach and methodology in its Sustainable Finance Framework. It will focus on providing financing solutions to decarbonise emission-intensive activities across all sectors, including the hard-to-abate ones.
The bank also plans to fund green or social activities. It includes some forms of general corporate-purpose lending in its definition of sustainable finance, such as lending to pure-play green or social enterprises, and financing sustainability-linked bonds (SLBs) and loans (SLLs).
SLBs and SLLs are viewed as ideal financing vehicles to help hard-to-abate industries with financing their transition. They have been criticised by climate action groups, however, as proceeds can be also used for general corporate purposes, as they are not required to be directed towards achieving specific sustainability goals.
A further feature that is inviting scrutiny is reduced borrowing costs. These bonds and loans can reduce interest rates charged by achieving sustainability-based key performance indicators (KPIs). While a requirement for this type of issuance, critics argue that the KPIs are often not challenging enough, or include targets that have already been achieved. 
Weaning off fossil fuel lending may prove to be challenging
RBC believes its approach to sustainable finance will be pivotal in mobilising the C$2 trillion needed for Canada to transition to net zero. The bank, however, still has a long way to go to decarbonise its own operations.
In fact, it is the fifth largest provider of bank financing to the fossil fuel industry, and its lending to the industry has grown 8.5 times faster than the average growth of the top 10 lenders in the industry. 
As the second largest bank in Canada by assets, RBC's balance sheet would also be at heightened risk in the transition to net zero. The Bank of Canada's analysis on climate transition risk shows a 200% rise in the probability of default for loans to oil and gas assets in a net zero scenario, which means a higher risk of stranded assets.
RBC is the second largest lender in the tar sands industry, which has a higher risk of default and higher production costs than conventional oil. Its lending to tar sands has increased by 55% since 2016, while its overall fossil fuel lending has totalled over $200 billion since the signing of the Paris agreement.
RBC has made a commitment to reach net zero by 2050, yet to achieve this it may have to raise its 2030 targets. Its Net Zero Report speaks of reliance on technologies such as carbon capture to reach its goal, but they are still not available at an industrial scale. 
No-win scenario confronts banks that finance fossil fuels
Both the International Energy Agency (IEA) and the Intergovernmental Panel on Climate Change (IPCC) have warned that the development of new oil fields is not aligned with a net zero by 2050 scenario. Despite this, many major global banks that have made net zero pledges continue to finance new oil and gas projects. 
In the IEA's Net Zero scenario, oil and gas assets risk becoming stranded as they will become uneconomic under new regulations. The continued use of fossil fuels, however, will exacerbate climate change and destroy economic value for banks and investors. According to UK-based NGO Share Action, this presents a lose-lose scenario for these lenders. 
This scenario has been acknowledged by RBC in a recent thought leadership article, in which it states that "to have a 50% chance of meeting a 1.5°C warming target (the stretch goal for the Paris Agreement), the world will need to leave 60% of the world's remaining oil and gas, and 90% of its coal in the ground". 
While RBC is financing the transition of other businesses, perhaps the best pathway to reach its net zero goal is to heed its own advice and stop financing new fossil fuel projects.