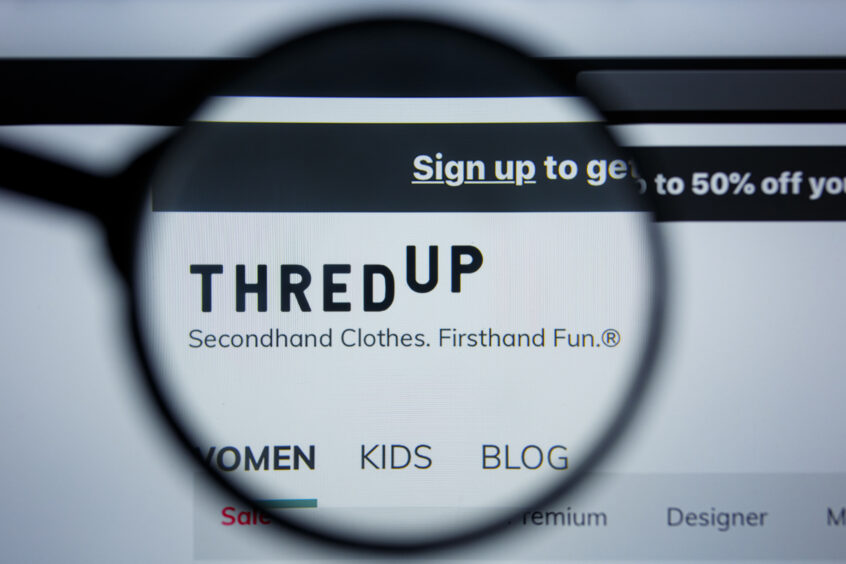 Fashion resale platform thredUP (NASDAQ:TDUP) has partnered with The AZEK Company (NYSE:AZEK) to recycle its plastic waste into outdoor decking. 
The AZEK Company will recycle thredUP's plastic waste for use in its line of composite decking materials.

 

By repurposing plastic waste into a product that can displace the use of timber, the partners are addressing two major environmental issues in one fell swoop.

 

Cross-industrial partnerships could drive the transition to a circular economy by unlocking new opportunities for waste to replace unsustainable commodities.

 
thredUP's collaboration with The AZEK Company will enable fashion industry waste to be transformed into a sustainable construction material. As AZEK's chief executive Jesse Singh described: "We are two companies revolutionizing two industries – fashion and building products – to create a more sustainable future, each of us with a full circle commitment to have an outsized impact on the world, while growing a sustainable business."   
"While thredUP's mission is rooted in circularity, we are also focused on ways to ensure our own operations are as sustainable as possible," added Alon Rotem, chief legal officer at thredUP. "This partnership is an exciting opportunity to level up our previous bag recycling program and create long-lasting premium products that people can enjoy and feel good about", he concludes. 
A meeting of like ambitions
AZEK, a manufacturer of sustainable outdoor living products, has demonstrated its environmental commitments through its integrated recycling programme. Since 2019, it claims to have recycled almost 1.7 billion pounds of post-consumer and post-industrial waste that has been repurposed across its product portfolio. By 2026, the company intends to expand its capacity to recycle one billion pounds of material per year. 
thredUP, meanwhile, has established itself as a sustainable fashion company through the development of its online resale platform. As of the end of 2021, thredUP had processed over 137 million secondhand items, displacing the resource-intensive production of new textiles and reportedly preventing over 1.3 billion pounds of CO2 emissions.  
Under the new partnership, the two companies will come together in furthering their commitments to sustainability. AZEK will collect 100% of thredUP's Clean Out Bags, the packaging it uses to receive secondhand items, and post-industrial plastic film waste to be recycled into its TimberTech decking products.  
The result will be a premium composite material that closely resembles natural timber but is largely composed of recycled materials. Each installation of TimberTech requires minimal maintenance and is guaranteed to last for up to 30 years. When it eventually reaches its end of life, TimberTech itself is also fully recyclable. 
A circular solution to two global challenges
The partnership between AZEK and thredUP addresses both the plastic waste crisis and the environmental impacts associated with conventional timber decking in one fell swoop. 
Plastic pollution has emerged as a major global challenge, with 91% of the waste it generates being mismanaged, landfilled or incinerated. Only 9% is currently recycled, while the remainder is contributing to the destruction of natural ecosystems while also endangering wildlife and human health. 
As the world comes to acknowledge the severity of the issue, businesses that fail to effectively manage their plastic waste are increasingly exposed to a range of commercial, legal and reputational risks. New regulations against plastic are being introduced on a regional, domestic and global level, while the expectations of investors and consumers are rapidly changing to reflect their support of effective solutions. 
Timber, the material typically used to build outdoor decking, comes with its own environmental issues. As a commodity sourced from forest ecosystems, timber is widely associated with deforestation and its knock-on effects on climate change and biodiversity loss.  
The complexity of timber supply chains makes any measures to ensure that forests are managed sustainably extremely difficult to enforce. With widespread corruption, exploitation, data manipulation and false claims, illegal logging has emerged as a critical problem. 
Although there have been some improvements in governance, illegal practices continue to contribute to high rates of deforestation while undermining rural livelihoods and ecological resilience.
In September 2022, Chatham House published a 20-year analysis of 37 countries, which revealed that up to 11% of the timber they exported in 2018 had been illegally sourced. Its report went on to note that illegal logging is thought to be far more prevalent in countries that were not included in its research, suggesting that the global percentage may be far higher. 
With its economic dependence on nature, investors are beginning to acknowledge the financially material risks of the timber sector. Indeed, research suggests that supply chain disruptions and the potential for regulatory measures such as the removal of operating licences could see the timber, paper and cattle industries exposed to losses of up to $80 billion. 
The partnership between thredUP and AZEK offers a circular solution to both plastic waste and the unsustainable use of timber. Such solutions enable resources to be retained within the economy while continuing to provide value, thereby enabling profitability to be separated from continuous production.  
Cross-industry partnership to accelerate the transition to a circular economy
What is particularly significant about thredUP and AZEK's partnership is the coming together of two different industries. This highlights the opportunity for cross-industry partnerships to accelerate the transition to a circular economy, as the collaboration between two sectors that were previously siloed from one another will benefit each of the companies involved.
thredUP has not attempted to find its own uses for the waste it generates, nor has it invested in any expensive waste management system, yet it will be protected from the risks connected to its plastics consumption. AZEK, meanwhile, has gained a useful supply of recycled materials that enable it to avoid being associated with the high-risk timber that is used by its competitors.
By working together, the partners have shown that one person's trash can indeed be another's treasure.