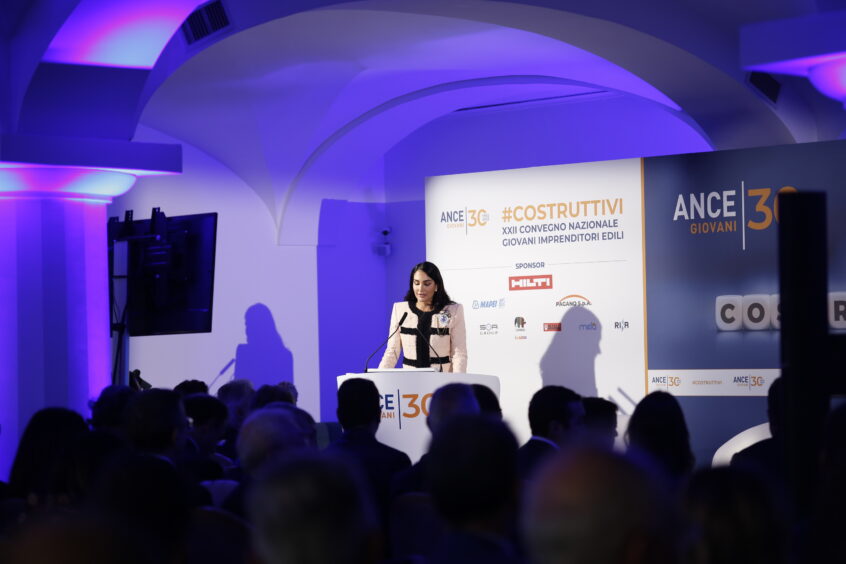 The ever-growing construction sector needs to reduce its carbon footprint, but its decarbonisation comes with many challenges. Angelica Donati, CEO of Donati Immobiliare Group and President of ANCE Giovani, explains that the industry's journey to sustainability is full of twists and turns, but achievable nonetheless.
The construction sector accounts for 37% of total global energy-related CO2 emissions and is forecast to grow by 42% during the current decade.
Industry players recognise the need and the benefits of becoming more sustainable, but decarbonisation presents several challenges.
Offering incentives for stakeholders across the value chain to cooperate and take joint action is a crucial aspect of this process, which will yield many benefits for companies and investors.
Over the last decade, climate change and the subsequent strive towards sustainability have become a key concern for many individuals and organisations alike. In September 2022, the UN concluded that "business as usual is not good enough…climate change is a major threat to international peace and security…[and] now is the time for bold collective action."
The construction sector is responsible for 37% of total global energy-related CO2 emissions, with existing buildings and their operations (heating, cooling, and lighting) accounting for 69% of those emissions overall. Furthermore, construction is one of the world's largest and oldest industries, and it is forecast to grow by 42% by 2030. Thus, this sector plays a crucial role in helping to reduce net emissions across the globe and in allowing us to create a cleaner and more resilient world.
Whilst it is true that the trend towards sustainable construction is, overall, positive, this does not mean that the industry can stop evolving or that it can afford to employ a laissez-faire attitude towards implementing environmentally friendly solutions. Evolution, particularly on the technological side, is key to further addressing and aiding global warming, the loss of biodiversity, water scarcity and collapsing ecosystems.
Nonetheless, reducing emissions in the construction industry will be challenging and offering incentives for stakeholders across the value chain to cooperate and take joint action is a crucial aspect of this process. Currently, the construction ecosystem is undergoing a transformation that is altering all aspects of the sector.
Another obstacle the industry faces is the deployment of smart technology across millions of sites in a sector with the second-lowest degree of digitalisation and poor levels of productivity growth. This factor, combined with the challenges that 2022 has yielded – economic pressure (inflation, recession, and high levels of unemployment), global security issues, and coronavirus – may tempt some organisations to put climate change on the backburner whilst they deal with the more immediate issues.
This is not the solution. All individuals and organisations alike have the responsibility to recognise that actions and decisions taken today must meet our present needs, without compromising the welfare of future generations.
However, the shift towards sustainability is not without benefit. In fact, companies stand to gain from reducing emissions. Financial markets are evolving toward ESG, with more and lower-cost capital being made available for sustainable players. This is anticipated to be one of the primary drivers of significant growth in demand for ESG-friendly construction.
Moreover, consumers are becoming more mindful of the environmental impact of their homes as well as their workplaces, transportation, and groceries. Thus, organisations can indeed profit by viewing ESG as an opportunity for investment rather than a burden that is challenging to pass on to other actors in the value chain (such as developers or tenants).
Additionally, many tools for decarbonisation, such as vertical ice condensing technology, are cost-effective. ANCE, the National Builders Association in Italy, has recently collaborated with Boston Consulting Group (BCG) on a project whose main objective is to aid construction companies in improving their environmental performance. Stating in their November 2022 conference, ANCE outlined that the use of tools, such as the ones prepared by them and BCG, allows companies to measure their own baseline emissions, calculate their performance for the coming years and compare this with the main sector benchmarks.
Furthermore, through the implementation of these tools, companies can easily identify gaps to be filled, choose and set targets that they would like to achieve, and decide upon the approach that they will take in order to tackle the challenges of decarbonisation and define the strategic initiatives that need to be taken.
Other ESG solutions in operations can include adding insulation and districting heating in Europe, or, in the context of new stock creation, decreasing demand for commonly used resources through design and process optimisation, as well as moving away from frequently used materials to more energy-efficient ones. Thus, whilst the construction sector's road to sustainability is full of twists and turns, it is a journey which is, above all, necessary and indeed achievable.