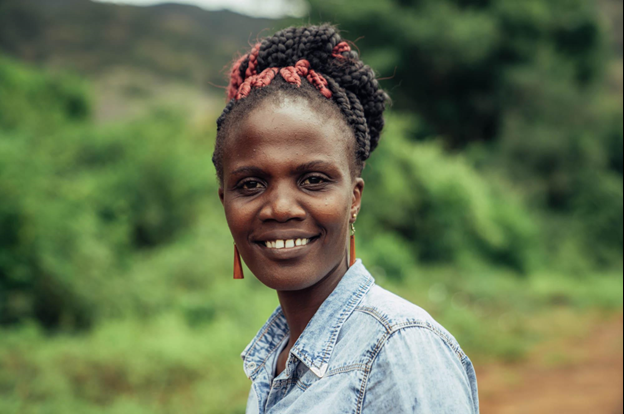 Environmental organizations need to recognize the link between gender inequality and the climate crisis – and take action to ensure that women have a voice, writes Jane Okoth, media and communications officer at community-centred wildlife conservation company Wildlife Works.
Women are disproportionately affected by climate change, especially in the Global South.
When climate solutions factor in the needs of women, they lead to positive ripple effects not only in the environment, but across the community where they are being implemented.
Gender inequality and the climate crisis are interconnected problems that require interconnected solutions to ensure a sustainable future.
According to a study by the UN Environment, it is estimated that 80% of people displaced by climate change are women. In my home country of Kenya, I've seen how women in rural areas have had to work twice as hard to provide for their families in this warming world. Particularly in the Global South, women's roles as primary caregivers and providers of food, water, and fuel make them more vulnerable to the environmental stresses brought about by climate change. But because women lead in these roles, they also hold the keys to a more sustainable future.
From my time documenting community stories at conservation company Wildlife Works' projects in Kenya and the Democratic Republic of the Congo (DRC), I've witnessed how increasing capacity for girls and women can have positive ripple effects on the community and our shared climate. After six years of working closely with those living on the frontlines of climate change, it's become an undeniable reality for me that environmental issues are strongly connected to the challenges women face.
I believe it is high time organizations championing climate solutions put gender equality at the center of their work. From revolutionizing girls' access to education to improving women's financial independence, Wildlife Works' projects in Africa demonstrate how partnering with women to overcome economic and social issues helps fight climate change.
Sustainable Agriculture
Rural women make up a large percentage of the world's smallholder farmers, yet they often lack the land rights, capital, training, and tools that men have access to. By reducing global inequities in agriculture and increasing female farmers' efficiency, it is estimated that we could prevent 2 billion tons of CO2 emissions in 30 years. At the Kasigau Corridor project in Kenya, we have worked with economically marginalized women to co-create opportunities for them to be able to respond to climate change through conservation agriculture.
At Wildlife Works' Mai Ndombe project in the DRC, the Gender Empowerment Team has helped improve alternative income streams for hundreds of women, particularly through agricultural intensification projects. Cassava is a critical food staple for millions of people across the DRC, but its productivity is threatened by various diseases. After putting women in charge of farming a new strain of cassava, the farms have seen a sixfold improvement in yields. Increasing the yield of a given farm means there is less pressure to clear forests and make space for more farms, therefore keeping carbon locked in standing trees.
Thanks to these female-led agricultural projects, women now have gardens just behind their houses and can send their children to school from the extra income they generate.
Education
Today, about 129 million girls in the world are denied the right to attend school. In Kenya, girls' quest for education is continually crippled by barriers such as child marriage, gender-based violence and discrimination.
In an economically marginalized community where the majority have depended on subsistence farming, it is unsurprising that many have not historically been able to afford school fees. Often, when money is short, families will prioritize sending their boys to school.
The Wildlife Works Kasigau Corridor project, in collaboration with community partners, has developed a bursary program which is greatly increasing girls' access to education. Since the establishment of the program, more than $1.3 million has been driven to educational bursaries for thousands of students, with 51% of the bursaries received by girls. However, financial burdens are not the only challenge girls must overcome in accessing education.
Because menstruation is still a topic of stigma, shame and taboo and girls in the community have traditionally lacked access to menstrual health management tools, many girls are at risk of missing out on school every month.
We have been working with our community partners to break the taboo around menstruation, through sexual health and improving girls' access to menstrual products. From teaching girls how to make reusable sanitary pads from locally available materials to teaching boys the importance of respecting women and girls, these programs have helped break the stigma of menstruation and keep girls in school.
Increasing income streams and opportunities
As in many parts of the world, the patriarchal nature of rural Kenyan societies results in women's roles being limited to childbearing, caretaking, agricultural and domestic duties. Hence, career opportunities are more likely to favour men. Opening the door for employment opportunities that were not previously available is another way to amplify the impact for generations to come.
Wildlife Works, for example, now employs female rangers, operates an eco-factory for organic clothes with largely female workers, and partners with organisations that bring women's traditional crafts to the global market. As a result, 64 women's groups representing over 1800 women across the Kasigau Corridor project area generate additional income by selling their handicrafts.
Most of the women have become the sole providers of their families when their husbands do not have employment. In many instances, basic needs such as food and school fees are taken care of by the women, which are traditionally men's responsibilities. These new economic opportunities provide long term financial independence and reduce reliance on unsustainable means to survive.
For too long, women have been excluded from participating fully in our economies and from holding leadership positions. Including them brings in new ideas, strengthens financial security for families, and reduces pressure on protected areas. Studies are increasingly showing that female leaders are more effective in creating stricter climate policies and businesses with fewer emissions.
Gender inequality and the climate crisis are interconnected problems that require interconnected solutions. My hope is for other organizations fighting climate change to recognize this and ensure women have a voice in decision-making on matters affecting their daily lives.