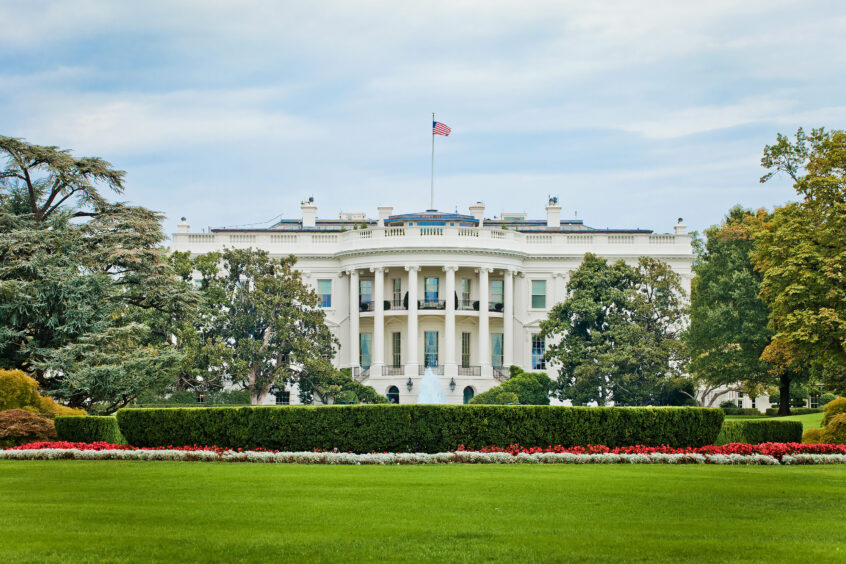 The Biden-Harris Administration has set the first-ever Federal Building Performance Standard to decarbonise buildings in the race to net zero.
The White House is establishing new requirements for federal buildings as part of its net zero goals.
US residential and commercial buildings account for over a third of yearly CO2 emissions, while 80% of them are expected to be still in service in 2050.
The new policy is projected to cut greenhouse gas emissions while saving taxpayer money and creating new jobs.
New standard for federal buildings
The Biden-Harris Administration has established the first-ever Federal Building Performance Standard, whereby agencies are required to cut energy use and electrify equipment and appliances, to achieve zero Scope 1 emissions in 30% of their buildings by square footage by 2030. President Biden previously set a 2045 deadline to reach net zero emissions in federal buildings, with a 50% reduction by 2032.
Agencies will be required to buy US-made products such as heat pumps, electric water heaters, and other energy-efficiency and building system technologies supported by the Inflation Reduction Act. Funding provided through the President's Bipartisan Infrastructure Law, agency operating budgets, and the Climate Smart Buildings Initiative will aid implementation. 
The buildings will apply electrification strategies alongside deep energy retrofits, energy use and water use reductions, and other facility improvements.
Follow-up initiatives
The new standard was announced alongside two new initiatives by the US Department of Energy (DOE) and the State of California. 
The DOE is seeking public comment on a forthcoming rule to decarbonise buildings. The measure would set emissions reduction targets and require equipment and appliance electrification in new federal buildings as well as those undertaking major renovations.
It is estimated to save $8 million per year in building costs, and would work with the Federal Building Performance Standard to ensure a comprehensive approach to the decarbonisation push. 
Meanwhile, the State of California has joined the National Building Performance Standard Coalition, a White House initiative to accelerate building performance standards across 30 state and local governments, to be adopted by Earth Day 2024. This is expected to drive $124 billion of investment in the building electrification and construction industry by 2040. 
The Inflation Reduction Act provides tax incentives to meet building performance standards, as the total available deduction for developers and contractors completing these projects will nearly triple, increasing from $1.80 per square foot to potentially $5 per square foot, depending on the project's demonstrated increase in energy efficiency. More organisations are now considered eligible for the deductions, including non-profits and Tribal governments. 
How important are buildings for climate goals?
In the US, residential and commercial buildings account for 35% of CO2 emissions and a third of the energy used in commercial buildings is wasted, according to the US Environmental Protection Agency. The federal government has over 300,000 buildings, accounting for 18% of US primary energy use. As 80% of existing buildings will still be in service by 2050, it is paramount to reduce their carbon footprint to reach the country's climate goals.
Globally, the construction sector, including indirect emissions from electricity and heat consumption of buildings, generates 17% of global greenhouse gas emissions. According to the United Nations Environment Programme, reducing energy intensity and bringing down the emissions intensity of energy use are two crucial steps to limit the environmental impact of the industry.
Most of the world's largest economies, however, are too slow at retrofitting existing buildings, as the importance of energy efficiency has been often overlooked, even in times of volatile supply and reduced energy security. As such, the new US initiatives are encouraging, as they suggest that cutting the carbon footprint is becoming a more pressing priority for countries.
Indeed, the International Energy Agency said in its Energy Efficiency 2022 report that we may be at a potential turning point after several years of slow progress, as more governments and consumers have increasingly turned to efficiency measures to address fuel supply disruptions and record-high energy prices.
The multiple benefits of energy efficiency
The new measures will generate a range of benefits for the US economy, alongside the obvious progress in achieving climate goals. Powering government buildings costs $190 billion annually, so making them more efficient will lead to significant savings for the taxpayer. 
Lower energy consumption will also reduce demand, which will in turn bring down prices and strengthen energy security. The massive retrofit and electrification drive will also support thousands of jobs across the country as well as create new markets – especially as all products to be used will be made in the US.
The White House has been praised for taking a lead on buildings' sustainability, which will catalyse change in the private sector, as major shifts in the market need supportive policies.
In the words of Kim Cheslak, director of codes at New Buildings Institute: "The examples being set by leading cities and states, and now the federal government, are promising steps towards implementing the market, technical and policy solutions we need to achieve carbon neutral buildings."
"Decarbonizing new and existing construction is a critical component of supporting equitable, healthy and resilient communities."