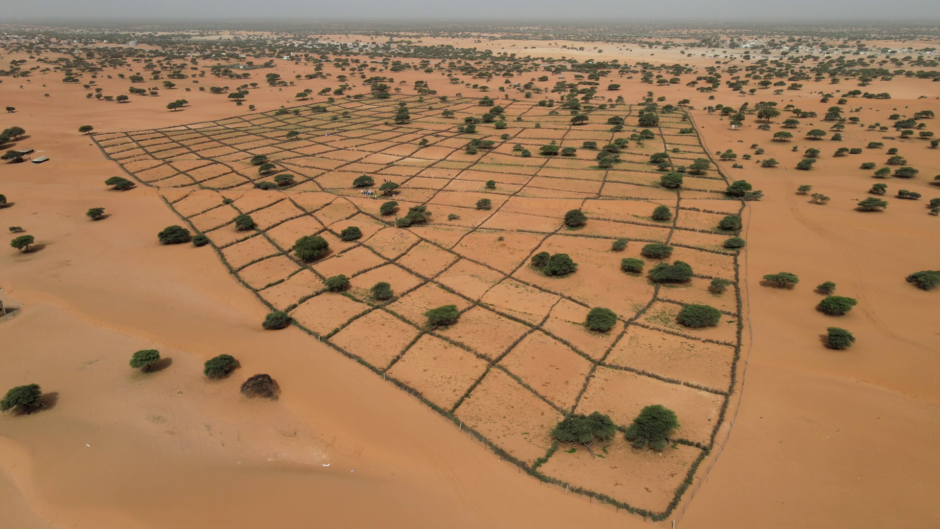 A new alliance unveiled at COP27 intends to highlight the rising risk of droughts and call on governments to build resilience strategies.
The International Drought Resilience Alliance announced seeks to change the way the world manages droughts by focusing on resilience rather than reacting to emergencies. 
The UN Convention to Combat Desertification (UNCCD) said that drought frequency has increased by 29% since 2000, affecting 55 million people every year.   
Mismanagement of land and water resources, as much as climate change, is to blame. They need to be addressed to ensure communities around the world do not suffer from water scarcity.
New global alliance brings attention to water scarcity
The International Drought Resilience Alliance intends to lend support to countries exposed to the continued threat of drought by mobilising resources, transferring technology and knowledge, and fostering innovation. The announcement was co-convened by the heads of state of Spain and Senegal, and was first announced at the UN General Assembly in September 2022 by the President of Spain. 
President Macky Sall of Senegal said: "I am thinking of the environmental peril, in particular global warming, drought and desertification, and weather-related natural disasters. The State of the Climate in Africa 2020 estimates that by 2030, 118 million Africans will be at risk of extreme poverty due to a combination of sea level rise, flooding, drought and other related phenomena."
The problems created by droughts are felt most acutely in low-income countries. In addition to the loss of livelihood, starvation and diseases, droughts have also led to political instability. Recent droughts in Australia, parts of Western Europe and the US, have shown that the problem is more widespread than previously thought.
UNCCD report shines a light on a rising global problem
The UNCCD's Drought in numbers 2022 report was issued at the conclusion of COP15 in May 2022. Highlighting the urgency in tackling droughts to combat desertification, it provides a collection of data and information that informed negotiations among the UNCCD's 196 member countries. 
The report advocates the need to enhance drought resilience by taking proactive action. This includes setting up cross-border early-warning systems, along with regular monitoring and support to ensure continuous improvement. The use and transfer of technology to low-income countries is also a key focus of the newly formed alliance.
Based on projections by the Intergovernmental Panel on Climate Change, droughts will be more frequent and severe, and will also last longer. The Panel estimates that 75% of the world's population will be living in water-scarce conditions by 2050.
Investing to improve the management of water resources is a key element of improving drought resilience. In urban areas, this involves improving municipal water resources, and will lead to significant savings. 
For example, is estimated that the cost of drought could cost London's economy £330 million per day. Deterioration in Thames Water's infrastructure results in a loss of 635 million litres of water in leaks every day. Meanwhile, household water and sewage bills have risen by 40% since 1989.
Water is fast becoming a critical investment risk
More than 2.3 billion people live in water-stressed countries, according to the UNCCD. Less than 3% of the water on the planet is considered freshwater, and most of it is inaccessible to humans, according to the US Geological Survey.
Analysis from the Carbon Disclosure Project and Planet Tracker has shown that listed companies could face $225 billion in losses due to water shortage. A further $15.5 billion in assets are at risk or could be stranded due to the water crisis. 
Climate action non-profit Ceres launched the Valuing Water Finance Initiative in August 2022, which aims at getting companies and investors to align with the UN Sustainable Development Goal for water (SDG 6). The initiative includes 64 signatories with $9.8 trillion in assets under management.
Success stories provide hope for new alliance
The UNCCD report provides several examples of countries taking steps to plan for the future to prevent droughts and increase their resilience. While many of these investments involve billions of dollars being invested by developed countries, success stories in lower-income and developing countries provide hope to improve their resilience to drought.
Combining the use of technology with indigenous and local expertise is one such example. For example, a warning tool Information Technology and Indigenous Knowledge with Intelligence (ITIKI) incorporates indigenous knowledge to provide small-scale farmers with an early warning and drought forecasting system. It has been proven 70-98% accurate for lead times up to four years.
Small-scale farmers in Southeast Asia were able to improve water efficiency and yields by adopting drip-irrigation methods. The highest drip irrigation rates have been reported in Israel, with water efficiency rates in agriculture of 70-80%.
Published research by the UNCCD and others helps to quantify the problem of water scarcity and droughts. This will likely be followed by government mandates to improve reporting on water use to help quantify the related financial risk. But that would be meaningless if not followed up with policies to invest in mitigation and resilience measures.