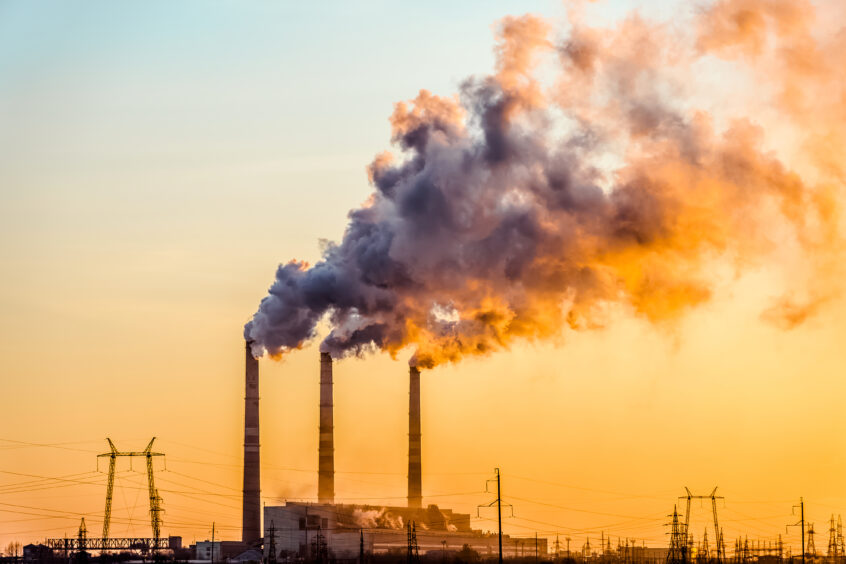 In this six-part series, we break down the UN Environment Programme's (UNEP) recommendations on how to reach the Paris Agreement goals, sector by sector.
UNEP found that the current pledges will lead to a temperature rise of 2.4-2.6°C by the end of this century.
The industry sector is the largest contributor to global emissions in terms of direct and indirect emissions.
Researchers recommend five pathways to decarbonise the sector that will complement the existing technologies improving energy efficiency.
Industry generates the most direct and indirect emissions globally and is the second-largest contributor when only direct emissions are considered, according to the Intergovernmental Panel on Climate Change. Decarbonisation efforts have so far focused on improving energy efficiency, and many industrial processes have already reached "maximum theoretically attainable" levels.
As such, UNEP recommended five pathways to complement the progress made so far: electrifying industry, transforming production processes by using new fuels and specific solutions for hard-to-abate sectors, accelerating material efficiency and scaling up energy efficiency everywhere, and promoting circular material flow.
The share of electricity in industry's final energy demand reached 28.5% in 2019 but decreased slightly to 28.4% a year later. Researchers said that it needs to increase to 35% by 2030 and to 50-55% by 2050 to meet the goals set by the Paris Agreement.
Cement and steel production need to decrease carbon intensity by 85-91% and 93-100% by 2050 respectively, compared to 2015 levels. Intermediate 2030 targets are reductions of 40% and 25-30% respectively. 
The hard-to-abate sectors that cannot use electricity must switch to green hydrogen for their energy needs. To facilitate this, green hydrogen production capacity needs to grow to 0.23–3.5 Mt by 2026, in order to achieve costs below $2 per kilo, and then scale up to 500–800 Mt by mid-century. The current levels are almost 0 tonnes. UNEP also said that demand reduction, substitution and carbon management are crucial solutions.
Material processing is one of the main drivers of industrial emissions, leading to increases in both direct and indirect emissions. UNEP recommended changing the material intensity of the product used on the supply side to scale up efficiency.
The report highlighted the benefits of recycling waste materials to reduce emissions, although there are still huge gaps and regional differences. The rates of recycling across various metals varies from 20% to 85%, and the recycling rate of end-of-life waste from industrial material is just 10%. 
For UNEP, the most important actions to take are the full decarbonisation of industrial production, reducing material waste, recirculating materials, reducing demand and enhancing access to sustainable and efficient technologies.
On the other hand, the sector needs to avoid building new carbon-intensive infrastructure and focus on policies that support linear production processes instead of circular ones.
To achieve change, national governments need to introduce measures that will support zero-carbon industrial processes, research and innovation, and alternative carbon pricing mechanisms. They will also need to promote circular material flow, electrification and low-carbon products. This will be part of a wider plan for a just transformation that is based on equality.
UNEP called for international cooperation on zero-carbon basic materials and a market for hydrogen, as well as sharing best practices to help low- and middle-income countries. Subnational governments should instead focus on regional planning and regulation and cooperating with various stakeholders, such as national governments, industry and citizens in implementing mitigation actions.
Businesses will have to plan and implement a zero-emission transformation, including those operating in the hard-to-abate sectors. They should design long-lived, repairable products and create circular supply chains by collaborating with suppliers and customers.
The financial sector can play a part by engaging with heavy polluters to push for change or divest from them altogether, as well as investing in low-carbon energy and process technologies, which will in turn reduce their costs. It will also be paramount to drive awareness of climate risk, which UNEP said is still "grossly underestimated".
Finally, citizens should consume sustainably, for instance by purchasing longer-lived repairable products and avoiding those with a short lifespan. They can also join various lobby groups to advocate for change.
Our series: