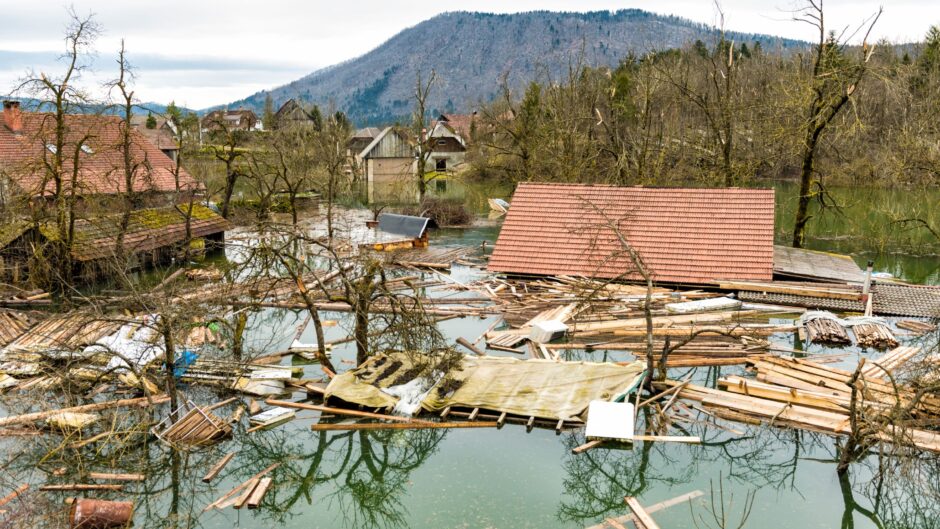 The Stockholm Environment Institute (SEI) has made the case for dedicated loss and damage funding to be agreed upon at COP27, on top of existing climate finance mechanisms. 
The SEI has published a report that highlights the failings of existing climate finance mechanisms in addressing loss and damage and recommends an alternative.

Low-income countries are expected to face up to $1.8 trillion in loss and damage in 2050, but continue to receive little support from the wealthier nations responsible.

 

COP27 will be a pivotal moment for loss and damage finance, with the SEI's report providing a hardy response to those that argue against it.

 
The SEI's report, a joint effort of researchers from around the world, makes the case that existing mechanisms for loss and damage finance should be scaled up in the near term while developing a dedicated fund over the coming years. 
One of the report's lead authors, Inès Bakhtaoui, said: "The loss and damage finance pledges made so far are important steps in the right direction. At the same time, our analysis shows there are significant gaps in existing climate finance mechanisms that make it important to create a dedicated L&D [loss and damage] mechanism that can better deliver funds to meet the needs of victims of climate change."   
What is loss and damage finance?
Loss and damage is a term used to describe the harms inflicted by climate change that cannot be avoided through future mitigation or adaptation. Examples could include loss of life, economic losses due to the destruction of property or limits to productivity, the devastation of land or the displacement of people and cultures. 
Such harm can come as a result of extreme events such as flooding or wildfires, or more incremental crises such as rising sea levels or ocean acidification. Human-induced climate change is causing these disasters to increase both in frequency and severity, with the International Panel on Climate Change's Sixth Assessment Report detailing how vulnerable communities are already being devastated due to insufficient global efforts to reduce greenhouse gas emissions. 
This issue of vulnerability is central to the debate on loss and damage finance. The countries least responsible for contributing to climate change are also those with the greatest need for support in accommodating the loss and damage it causes. 
Indeed, a 2022 study from Dartmouth University has estimated that the five countries with the highest emissions were also responsible for around $6 trillion in associated global economic losses. By 2050, estimates suggest that lower-income countries will face up to $1.8 trillion in loss and damage that are largely the responsibility of wealthier nations. 
There are also more intricate inequalities within jurisdictions. A recent report by ActionAid, for example, highlights the extent to which women and girls are more severely impacted by climate change than their male counterparts. 
Loss and damage finance addresses these injustices by channelling compensatory funding to those who need it most. A global framework for how this will be organised, however, is yet to be adopted. 
Loss and damage finance has seen little progress to date
Progress on the development of loss and damage finance mechanisms has been extremely slow. The concept was not officially recognised at a Conference of the Parties (COP) meeting until 2013, and it took until 2015's COP21 to include loss and damage as a distinct article under the Paris Agreement. 
At COP26 in 2021, the G77 and China, representing 134 emerging economies, came together alongside the leaders of small island states to demand a dedicated Finance Facility for addressing loss and damage. Their proposal was rejected by wealthier countries including the US and the EU, which instead agreed to establish the Glasgow Dialogue to conduct further discussions on the matter. 
The Dialogue's first discussion was held in June 2022, and resulted in significant controversy. Under-served countries argued that loss and damage finance must be available before 2024, while their opponents said that existing climate finance mechanisms would remain sufficient. 
Since COP26, a select number of countries including Denmark and Scotland have pledged some dedicated funding towards loss and damage. As of September 2022, it totalled just $16 million. A 2022 report from international charity organisation Oxfam, meanwhile, reveals that since 2017 there has been a $33 billion gap between the funding requested in response to extreme weather events and the amount received. 
What does the SEI report recommend?
The SEI's report supports the argument that existing climate finance mechanisms are not enough to help vulnerable communities recover from losses and damages that are already wreaking havoc on their lives.  
It identifies several shortcomings of these mechanisms, including their inaccessibility, strict proposal and accreditation requirements and long lag times in delivery. It also states that loan-based and project-based finance can be harmful in itself, often increasing the burden of debt on recipient countries. 
Despite these limitations, the report acknowledges that existing climate finance initiatives, such as bilateral aid or small grants under the Green Climate Fund, must still play a role in the short term. It says that they should be rapidly scaled up to cover loss and damage, while a more dedicated facility is developed to provide specified funding in the long term. 
This facility should, according to the SEI, be historical responsibility – the idea that countries which have contributed the most to climate change should be made to compensate for their impact – and the "polluter pays" principle.  
The report recommends a focus on grant-based, programmatic finance that is accessible, transparent and designed around the needs and priorities of its recipients. Such support would be both targeted and equitable, and would empower vulnerable communities to use their finance in alignment with their own priorities. Independent monitoring and evaluation processes should also be put in place, to ensure that donors are held accountable for delivering real benefits. 
COP27 is a pivotal moment for loss and damage finance
The SEI's report recognises COP27, which is to be held in November 2022, as the prime opportunity to agree on a phased approach for the implementation of its recommendations. Others have similarly acknowledged COP27 as a pivotal moment for loss and damage, with a group of over 400 global organisations calling for its inclusion on the formal agenda. 
COP27 will also see the launch of several loss and damage-related proposals. The Alliance of Small Island States is expected to propose a 'response fund' that would be used to help vulnerable islanders to recover from present and future climate shocks, while the Vulnerable 20 Group and the G7 will introduce the Global Risk Shield Initiative. 
Despite these movements, there will be no easy win for loss and damage proponents at COP27. The issue is bound to be met with continued resistance, as richer nations seek to protect themselves from incurring significant liabilities. These countries have previously argued that costs would be too high, and that their existing climate finance commitments should be sufficient.  
The first of these claims could be addressed by transferring some of the blame onto polluting companies such as those within the oil and gas industry. Indeed, a study by Oxfam International suggests that the profits of major oil companies would be more than enough to compensate for the economic losses of climate change. As new methodologies are developed, the responsibility for global loss and damage could be traced back to individual firms, making it far more difficult for them to defend themselves against such requests. 
On the second argument, the SEI's report provides a new body of evidence on the failings of existing climate finance mechanisms as they relate to loss and damage. In doing so, it could help in building upon the momentum of COP27 to see that more effective measures are finally introduced.