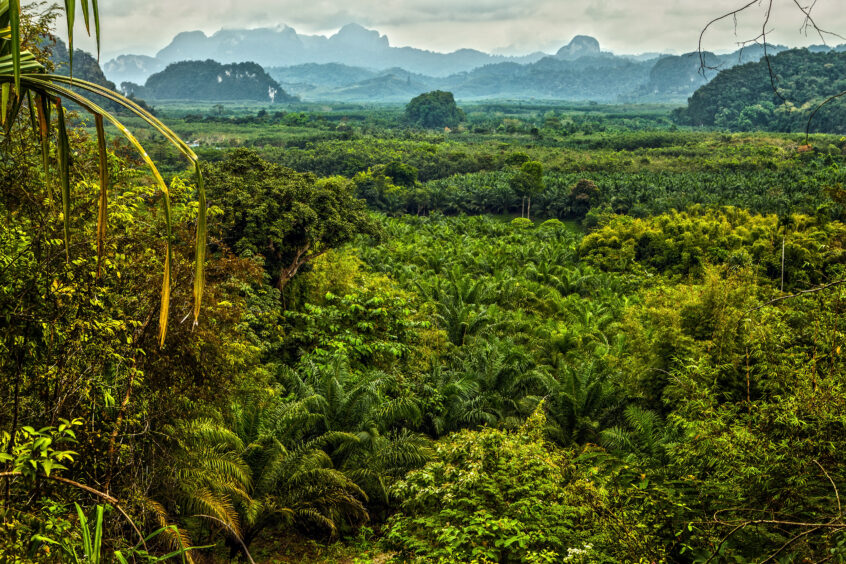 A new study published in the Philosophical Transactions of the Royal Society B: Biological Sciences found that half of the trees planted in tropical and sub-tropical forest restoration projects do not survive more than five years.
Researchers found that half of replanted tropical trees do not make it after the fifth year, although there is huge variation in outcomes.
Forest restoration is an important tool to capture carbon, improve biodiversity and provide economic benefits to local communities.
Active restoration must be done properly and is complementary, not a substitute, to the protection of existing forests. 
Analysing reforestation efforts in Asia
New research published in the Philosophical Transactions of the Royal Society B: Biological Sciences found that, on average, 18% of planted saplings died within the first year, rising to 44% after five years. There was huge variation in outcomes: some sites saw over 80% of trees still alive after five years, whereas at others, a similar percentage had died.
The analysis covered 176 restoration sites in tropical and sub-tropical Asia. The region accounts for 15% of the world's tropical forests, which are among the most carbon-dense and species-rich in the world, providing habitat for tigers, primates and elephants. The area has suffered major deforestation, with forest cover reducing by an estimated 32 million hectares between 1990 and 2010. This has driven a series of reforestation projects to the region.
Dr Lindsay Banin, co-lead author based at the UK Centre for Ecology & Hydrology, said: "The large variability in survival we found across sites could be for a number of reasons, including planting densities, the choice of species, the site conditions, extreme weather events or differences in management and maintenance. Local socio-economic factors may also be important."
She added: "What's clear is that success is very site-dependent – we need to understand what works and why and share that information, so we can bring all sites up to the level of the most successful and harness the full potential for restoration. There's likely no one-size-fits-all approach and restoration action should be tailored to local conditions. This will help ensure the scarce resources and land available to restoration are used to best effect."
The benefits of reforestation
Planting trees provides a range of benefits. It can conserve species, boost ecosystem services such as flood prevention and reduce carbon emissions, as forests act as carbon sinks. Reforestation can also provide local communities with livelihood opportunities, such as establishing carbon credits and ecotourism initiatives. 
When done properly, reforestation can boost biodiversity. Projects need to focus on long-term restoration of native forests and re-establishing what was there before, instead of planting fast-growing trees. This includes selecting the right areas, which is usually land that was previously forested: in fact, grasslands and wetlands already act as carbon sinks, while an area already used for agriculture could result in deforestation elsewhere.
There is also increased attention on urban reforestation. Planting trees in cities provides the added benefits of reducing air pollution, cooling the air temperature and improving the mental and physical health of residents.
Existing forests must be protected
According to the United Nations Environment Programme (UNEP), for a 66% chance of limiting global warming to no more than 2°C, 15 gigatons of emissions per year by 2030 must be avoided or absorbed. A third of the mitigation could come from forest-based solutions, which are estimated to absorb 4 gigatons of emissions per year. These include halting forest loss and degradation as well as implementing sustainable forest management, conservation and restoration.
As such, it is crucial to protect the existing forests, alongside replanting trees where necessary. It is estimated that 15 billion trees are cut down each year. There are around 3 trillion trees on Earth, which is 46% fewer than what there were 12,000 years ago, at the start of human civilization. 
COP27 saw the launch of the Forest and Climate Leaders' Partnership (FCLP), which intends to halt and reverse forest loss and land degradation by 2030. FCLP is a voluntary partnership of 26 countries accounting for over a third of the world's forests and nearly 60% of global GDP. It plans to identify strategic areas and work with the private sector, civil society and community leaders to deliver on them. 
The partnership is one of the latest global initiatives focused on protecting and restoring forests, suggesting that their importance is widely appreciated. There is, however, a lack of financing, incentives and mechanisms to ensure action is taken effectively.
All types of reforestation are not necessarily helping the environment
Planting trees is not a silver bullet to reduce emissions and restore natural habitats. Carbon credits, also known as carbon offsets, should not allow companies to continue with business-as-usual, as emissions need to be stopped from getting into the atmosphere in the first place.
Further, the research published in the Philosophical Transactions suggests that some reforestation projects are not durable solutions, even when unaffected by extreme events such as wildfires. As such, it needs to be carried out properly. 
Seedlings must be chosen based on the characteristics of the area being reforested, such as altitude and local or projected climate. It is also key to involve the surrounding community as well as establish a local supply chain to maximise the sustainability of a project.
Nonetheless, active restoration provides faster results than letting nature take its course, according to the researchers, as the sites which included tree planting activities gained forest cover more quickly. The study highlighted that there is not enough data to identify the most appropriate and cost-effective methods of restoration across various sites, so more research needs to be done.
Prof David Burslem, co-author based at the University of Aberdeen in the UK, concluded: "The sites where active restoration is most needed – those that have already been cleared of trees – are also those where restoration is most risky and prone to higher numbers of trees dying. We need to understand better how to improve the survival chances of saplings on these sites, to ensure restoration has positive outcomes. But the study also provides a warning, to protect our remaining forests as much as possible, both because restoration outcomes are uncertain and to provide the diverse seed sources needed for restoration activities."