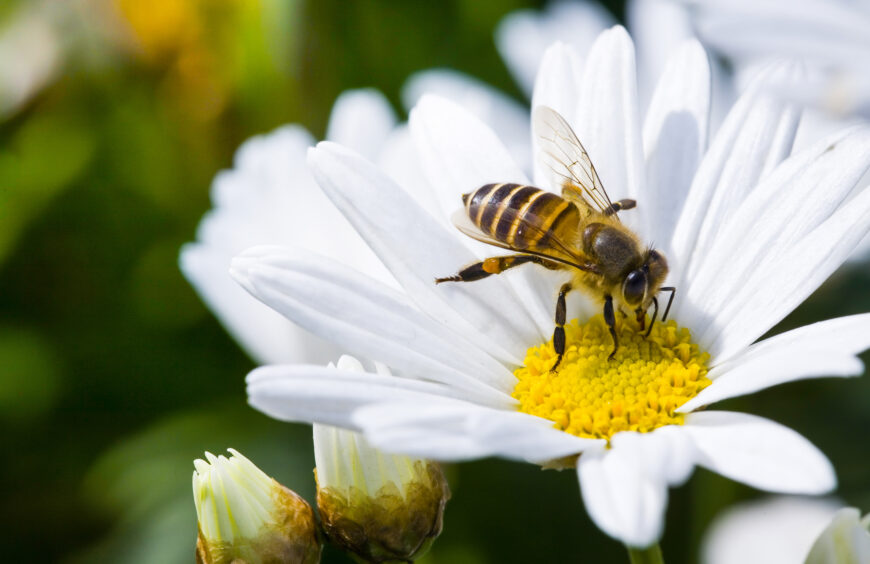 Researchers led by the University of Copenhagen have published a study that demonstrates the use of DNA 'footprints' for gathering insights on insect biodiversity and strengthening crop resilience. 
Pollinating insects leave tiny 'footprints' of environmental DNA each time they visit a new plant, which can be tracked by scientists to provide key insights into biodiversity and crop resilience.

 

The ongoing decline of insect pollinators is contributing to wider biodiversity loss and raising concerns around food security and economic stability.

 

As world leaders gather to discuss the protection of nature, new approaches to biodiversity monitoring will be needed for the development of effective solutions.

 
A team of researchers, led by the University of Copenhagen, has developed a novel technique for monitoring insect biodiversity by tracking the DNA left behind by pollinating species. The method could be used to gather vital information in support of global efforts to limit the decline of pollinating insects and strengthen the resilience of the crops that rely on them. 
The researchers' work came as part of the EU-funded Project Beespoke, a wider initiative that brings various stakeholders together to develop new solutions for improving the crop yields and insect biodiversity of the North Sea Region. The results of their study have now been published in Environment DNA, where they are freely available to interested parties. 
The decline of pollinating insects poses a major threat to global wellbeing
More than 75% of the world's flowering plant species rely on animal pollination for their reproductive success, meaning that the services of pollinating insects are vital in ensuring crop productivity. The availability of these services is rapidly declining, as the global population of pollinating insects continues to fall. 
This could result in crop deficits with severe implications for the resilience of global food systems. Yield instability could not only contribute to food insecurity, it could also disrupt the livelihoods and cultural values of those that depend on subsistence agriculture and other natural resources. 
Pollinated crops are also a significant contributor to international trade, with estimates suggesting that the pollination services provided by insects are worth an annual €153 billion to the global economy. This calculation only considers crops that have been grown explicitly for human consumption, meaning that the true value of pollination services could be far higher when taking crops produced for animal consumption, biofuels or ornamental purposes into account. 
Climate change, land-use conversion and the excessive use of agricultural chemicals have been identified as key drivers of insect biodiversity loss, suggesting that solutions could be found through the transformation of human activity. Given the impact that pollinator decline could have on global wellbeing, the development of such solutions is growing increasingly urgent. 
Using DNA footprints to monitor insect biodiversity
Previous attempts to assess insect biodiversity have largely relied on visual observations. This method is extremely time-consuming, and can often be inaccurate. 
The Copenhagen research team sought to test out an alternative approach. They analysed the DNA left on the flowers of apple trees planted across four orchards in Denmark, and compared their findings to a those achieved through visual observations of the same area. 
By monitoring the DNA left behind, the researchers were able to develop a more comprehensive view of the orchards' insect biodiversity. They identified several species that had not been detected through visual observation, and demonstrated the importance of previously underacknowledged pollinators such as diptera flies. The new method also shed light on multiple pest species that were prevalent in the area, discovering two types of moth that were feeding on the apple trees and contributing to their low productivity. 
Professor Lene Sisgaard of the University of Copenhagen explains the significance of the study's results: "The exciting thing about this study is that it can have an immediate, real-world impact on agricultural systems. The results and techniques in our study can be used to inform management practices such as the type of pest control used, the orchard design, and what additional floral resources surround the crops. 
"Our results can assist farmers in managing their crops against the rising threats of reduced pollinators. Environmental DNA can be used to investigate the biodiversity in agricultural landscapes beyond apple orchards, making it a fast and non-invasive way to gain more knowledge about the world around us", adds the Wellcome Sanger Institute's Dr Physilia Chua.   
"Understanding how we can work with the environment, such as improving the surrounding landscape to attract beneficial insects, can help cross-pollination and lead to crops becoming more resilient against climate change. We hope this research can help our society become as environmentally friendly as possible, protecting our biodiversity, food sources and livelihoods", she concludes. 
New biodiversity monitoring techniques to develop effective solutions
With the decline in pollinating insects beginning to attract global attention, there has been an increase in efforts to develop effective solutions. In 2018, for example, signatories to the COP14 Convention on Biological Diversity expressed their commitment to supporting pollinator conservation. 
With the follow-on COP15 convention having begun on 7 December 2022, there is a momentous opportunity to further these commitments. With the investment community calling for capital flows to be aligned with the preservation of nature, some have proposed that market-based solutions such as biodiversity credits could be introduced. 
The creation of nature-positive investment opportunities, however, will rely on accurate measurement data that can define what constitutes as a tradeable unit of biodiversity and monitor its conservation. Novel techniques such as environmental DNA monitoring could be the key to unlocking this data and could therefore be vital in developing credible strategies for the conservation of insect pollinators.