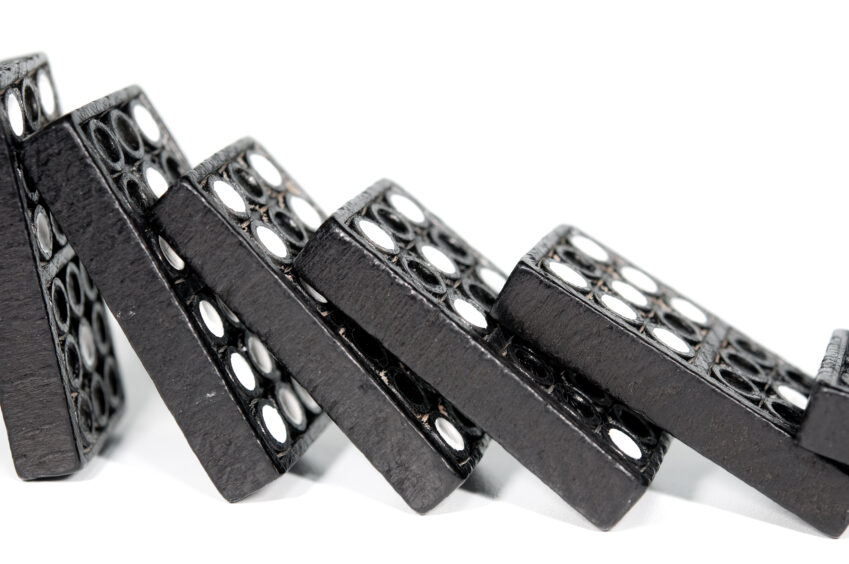 While the world is re-evaluating the voluntary carbon markets, three small climate actions could kick-start the snowballing of positive tipping points around the world and trigger substantial global decarbonisation, according to a new report being released at Davos.
The right policy mandates could trigger market tipping points that could result in global emission reductions of 70% in ten key sectors.
Electricity has already reached a tipping point, with 75% of new capacity in 2022 being renewable, based on cost.
Effective policy mandates could drive system change, beyond market drive solutions such as the voluntary carbon markets.
The report The Breakthrough Effect: How to trigger a cascade of tipping points to accelerate the net zero transition, demonstrates how three "super-leverage points" could trigger a cascade of decarbonisation in sectors representing 70% of the world's greenhouse gas (GHG) emissions.
With time running out to limit global warming to 1.5°C, the report shows how parts of the global economy could move rapidly towards zero emissions – with far-reaching effects across 10 of the highest-emitting sectors. It was produced by an international team including Systemiq and the University of Exeter, and is a contribution to Systems Change Lab convened by the Bezos Earth Fund and World Resources Institute.
"With time running out, there is a need to be targeted," said Mark Meldrum, Systemiq partner and a lead author of the report. He said: "It identifies positive tipping points in the highest-emitting sectors of the global economy, and analyses the conditions required to trigger them. Each super-leverage point crossed raises the chance of crossing others, and could set off a cascade of positive tipping points to steer us away from a climate catastrophe."
Tipping points for market transformation
A leverage point is where a small intervention can cause a large effect – and the report's "super-leverage points" not only cut emissions in one key sector, but also support faster changes in other parts of the economy. They are what can push a market to a tipping point.
In this context, a tipping point happens when a zero-carbon solution advances to a point where it outcompetes the existing high-carbon solution. Once reached, self-reinforcing "feedback loops" drive exponential growth in the adoption of the new solution and a rapid decline of the old.
As Simon Sharpe, a lead author of the report points out: "High-emitting sectors of the economy do not exist in isolation – they are deeply inter-connected, and zero-emission solutions can influence transitions in multiple sectors simultaneously."
The analysis focuses on three core industries: cars, green ammonia and alternative proteins. It is impossible to avoid the impact that the rapidly falling price of wind and solar have had on the energy market, where the feedback loops of learning by doing and the scaling up of production saw the price of the technology collapse by around 70% and 90% respectively over the last decade.
In fact, a tipping point has already been crossed in the electricity sector, with solar and wind accounting for more than 75% of new global capacity built in 2022.
The idea is that the mandates proposed could lead to exactly the same form of scaling up, and price collapse within three sectors, providing a roadmap of how policymakers can successfully achieve their commitments to emissions reduction.
More than that, they would have knock-on effects in other sectors. These changes could trigger a cascade of tipping points, with cheaper batteries helping solar and wind to scale-up storage to tackle intermittency and seasonal supply in the electricity sector, cheaper hydrogen opening up decarbonisation for the shipping and steel industries, and alternative proteins resulting in reduced pressure for deforestation.
This is not simply academic analysis. History is rife with examples of positive tipping points from the mobile phone camera's impact on Kodak and the camera market, to the US coal market. In 2012, US coal power peaked before it was undercut by prices of renewables and gas. In the end coal use fell below 50%, half the companies in the sector went bankrupt within two years and total demand is now 60% lower than it was at its peak.
What do the three mandates include?
While the report covers a number of different sectors, these three are used to demonstrate how particular policy interventions could trigger fundamental sectoral transformation.
In the automotive sector the leverage point has been the mandating of zero-emissions vehicles. For many years the battery remained the most expensive part of an EV but growth in production, and increasing expertise in manufacturing, is bring down costs. In fact battery costs have fallen by a factor of ten in the last ten years. Once that part of the cost falls, the overall cost of manufacturing an EV falls lower than that of an ICE, in large part because the EV has so many few moving parts.
In the hydrogen market, we are nowhere near the economies of scale on electrolysers that are necessary to cut costs or scale up production. Yet report author Tim Lenton, Professor of Climate Change and Earth System Science at Exeter University, argues that a mandate to use a percentage of green ammonia in fertiliser would drive rapid market development.
This would not only replace fossil fuels in fertiliser production; it would also bring down the costs of green ammonia and green hydrogen, enabling their use as fuels in shipping and steel production, and for energy storage. There would be additional costs in terms of generating the necessary nitrogen, but there are feedback loops that would develop.
Finally, in the plant-based protein market, the report argues that the use of public procurement could fundamentally transform the market. For example, the use of procurement as a lever in schools, hospitals and government departments, could be a powerful lever to increase the uptake of these products, leading to reduced emissions from livestock farming and freeing up an estimated 400-800 million hectares of land, equivalent to 7-15% of global agricultural land today
The goal is to beat animal protein on cost, while at least matching them on taste and texture. Historically there has been consumer suspicion of plant-based proteins due to flavour and texture but the technology is improving rapidly, as are texture and taste Of course, as Lenton points out, you don't need the best meat texture in a pasty.
Next steps
The report supports the Breakthrough Agenda, the First Movers Coalition and other initiatives working to make low-carbon solutions the most affordable, accessible and attractive option in each emitting sector. As such, it helps to identify how to most effectively address the challenges of hard to abate sectors.
There are clear opportunities in these new markets. While there may be lobbying and political opposition to such new policies, the success of Germany's Energiewende in creating entirely new industries has been so positive that even opposing politicians don't talk about removing the programme. What's necessary is to find new levers to accelerate change and to understand how to overcome the barriers to such change.
Andrew Steer, president and chief executive of the Bezos Earth Fund, said: "We know that radical shifts are required for meeting our climate and nature goals – from shifting diets, to restoring forests, to phasing out the internal combustion engine. The question is identifying what the positive tipping points in each of these sectors are, as well as the barriers that must be removed so that change becomes irresistible and unstoppable. Steer adds that the central question is, "What's the special sauce that have led some issues to suddenly rise on the agenda and solutions emerge?"
The University of Exeter team is now leading a community of researchers working on a full "state of tipping points" report looking at both positive socioeconomic tipping points and negative climate tipping points in time for COP28 in November.
"We need to find and trigger positive socioeconomic tipping points if we are to limit the risk from damaging climate tipping points" said Lenton. "This non-linear way of thinking about the climate problem gives plausible grounds for hope: the more that gets invested in socioeconomic transformation, the faster it will unfold – getting the world to 'net zero' greenhouse gas emissions sooner."