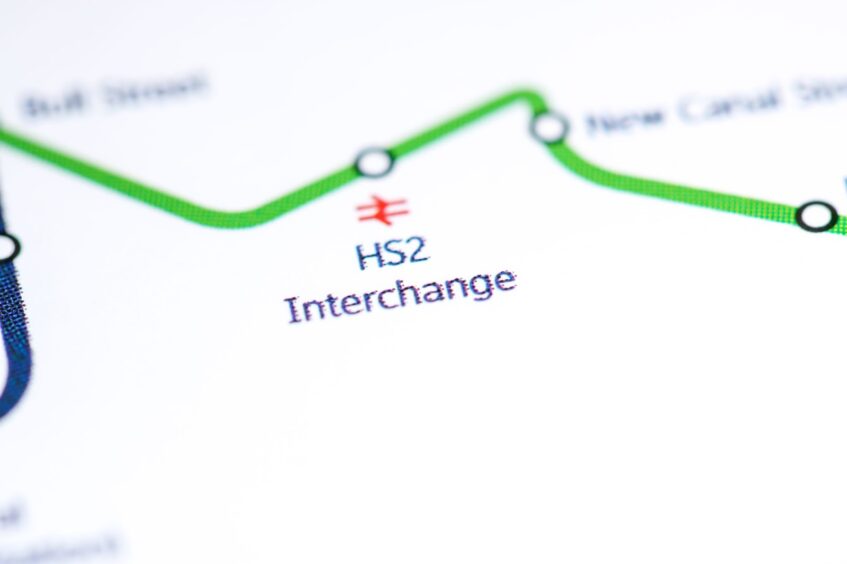 The company responsible for delivering the High Speed 2 (HS2) railway, a major infrastructure project in the UK, has been accused of drastically underestimating its impacts on the natural surroundings. 
HS2 Ltd has been accused of underestimating its likely impacts on biodiversity while overvaluing the potential of its planned compensation measures. 

The Wildlife Trusts is demanding that the company must redo its assessment and halt its construction until the Government has reviewed the evidence. 

Standardised methodologies will be vital in ensuring that upcoming biodiversity regulations are effectively enforced. 
The HS2 railway is currently the largest infrastructure project in Europe, with around £23 billion worth of contracts invested in its supply chain. It is being developed by HS2 Ltd, a non-departmental public body funded by the Secretary of State for Transport. 
HS2 Ltd is to manage the project's supply chain, bringing various designers and contractors together for the railway's delivery. This leading role in the initiative is accompanied by strict responsibilities, including the requirement that relevant technical, safety and environmental standards are adhered to at all times. 
According to The Wildlife Trusts, however, the firm has drastically underestimated the project's likely impacts on its surrounding environment. In a February 2023 report, HS2 Ltd was accused of undervaluing the habitats and wildlife that may be destroyed during the railway's construction, while simultaneously overvaluing the potential of its compensation measures. 
"This new evidence is damning and reveals a host of inaccuracies that are built into HS2 Ltd's current approach. Our report exposes the absurdity of allowing HS2 Ltd to self-regulate without proper transparency and independent oversight. The company needs to be held to account by the Government for its failings," said Craig Bennett, The Wildlife Trusts' chief executive. 
"This vast infrastructure project is taking a wrecking-ball to wildlife and communities are in despair at losing the wild places – the woods, meadows and wetlands that they love – they will never get these back. So HS2 Ltd must repair nature in a way that's commensurate with the magnitude of the damage being caused," he continued. 
Flawed assessment methodology leads to severe miscalculation 
Having first raised its concerns about the project in 2020, The Wildlife Trusts commissioned the Cheshire Wildlife Trust to investigate the accuracy of HS2 Ltd's biodiversity assessments. The findings of the investigation have been published in a damning report that accuses the company of relying on unproven, outdated methodologies. 
HS2 Ltd has developed its own mechanism for calculating its impact on nature, based on a metric piloted by the UK's Department for Environment, Food and Rural Affairs (DEFRA) in 2012. Although this mechanism has been criticised since as far back as 2016, the company kept using it when determining potential compensation measures to ensure that the project is delivered with no net loss in biodiversity. 
According to The Wildlife Trusts' report, this has resulted in the HS2 railway's impacts on biodiversity being significantly underestimated. It found that the first phase of development would result in at least 7.9 times the amount of biodiversity loss that had been calculated by HS2 Ltd, while the following phase would lead to a 42% decline as opposed to the 17% projected.  
The research pointed to a number of failings in HS2 Ltd's assessment, including its exclusion of several watercourses, ponds and trees, its lack of accurate baseline, and issues regarding its valuation of nature. For example, existing hedgerows that provide food and shelter for local wildlife had been given a lower 'nature value' than the new hedgerows that are to be planted as compensation for their removal. 
This example hints towards the report's second accusation, which argued that, as well as undervaluing the nature it would destroy, HS2 Ltd has overvalued the compensation measures it plans to put in place. If this is indeed the case, then the gap between the project's likely damages and its proposed solutions becomes all the wider. 
"We've been shocked by the errors and discrepancies that our audit revealed. HS2 Ltd must stop using a deeply flawed method to calculate the value of nature affected by the construction of the route. It is astonishing that a flagship infrastructure project is able to use a metric which is untested and not fit for purpose," commented Dr Rachel Giles, evidence and planning manager at Cheshire Wildlife Trust and author of the report. 
A spokesperson responding on HS2 Ltd's behalf said that: "We don't recognise the figures from the report nor do we believe them to be reliable. The Wildlife Trusts have undertaken limited desk research and have not accessed huge areas of land for undertaking ecological survey, in contrast to the ecologists who have compiled HS2's data." 
"Independent experts from Natural England have consulted on our methodology and it has been rigorously assessed by a team of professional ecologists, with the data shared with the independent Ecological Review Group. We're committed to reviewing our assessment methodology on an ongoing basis and intend to align more closely with the Government's biodiversity metric once it is published in the coming months." 
"As well as delivering the country's largest environmental programme, planting 7 million trees and creating over 33 sq kms of new habitats on Phase One alone, we continue to minimise loss through design refinements, such as our recent 30% reduction of the impact on ancient woodlands on Phase One," they concluded. 
What next for HS2? 
The Wildlife Trusts' report ended with a series of recommendations, urging HS2 Ltd to redo its mapping exercise, applying the correct nature values to habitats and ensuring that no habitats are excluded. It should then recalculate its likely impacts on nature through an up to date and proven methodology, with any deviation backed by clear evidence. 
It also demanded that HS2 Ltd should improve the transparency of its biodiversity assessments, by disclosing any changes to its methodology and making all of its data publicly available without delay. This would enable independent parties to scrutinise the company in real time, rather than waiting several years to gain access to key information – as had been the case in the investigation. 
Finally, The Wildlife Trusts called on the Government to respond to its report while there is still time to adapt the HS2 project, limit its adverse impacts and achieve a biodiversity net gain of at least 10%. It sent an open letter to the Secretaries of State for Transport and Environment, requesting that the railway's construction be fully halted until its findings have been assessed and addressed. 
New regulations driving the development of standardised biodiversity assessments 
The destruction of nature threatens every aspect of human life, from the food we consume to the stability of the global economy. The UK's attempts to resolve this crisis will not come easily, however, with estimates suggesting that doing so effectively would require investments of up to £97 billion by 2032. 
Nonetheless, as a signatory to COP15's Global Biodiversity Framework, the UK must align its policies with four long-term goals and 23 interim targets for the protection and restoration of nature. Much of this work is already underway, with the measures of 2018's 25-Year Environment Plan gradually progressing through Parliament. 
Among these measures is the requirement that new developments must go beyond compensating their impact on biodiversity to deliver a 10% increase in habitat provision. This policy is yet to be implemented, with the most recent consultation period having closed in April 2022, but it is expected to apply to both local planning permissions and nationally significant infrastructure projects from as soon as November 2023. 
In order to ensure that the new regulations are adhered to, DEFRA is working alongside Nature England to develop an up-to-date framework for accurate biodiversity assessments. Version 3.1 of the Biodiversity Metric is already available, with further consultation to take place before the net gain legislation comes into force. 
Given the complexity of biodiversity monitoring, such frameworks will be vital in ensuring that companies and contractors are held accountable for the impacts of their developments. Without them, there is a risk that major projects may result in drastically underestimated consequences, such as those alleged of the HS2 railway.