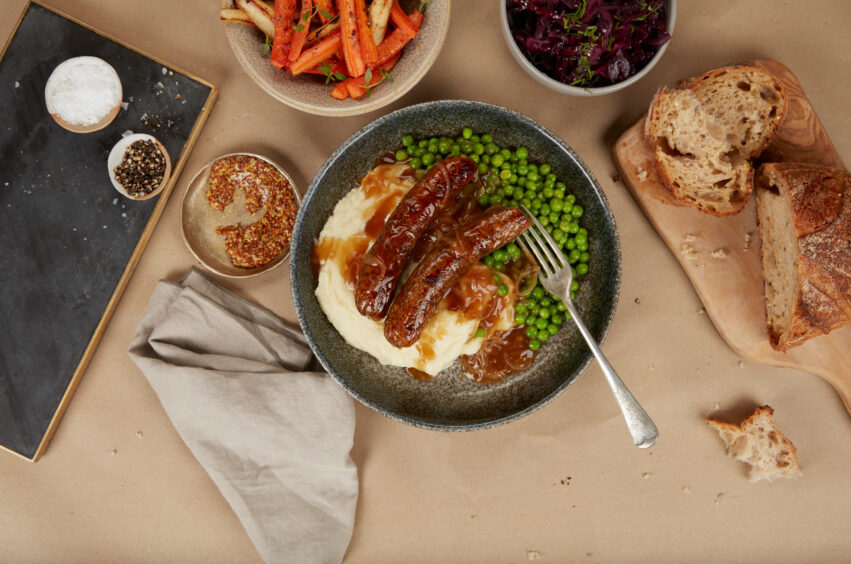 New data suggests that there is a strong appetite for alternative protein technologies and products in the UK, despite economic headwinds and a downturn in investment in other regions.
Plant-based, cultivated meat and fermentation companies across the UK and Europe saw investments rise 24% to £510 million in 2022.
Alternative proteins are a key solution to reduce the environmental impact of food systems, but consumers need to be incentivised to change their diets.
The Good Food Institute said the UK government should establish a supportive policy framework to ensure that the sector, which is still in its infancy, has the tools to thrive.
New figures revealed that UK companies in the sector raised more money than their European counterparts. The Pitchbook figures were released by the nonprofit organisation Good Food Institute (GFI).
UK projects attract investment
Plant-based, cultivated meat and fermentation companies across the UK and Europe raised a combined total of £510 million during 2022, nearly 24% more than the previous year. Global investment in sustainable proteins, however, slowed down from a record-breaking £4.1 billion in 2021 to £2.3 billion in 2022, reflecting a marked decline in wider venture capital investment.
Investment in the UK's cultivated meat sector rocketed by 400% to £61 million in 2022, also surpassing the £45 million raised in the rest of Europe. Examples of UK companies included Newcastle's 3D Bio-Tissues, which claimed to have developed the world's first 100% cultivated steak. In Edinburgh, Roslin Technologies found a solution that could reduce the cost of cell culture media, which is one of the biggest barriers to commercialising cultivated meat. Meanwhile, Oxford's Ivy Farm moved into a new headquarters in 2022 featuring expanded research and development facilities and a test kitchen.
UK plant-based companies raised £43 million in 2022, more than what was raised in the five years to 2019, while the country's fermentation companies, which use microbes such as yeast to produce meat, eggs and dairy, attracted £33 million. This was the second-highest figure on record. 
Investor confidence in the sector held up well against a backdrop of investment halving across the UK's wider biotech industry, from £2.5 billion in 2021 to £1.2 billion in 2022.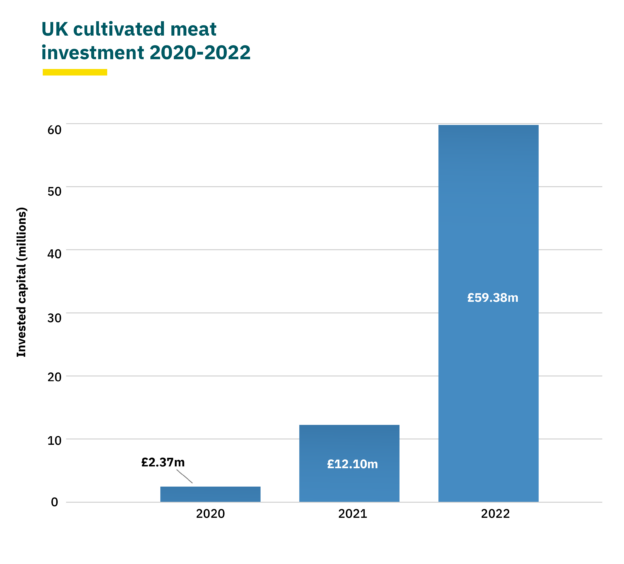 Why do we need sustainable proteins?
Animal agriculture has massive impacts on the environment, due to its greenhouse gas (GHG) footprint and its impact on water, soil and biodiversity. It is also an inefficient way to feed the world's growing population, as the food and water used for the animals could otherwise be consumed by humans. 
Indeed, a study published in Nature Food in September 2021 calculated that global GHG emissions from animal-based foods were twice those of plant-based foods. Farmland management and land-use change represented accounted for 38% and 29% of the total, respectively, while rice and beef were the largest contributing plant- and animal-based commodities at 12% and 25%, respectively.
The environmental impact of traditional meat is increasingly becoming common knowledge, and alternative proteins are a key solution to address this issue. Many consumers, however, cannot or do not want to eliminate animal-derived products from their diets. 
This is often due to price, as alternative proteins are usually more costly, and to their taste and texture, which can be too different from the traditional versions. While there is some progress on both fronts, it is only with further research and development of technologies and recipes that we can expect to see parity in terms of costs and flavours.
Call for more policy support
In fact, the GFI said that the UK government should match the record level of investment in British cultivated meat companies with a supportive policy framework, including a clear path to market and boosting public investment in sustainable protein research and development. It added that there is mounting concern within the sector that planned cuts to research and development tax credits for small companies will hold the UK's nascent industry back. 
According to a report by Boston Consulting Group, plant-based proteins have the highest CO2e savings per dollar of invested capital of any sector, but investment in sustainable foods is still only a fraction of that committed to areas like renewable energy. Meanwhile, a paper from University College London found that public research and development funding helps encourage further private investment, accelerates the pace of innovation, and delivers long-term economic benefits, supporting the case for more government action.
"The UK has the potential to become a world leader in cultivated meat and other sustainable proteins," said Linus Pardoe, UK policy manager at GFI Europe. "But right now, sustainable proteins are where solar panels were in the 1990s. They exist, and they're available for eco-conscious consumers who are willing to pay a premium – but they need investment to improve quality and bring down prices.
He concluded: "With countries like the United States beginning to invest in sustainable proteins, the UK government must urgently deliver the promised £120 million of investment to keep Britain competitive and create future-proof jobs."