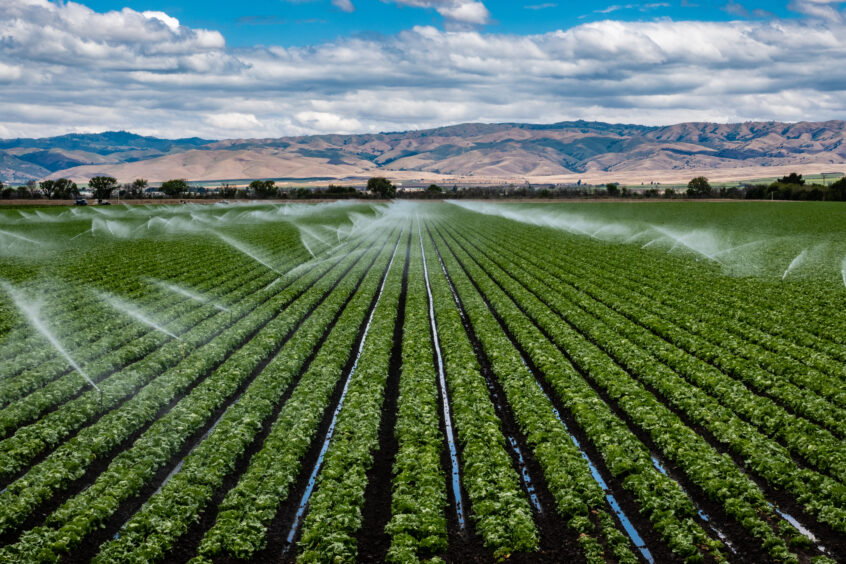 Space data and services startup Constellr has raised $10 million in seed funding to scale its water monitoring system for the protection of global food supplies. 
Constellr intends to help the agricultural system to optimise its consumption of water by providing early insights into crop health.

 

Water scarcity is contributing to global food insecurities, which are projected to affect around 670 million people by 2030.

 

As the need for efficient water management becomes increasingly evident, there will be a surge in demand for data technologies that enable the agricultural sector to produce more food without consuming additional resources.

 
Constellr, a German startup spun from the Frahunhofer organisation for applied science, is leveraging satellite imagery and remote sensing technology to provide plot-level water data to the global agricultural sector.  
The $10 million raised by its seed funding round, which was led by private investment firm LakeStar and German venture capitalist VSquared, will be used to develop two new satellites, conclude current pilot projects and improve its data processing platform. Several additional investors and industry partners have also been brought on board. 
"The team has worked relentlessly on all fronts, removing obstacle after obstacle, getting a first camera in space and pilot customers onboard. And now, we are incredibly proud to partner with what will become our mission control", said Constellr's co-founder and chief executive, Max Gulde.  
"Together, we just ignited the second stage towards a global water monitoring system", he adds. 
Lakestar venture partner Steven Jacobs said: "Climate change is the fundamental challenge our generation is facing and, in our efforts to combat its effects, we must ensure the global food and water systems are more resilient. Never has there been a greater need for scalable monitoring solutions like that offered by constellr. We're thrilled to join their journey in building cloud-based space infrastructure that will enable European leadership to effectively monitor agriculture." 
Satellite monitoring to secure global food supplies
Constellr uses thermal infrared microsatellites, about the size of a small refrigerator, to monitor the land surface temperature of the earth's surface. Its technology has global coverage, gathering high-resolution data multiple times per day. 
The insights provided by Constellr's monitoring system help agricultural operators to identify changes in crop health long before they become visually apparent. This allows them to react quickly and implement early solutions such as precision irrigation. On the opposite end of the spectrum, they can also relax their irrigation of healthy crops with the safety of knowing that they will be alerted when it is needed. 
As such, the technology enables users to manage their resources more sustainably. According to Constellr, its initial pilot projects have improved the reliability and availability of crop health assessments while also increasing yields, reducing monitoring costs and cutting water consumption by up to 40%. 
Thermal satellite data offers further applications, such as yield forecasting and early detection of disasters such as severe weather events or wildfires. Recognising these opportunities, Constellr is currently working with Google (NASDAQ:GOOG) to merge its insights with historic wildfire data. 
By providing reliable forecasts and enabling early crisis detection, Constellr says that its technology could potentially mitigate catastrophic supply chain disruptions. In doing so, the company believes that it will support global efforts to avert a disastrous hunger crisis. 
Food insecurity is on the rise
According to the World Food Programme's Global Report on Food Crises, 2021 saw the number of people experiencing acute food insecurity rising to 193 million across 53 countries. Even once population growth is accounted for, this represents a significant increase from 2021, and the problem is expected to worsen in 2022. 
Indeed, the UN Food and Agriculture Organization has warned that 670 million people will be lacking sufficient access to nutritious food by 2030. Overall food demand is on course to increase by over 50% before 2050, but the increasing impacts of climate change are severely limiting the resources available to provide it. 
Water scarcity is a major factor in the global hunger crisis
Water is one of the most crucial inputs of food production and plays a vital role in averting a global hunger crisis. Changing weather patterns, however, are severely reducing the availability and reliability of its supply. 
The impacts of such changes are exemplified by the extreme temperatures experienced in Europe over the summer of 2022. July's hot weather caused soil water content to fall below its usual levels and depleted the water reservoirs that would normally be available for supplementary irrigation.  
The result was an 8-9% reduction in summer crop yields, which posed a significant problem at a time of rapidly inflating food prices. This is unlikely to have been a one-off incident, with the EU warning that around half of the continent's territory is at high risk of repeated droughts in future years. 
The World Resources Institute estimates that the agricultural sector accounts for 70% of all freshwater withdrawn from rivers, lakes and aquifers. Overall, it says, farming accounts for up to 90% of the freshwater consumed by human activities. This water consumption is considered vital in ensuring global food security, given that irrigated agriculture represents around 40% of total worldwide food production. 
As climate change, population growth and urbanisation lead to increasing competition for water resources, however, the World Bank has indicated that 25-40% of the water currently consumed by agriculture will have to be reallocated to other sectors. 
If these contradicting demands are to be accommodated, there is an urgent need for the agricultural sector to optimise its water consumption.  
Technological solutions will be vital in addressing water and food scarcities
To address both water and food scarcity, the agricultural sector must somehow find a way to produce more crops with less water. While this will undoubtedly be a challenge, there are ways that it could be done. 
Irrigation systems could be made more efficient through demand-based scheduling that accounts for variations in crops' water needs, growth stages and environmental conditions. Such extensive resource planning, however, will rely on water data that is not currently readily available. 
Constellr's solution serves as an example of how technological solutions could be developed to mitigate water and food scarcity by providing the data needed to implement better practices of water stewardship. As the need for such data becomes unavoidably evident, there will be a huge increase in demand for technological solutions that enable water accounting and auditing for sustainable resource management. 
Although it is well worth acknowledging that these solutions will not halt or reverse the factors that have led to their necessity, they will be crucial in supporting global efforts to cope with water and food scarcity.