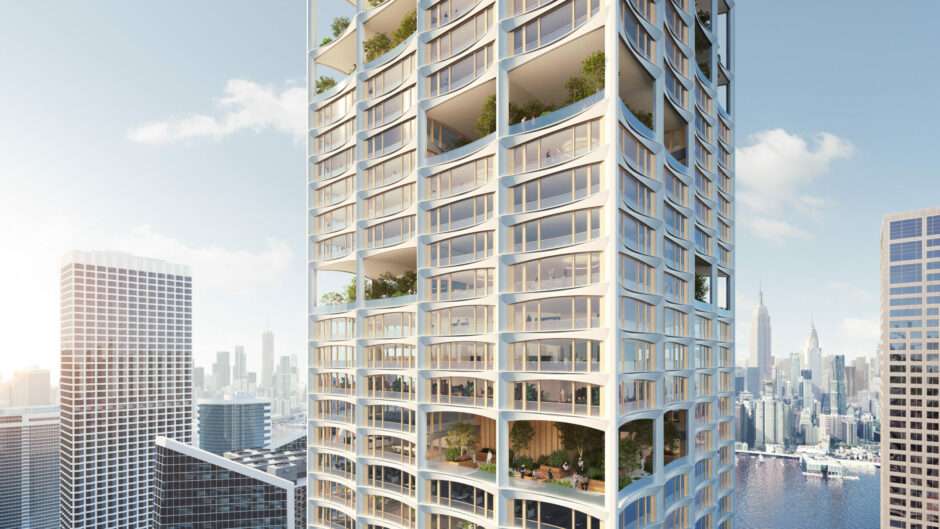 US architectural firm Skidmore, Owings & Merrill (SOM) has revealed a new design concept for energy-efficient, carbon-capturing buildings in urban settings. 
SOM says its Urban Sequoia NOW approach could be used to create buildings that capture carbon throughout their lifecycle while reducing the emissions associated with their construction and operation.

 

The built environment accounts for almost 50% of global emissions, but it is set for expansion as urban populations continue to grow.

 

Natural systems could inspire the transformation to a more sustainable buildings industry, but new approaches to design will rely on capital investment and political support.

 
At 2021's COP26 conference in Glasgow, SOM unveiled its prototype of a high-rise building that would sequester carbon throughout its lifecycle. Now, at COP27, the firm has revealed a refined version of its Urban Sequoia NOW approach to buildings design and suggested that it could be implemented at scale in the immediate future. 
"We asked ourselves how low we can go in emitting carbon in construction, how high we can go in carbon sequestration, and how long we can go in extending the typical building's lifespan. Our latest concept for Urban Sequoia answers these questions", said SOM partner Kent Jackson. 
The company's principal, Yasemin Kologlu, explains further: "To accomplish these goals is to radically rethink the way we design buildings. Urban Sequoia is a concept that encompasses every aspect of the design and construction process, reconsidering the way we select materials, design mechanical systems and structures, and integrate innovative technologies—a reimagination that converts them into carbon absorbers."   
A holistic approach to sustainable buildings design
The Urban Sequoia approach incorporates a range of different concepts and technologies to create sustainable buildings. While conventional construction takes an additive approach – beginning with a building's structure before adding mechanical, electrical and plumbing (MEP) systems, Urban Sequoia takes a reductive approach whereby each part of every building serves multiple purposes. 
By streamlining the process and consolidating MEP systems within the structure's flooring, Urban Sequoia reduces the material consumption of the construction process. In doing so, it produces less construction waste while emitting fewer CO2 emissions. 
To further reduce the net emissions of building construction, Urban Sequoia proposes the use of alternative materials such as timber or bio-based concrete. This suggestion stems from SOM's partnership with US-based startup Prometheus Materials, which has created an algae-derived concrete substitute that stores the atmospheric carbon captured during photosynthesis through a process known as mineralisation. 
Buildings designed using the Urban Sequoia approach would also include emerging technologies such as solar glass windows, through which energy-generating solar panels are designed to resemble traditional window panes, and direct air capture (DAC) systems. Underfloor ventilation would draw surrounding air into the building's cavities, before directing it upwards via a stacked system of DAC units that would remove the carbon it contains. 
These technologies go beyond reducing the emissions of the construction process to also address the building's operational emissions, as they provide renewable energy to replace fossil fuel consumption while also providing a net negative effect through DAC. The harvested carbon could become a valuable resource in itself, contributing to the circular economy through its use in various industrial applications. 
With its flexible approach, SOM estimates that Urban Sequoia could extend the lifespan of buildings from 60 years to over a hundred. It says its buildings would reduce the embodied carbon emissions of the construction process by around 70%, and would reach a 100% reduction in lifecycle emissions within the first five years of their development.  
After a lifespan of 100 years, the company says, an Urban Sequoia building would absorb over 300% of the amount of carbon it had emitted through its construction and operations. It claims that if its concept were applied in every city throughout the world, the built environment could capture 1.6 billion tons of carbon each year. 
The built environment continues to expand, accounting for almost 50% of global emissions
The built environment is estimated to account for almost 50% of global greenhouse gas emissions, with 27% of those being generated through buildings operation and a further 20% resulting from building materials and the construction process. 
To be on track for net zero by 2050, the buildings industry would need to halve its direct emissions and reduce its indirect emissions by 60% before 2030. Given that the total global floor area covered by buildings is expected to double by 2060 in order to accommodate the growth of urban populations, these targets cannot be achieved without the complete transformation of the building design. 
Indeed, urban environments are currently home to around 55% of the global population – a figure that continues to rise. Currently, cities account for around 70% of the emissions associated with human activity, with the construction and operation of buildings being a major contributor. 
They are also, however, centres of economic growth and innovation, where successful solutions can be rapidly scaled. As such, they provide an ideal setting to begin the overhaul of the buildings industry. 
Biomimetic design for cleaner, greener cities
SOM conceptualises its Urban Sequoia buildings as artificial trees, essentially breathing in atmospheric carbon and releasing purified air. In basing Urban Sequoia on biological processes, SOM has taken what is known as a 'biomimetic' approach, whereby scientists, engineers and designers seek inspiration from the natural world to mimic ecological services within human systems. 
As SOM sustainability director Mina Hasman describes: "Urban Sequoia is a systems approach, a philosophy. It is a way of thinking about cities as ecologies, as living and breathing systems that can be reconfigured to achieve dramatic reductions in whole life carbon, reframing the built environment as a solution for the climate crisis." 
A biomimetic approach to building design could provide a clear pathway for the development of sustainable cities with improved energy, circular economies and clean energy supplies. As the buildings industry faces increasing scrutiny for its carbon emissions, resource consumption and waste generation, such approaches are beginning to gain traction. 
One early example of biomimicry's recognition as a potential solution for the buildings sector can be seen within the Local Governments for Sustainability's (ICLEI) Carbon Neutrality Framework. The framework, which is part of ICLEI's GreenClimateCities programme to develop climate-neutral cities, identifies nature-based developments as the first of its five recommended pathways to carbon neutrality. 
Conventional approaches to building design are simply not sustainable for the future of human development. Although we often talk about saving the planet, the truth is that natural systems will prevail for far longer than human life. Biomimetic design, however, provides us with an opportunity to learn from nature and incorporate its intricate strengths within our own lives. 
While such ideas may seem fanciful or futuristic, SOM's Urban Sequoia approach suggests that they may not be impossible to achieve. What matters now is that such approaches receive the investment they need to be adopted at scale. A systemic overhaul of buildings design will require system-wide efforts, engaging a range of stakeholders in the provision of financial and political support.