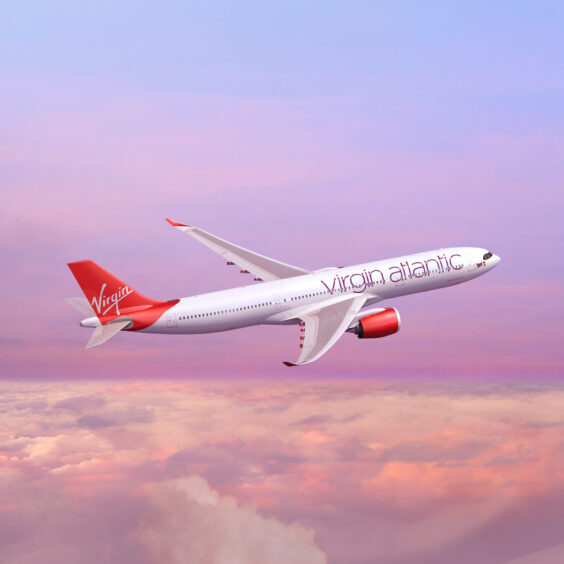 A British team led by Virgin Atlantic and Rolls Royce will demonstrate the first transatlantic flight powered 100% by SAF sometime in 2023, in support of the UK government's Jet Zero Strategy. Challenges facing industrial-scale production of alternative aviation fuels suggest wider availability of such flights may take longer to realise.
Virgin Atlantic has won a competition to achieve the first net zero transatlantic flight using 100% sustainable aviation fuel (SAF).
Aviation is set to become one of the highest-emitting sectors for greenhouse gases by 2050.
The UK is betting on SAF as one of the main tools for decarbonising the sector, but there are challenges in building production capacity to an industrial scale.
UK government pledge to deliver world's transatlantic flight fuelled 100% by SAF
In May 2022, the UK Department for Transport (DfT) challenged the UK aviation industry to achieve the world's first transatlantic flight powered exclusively by SAF in 2023. The competition was intended to further the government's view that SAF had the potential to improve fuel security and reduce carbon emissions for the sector. 
A team headed by Virgin Atlantic and Rolls Royce (LON:RR) was awarded £1 million by the government to support funding of the test flight. Other members of the consortium included Imperial College London, the University of Sheffield, Rocky Mountain Institute, and ICF.
SAF to be used in the flight will be made primarily from waste oils and fats. In order to reach net zero emissions, the use of 100% SAF will be combined with carbon removal through biochar credits. Fully replacing kerosene reduces carbon emissions by 70% compared to conventional jet fuel.
Commercial jet engines currently use a maximum of 50% SAF blended with kerosene, so the consortium intends to demonstrate that it is possible to use a 100% SAF formulation with no kerosene. The announcement comes a month after the UK Royal Air Force completed the world's first sustainable fuel military transporter flight using 100% SAF.
Aviation exacerbates transportation's hard-to-abate label
The aviation industry is regarded as one of the UK's biggest challenges in greening its transport industry. As one of the highest single emitters of greenhouse gas (GHG) emissions, the aviation industry accounts for 7% of the UK's GHG emissions, which is well above the global average of 2-3%, and also higher than the EU's 3.7%.
To accelerate the green transition in aviation, the government published its Jet Zero Strategy in July 2022. It builds on the Transport Decarbonisation Plan, which establishes commitments and actions to decarbonise the transport system and is part of the UK's Net Zero strategy.
Jet Zero puts the aviation sector on a path to reach net zero by 2050, with a goal to reduce the industry's emissions below levels called for by the government's advisor, the Climate Change Committee (CCC). 
In its recommendation on decarbonising the aviation sector, the CCC explores several abatement measures. These include demand management, aircraft fleet efficiency improvements or gains, and the role of drop-in replacements for jet fuel, including biofuels and synthetic jet fuel via carbon capture.
Relating to SAF, the government has committed to commence building at least five commercial SAF plants by 2025. A government mandate will also require that 10% SAF has to be blended into conventional aviation fuels by 2030.
Scenarios from CCC show aviation net zero depends on unreal SAF assumptions 
In advising the government on the aviation sector, in its sixth Carbon Budget Advice, the CCC considers four alternative pathways or scenarios for aviation emissions reduction by 2050. Each scenario makes different assumptions on demand growth, efficiency improvements and the use of biofuels and SAF.
In a 'Headwinds' scenario, for example, assumptions of a 25% growth in demand and a 1.4% per year increase in fuel efficiency per passenger, including 9% of total aircraft distance being flown by hybrid electric aircraft, with 20% liquid fuels being alternate fuels, results in a 36% emissions reduction. 
A 'Tailwinds' scenario, on the other hand, envisages a 15% reduction in demand by 2050, with a 2.1% per rise in efficiency gains, resulting in a 97% reduction in emissions, but this would require alternate fuels to account for 95% of the total fuel uses. 
'Widespread Engagement' and 'Widespread Innovation' were the other two scenarios, each resulting in a 62-63% reduction in emissions, with variations in demand, efficiency gains and alternate fuels used.
The CCC's 'Balanced Net Zero Pathway' takes elements from each of the four scenarios, with a 25% growth in demand, a 1.4% per year growth in efficiency gains, and biofuels and SAF account for 25% of fuels used, leading to a 41% reduction in emissions.
UK bets big on SAF, but risks remain
To stimulate the build-up of commercial SAF facilities in the UK, and its 2025 mandate, the government launched the Advanced Fuels Fund in July 2022. It will competitively allocate up to $165 million in grant funding for SAF projects until end-March 2025.
This builds on its previous £15 million Green Fuels, Green Skies funding scheme, launched in March 2021 by the DfT, which in turn followed the Future Fuels for Flight and Freight Competition (F4C). The industry estimates developing SAF could create over 5,000 jobs and provide an annual turnover of £2.3 billion by 2040.
The ability of the aviation sector to achieve the government's 10% SAF use mandate will depend on costs and availability of feedstocks. The development of green hydrogen and direct air capture (DAC) carbon capture technologies on an industrial scale is also a risk factor identified by the CCC.
As well as economic factors, the environmental, technical and social implications of each SAF production pathway must be carefully considered, which makes stakeholder decisions on policy and investment extremely complex.
Across the decarbonisation scenarios considered by the CCC, the need to use GHG removals is a vital part of the aviation sector reaching its net zero goal by 2050.
Widespread availability of 100% SAF-based long-haul flights may take a while
Despite the best efforts of the UK government, the myriad challenges in bringing SAF to an industrial scale suggest that widespread availability of 100% SAF-based long-haul flights may take a long time after the 2023 inaugural flight. Still, the demonstration of the first flight can provide important data and feedback to help with building SAF capacity. 
Shai Weiss, chief executive of Virgin Atlantic, said: "This challenge recognises the critical role that SAF has to play in decarbonising aviation and the urgent collective action needed to scale production and use of SAF globally. The research and results will be a huge step in fast-tracking SAF use across the aviation industry and supporting the investment, collaboration and urgency needed to produce SAF at scale. Our collective ambition of net zero by 2050 depends on it."