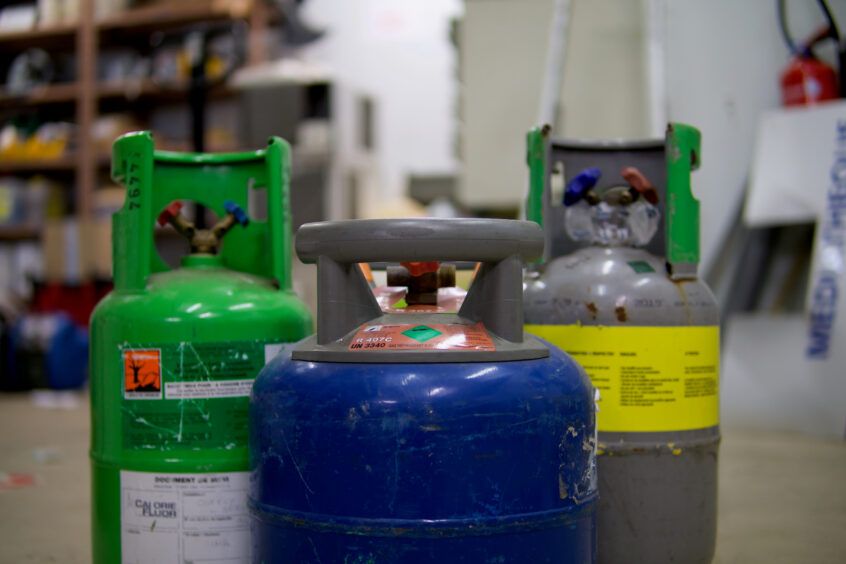 Plasma processes developer PyroGenesis Canada (NASDAQ:PYR) has entered into a CAD$6 million contract to supply its refrigerant waste destruction technology to an unnamed materials company. 
PyroGenesis has developed a plasma-based process for eliminating ozone-depleting substances such as refrigerants and other fluorinated chemicals.

 

Fluorinated greenhouse gases, including refrigerants, account for around 2% of the world's emissions and have a stronger global warming potential than CO2.

 

Increasing legislation will continue to drive the demand for cost-effective refrigerant management technologies.

 
According to PyroGenesis, an advanced materials company has contracted its services for the design, construction, delivery and installation of a system that will be used to eliminate ozone-depleting refrigerant waste. The client has reportedly indicated that it may require an additional system at a later date. 
An initial payment of CAD$2.2 million has been received, with the total order expected to reach around $6 million. The system is scheduled to be delivered within 18 months, and PyroGenesis will continue to generate revenue through the provision of after-sales support. 
"PyroGenesis continues to be recognized for its fossil-free waste destruction systems, in jurisdictions where tightened hazardous waste disposal regulations combined with cost-offsetting carbon credits are resulting in a need for a safer destruction of various hydrocarbons, including refrigerant chlorofluorocarbons," said PyroGenesis' chief executive P. Peter Pascali. 
Refrigerants are destroying the planet, but demand continues to rise
Refrigerants, the chemical substances used in cooling systems such as air conditioners or refrigerators, are typically made using hydrofluorocarbons (HFCs), chlorofluorocarbons (CFCs), hydrochlorocluorocarbons (HCFCs) or other fluorinated gases.
These substances account for around 2% of the world's greenhouse gas emissions, and typically have a high global warming potential that makes their immediate impact on the climate far worse than that of CO2. 
Refrigerants contribute to the destruction of the Earth's ozone layer, worsening their warming effects and increasing our exposure to harmful ultraviolet rays. In the 1980s, world leaders introduced the Montreal Protocol, an agreement to limit the use of ozone-depleting substances including CFCs and HCFCs, in a bit to halt and reverse this alarming ozone depletion.  
According to the latest research, the Montreal Protocol has been relatively successful and is now beginning to support the ozone layer's recovery. If this progress continues, it is expected that most of the world's ozone protection will be restored by 2040, with the polar regions recovered by around 2066. 
HFCs were initially excluded from the Montreal Protocol, as they do not contain the same chlorine and bromine molecules that are typically associated with severe ozone depletion. The later recognition that HFCs' acceleration of molecular reactions could still result in ozone losses of around 0.035% by 2050, however, saw them being added to the Protocol under its 2016 Kigali Amendment. 
Having only been enforced since 2019, the Kigali Amendment is yet to relieve concerns that the continued use of HFCs may hinder global progress towards the ozone layer's recovery. Indeed, there is evidence to suggest that the atmospheric concentration of HFCs has continued to increase in recent years, potentially leading to an 0.04°C rise in temperatures by 2100. 
As national governments have taken steps to implement the Kigali Amendment, a new category of refrigerants has begun to emerge. These substances, known as HFOs, have already been linked to the atmospheric formation of trifluoroacetic acid – a resilient chemical with the potential to harm humans, plants and animals. 
Growing interest in clean cooling
These findings suggest that, despite their widely acknowledged environmental impacts, the elimination of harmful refrigerant chemicals is still far from being achieved. This is largely due to the ongoing growth in demand for cooling technologies, driven by the continuous increase of global temperatures and the need for immediate adaptation solutions. 
It is critically important to expand the adoption of clean cooling technologies if we are to avoid what economist Helen Montfort has referred to as the 'vicious cycle of cooling'. Under this vicious cycle, temperature increases are driving further demand for air conditioning, thereby increasing the need for fossil fuel power, particularly within emerging markets. The continued use of fossil fuels then results in additional CO2 emissions, further contributing to the heightening of temperatures.
Although there has been some movement towards the development of cleaner cooling solutions, these are unlikely to be adopted at scale within the timeframe needed to avoid a global heat crisis. This means that conventional systems, powered by harmful refrigerants, are likely to continue their domination of the cooling market despite their alarming consequences for our planet. 
PyroGenesis Canada's refrigerant destruction system
PyroGenesis aims to address the continued use of refrigerants and similar fluorinated chemicals by mitigating their global warming potential as they reach their end-of-use.  
Its patented SPARC platform, built from technology deployed by the US military, uses low-cost steam to form a plasma gas that generates a hydrolysis reaction to destroy refrigerant waste. The system is powered by electricity, so can use renewable resources, and does not require any incineration 
The company guarantees that its system can destroy over 99.999% of any refrigerant, halon, PFC or other halogenated hydrocarbon. It is available in capacities of up to 50kg per hour, takes up little space and offers a fast return on investment. 
Furthermore, the SPARC system's sustainability credentials enable its contribution to carbon offsetting projects within either the regulated or voluntary carbon market. This means that, in addition to mitigating the impacts of their refrigerant waste, PyroGenesis clients can also offset a portion of their overall carbon footprint or can gain access to additional revenue through the sale of carbon credits. As such, PyroGenesis' SPARC system can deliver multiple wins for multiple parties. 
Increasing legislation drives demand for sustainable refrigerant management
The Montreal Protocol and its subsequent Kigali Amendment have catalysed the development of national legislation against harmful refrigerant substances. The UK, for example, has banned a wide range of fluorinated gases, while the US Environmental Protection Agency has recently tightened its refrigerant management regulations.  
The EU plans to reduce the amount of HFCs sold by 80% from 2015's levels before 2030, and has introduced a series of bans and maintenance requirements to ensure that the impacts of existing equipment are sufficiently limited. In April 2022, the European Commission proposed that these plans and their accompanying regulations should be updated in line with the EU Green Deal and the European Climate Law. The review, which is currently in progress, is expected to introduce greater ambitions backed by stricter enforcement, implementation and monitoring. 
As these regulations continue to develop, alongside broader expectations of corporate sustainability, companies that generate refrigerant waste are likely to seek out low-cost technologies that can help them to reduce their impact. PyroGenesis' latest announcement, therefore, is likely to become part of a wider ongoing trend.