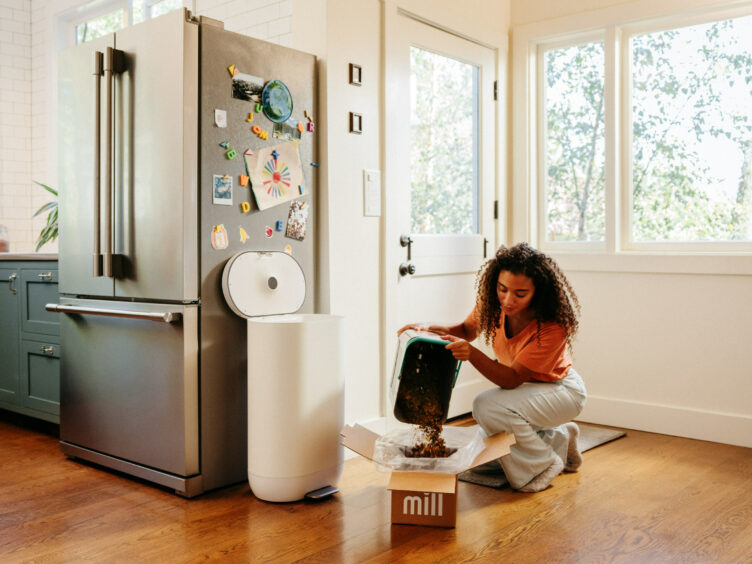 The City of Tacoma has contracted a Californian startup to pilot a circular solution that converts household food waste into chicken feed. 
Residents of Tacoma will be invited to join Mill Industries' membership programme, through which their food waste will be diverted from landfill and upcycled into chicken feed.

 

Food waste accounts for around 10% of global greenhouse gas emissions, with US households having generated 21.1 million tons in 2019 alone.

 

The public-private partnership between Tacoma and Mill Industries shows how the model could accelerate the adoption of circular waste solutions.

 
The City of Tacoma, Washington, US, is to trial a new approach to the management of household food waste. Under its agreement with Mill Industries, residents will be able to offset the costs of their waste disposal by supplying uneaten food for conversion into an ingredient used to make chicken feed.
"Dealing with kitchen scraps can be a pain at home and costly for the planet: endless trips to the trash, dripping garbage bags, and the loss of all the resources that went into growing and transporting the food in the first place," said Alyssa Pollack, Mill Industries' head of business. 
"The State of Washington has shown tremendous leadership in preventing food waste through efforts such as HB 1799, and we're excited to team up with the City of Tacoma to provide a better kitchen experience for residents, increase participation in organics recycling and source separation at home, and prevent food waste from existing in the first place." 
Food waste: A crisis in the making
On a global scale, estimates suggest that more than 2.5 billion tonnes of food are wasted each year, which is roughly one-third of what is produced. This wastage is an environmental crisis in the making, accounting for up to 10% of the world's greenhouse gas emissions while also representing the needless overconsumption of scarce resources such as freshwater or fertile land. 
Given the uneven distribution of global food supplies, with two billion people being considered overweight or obese while 800 million are suffering extreme hunger, food waste must also be acknowledged as a major social dilemma. With the agricultural sector becoming increasingly vulnerable to the impacts of climate change, it is vital that we make the most of the limited supplies we are able to produce. 
According to the Food and Drug Administration, however, the US is wasting up to 40% of the food it obtains. In economic terms, this translates as around $161 billion worth of losses in 2010 alone, according to available data.
Of the 54.2 million tons of uneaten food that the country discarded in 2019, 21.1 million tons were generated by households. This makes the residential sector the largest single source of food waste, with more than two-thirds of its contributions being sent to landfill. 
Tackling Tacoma's residential food waste
In an effort to curb its household food waste, the City of Tacoma operates a pay-as-you-throw programme, which requires its residents to pay a fixed fee for the solid waste being disposed of. This policy has proven fairly successful in discouraging waste, but comes as an additional cost to the local community. 
Under its agreement with Mill Industries, the City will now trial an alternative approach. Its residents will be able to subscribe to Mill's membership scheme, through which their food waste will be collected and converted into a nutritious ingredient that can be used to make chicken feed. 
Each member will receive one of Mill's tech-enabled kitchen bins, an 11-litre container that automatically dehydrates and grinds up uneaten food. The company claims that its bins can handle any type of food waste, including those meat and dairy products that are not compatible with composting. 
The bins need only be emptied once every few weeks, thanks to the compact nature of the food grounds they produce. With their inclusion of a charcoal filter derived from coconut, any odours that would otherwise be released during this period are effectively removed. 
Mill's bins are accompanied by an app that allows users to monitor the process and schedule a pick-up when necessary. The food grounds are then sent back to Mill, which is currently developing its process for converting them into a safe and nutritious component of chicken feed. 
Subscription costs start from $33 per month, which city authorities suggest will be offset by savings on the fees that households currently incur under the pay-as-you-throw programme. On the environmental side, Mill's initial lifecycle analysis indicated that its members will reduce their household's greenhouse gas emissions by up to half a ton per year. 
Public-private partnerships and the scale-up of circular waste management
Mill's business model offers a circular approach to waste management, through which the problem of uneaten food can be transformed into a valuable ingredient via a closed-loop cycle of consumption and production.  
Want to learn more about circular business models? 
With its subscription-based service, Mill stands to gain a recurring source of revenue that would allow it to continue the ongoing development of its final conversion process. Once this process is up and running, the company's impact could extend beyond the reduction of food waste, to also create a sustainable alternative to the resource-intensive cultivation of conventional animal feed. 
Its success will depend, however, on whether it is able to scale up its membership. Ultimately, the opportunities created by the Tacoma partnership could be a vital turning point in the company's growth. 
As centres of economic growth and innovation, cities provide an ideal location for the development and expansion of transformative solutions to emerging problems. With their dense populations and high concentration of business activity, city authorities may become aware of certain challenges more quickly than their regional or national counterparts. As they are tasked with meeting the needs of various communities, they may also be more likely to propose an immediate response. 
Public-private partnerships enable local authorities to experiment with new technologies and approaches, while the company involved is able to demonstrate its concept as part of a sizeable yet definitively bounded case study. As the world continues its search for more sustainable approaches to waste management, such partnerships provide a noteworthy model of how circular solutions could eventually be adopted at scale.